The Whiskey Ledger with Bourbon Apprentice
Entry: 006
Take Me Back, Kentucky Part 1…the Tours.
Last March – 2019…the year before COVID that sadly seems like a distant memory – I took a trip to Kentucky with my wife and another couple. Although it was only for three days, and there were no beaches or waves to be seen, it still ranks up there as one of my all-time favorite vacations. After all, it's an adult Disney World of sorts. I've gone back and forth in my head about where to take this entry of the Ledger…do I want to go the history route, or do I want to reminisce? If you've read any of my previous columns, I think you know what direction we're headed in! (Don't worry, there will be time for a history lesson in the future).
After a crappy, rainy ride to the airport and a mediocre flight to KY, my wife and I checked into our hotel room, and our friends did the same. My wife hopped in the shower, and I did what any guy on his first trip to Kentucky would do…I ran down to the hotel gift shop to see if they had any decent bottles for sale. Although I didn't get lucky in the gift shop, it quickly became apparent that someone else would be getting lucky all weekend. I stepped off the elevator and walked down the hall to our corner-located room…the type of room where you barely turn left at the end of the hall, and your hand is already on the door. Much to my surprise, when I extended my hand with my room key, it was not the door I was about to swipe on, but a young lady in a very tight (and explicitly short) blue dress. "Uh…I think that's my room," I said awkwardly. She looked at her phone and looked back at me, smiled and apologized, and then went on her way. When I entered my room, my wife was in shock because moments before that, the woman was knocking on our door, making provocative faces into the peephole. She had the wrong room!
Two hours later, we were at the hotel bar trying some pours that we can't get in NC and watching some NCAA tournament games. "Do you know what time it is?" someone's voice said to my left, calling out to the bartender. The bartender muttered an answer as I looked over, and there she was again! We locked eyes, and I'm not sure which one of us was more embarrassed. Later that night, after dinner, we stopped back in the hotel bar for a nightcap, and my blue-dressed friend had finally met up with her much older male companion…and another young lady as well. This saga continued through the weekend, and you may hear more in Part 2, but let's focus on what you came here for – the bourbon!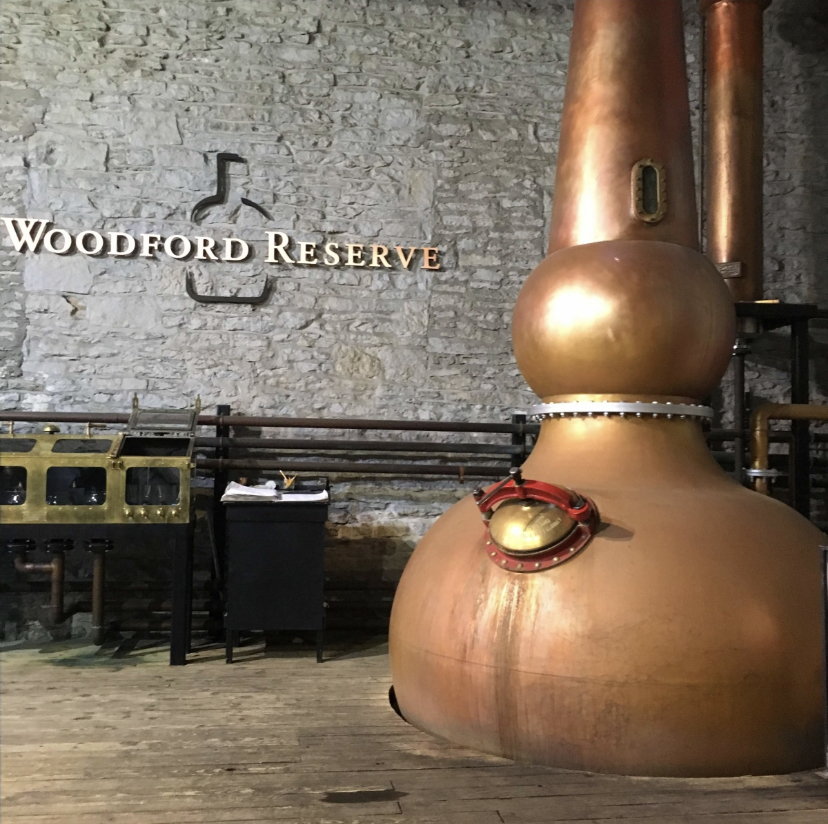 Our first tour was at Woodford Reserve, and it was a great experience.  The Woodford tour was probably the most complete tour we went on because it truly showed all aspects of the industry…they take you through history, distillation, aging, bottling, and tasting.  There isn't anything they don't cover on their tour.  The property is beautiful, but you only get to see a very polished product ready-made for the public eye.  You are left wondering where all of their whiskey is being stored because you only get a glimpse of a fraction of their space, but they generally do a good job immersing you into their process.  The tasting at the end of the tour is well done.  They explain their flavor wheel, allowing you to taste through savory and sweet with their standard offering, rye, and double oaked.  You might hope for a Batch Proof or Master's Collection, but you'll have to drop $130 or so in the gift shop for that experience.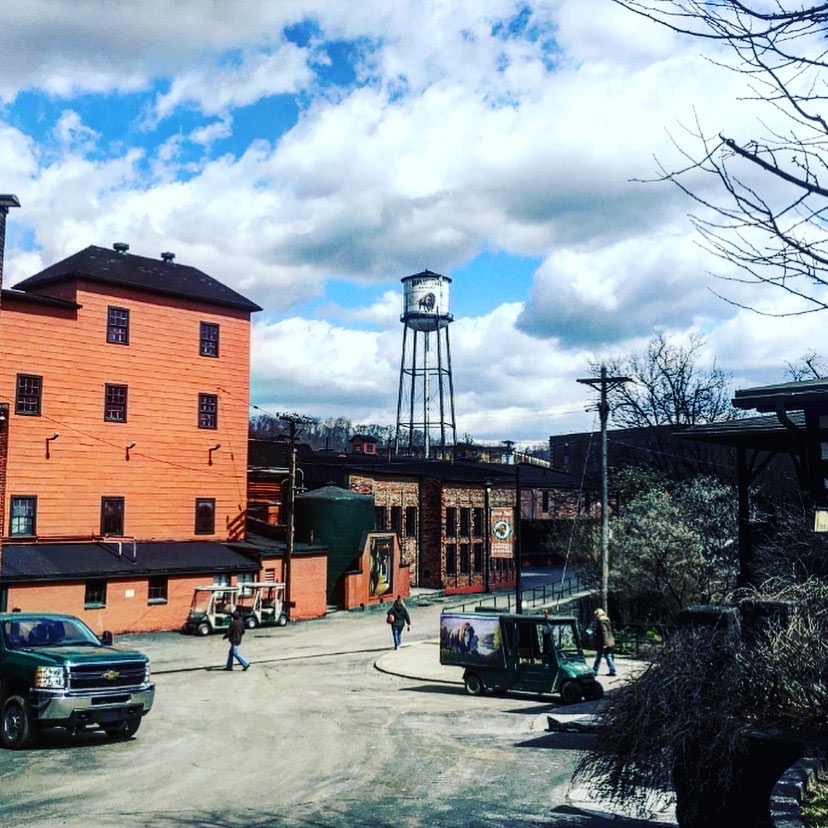 The next tour was Buffalo Trace – my gateway!  Buffalo Trace offers a ton of touring options – The Trace Tour, Bourbon Barrel Tour, Expansion Tour, Old Taylor Tour, and the Hard Hat Tour.  They even offer a Ghost Tour!  We opted for the Hard Hat Tour because it was widely recommended and had excellent reviews.  It was a complete 180 from the cleanliness of Woodford because it truly is a behind-the-scenes look at the bourbon industry.  You walk through garages with dump trucks filled with grains awaiting the mashing process on your way into the cooking and fermentation areas.  The cookers don't look food grade, and you may have a hard time believing how they come to their final product.  Unfortunately, there is no stop into a rick house on this tour, but luckily the oaky aroma permeates throughout the property.  I honestly don't think I've ever smelled anything quite like the air on Buffalo Trace grounds… genuinely incredible.  The tasting was a bit underwhelming as well…Buffalo Trace, Eagle Rare, and Wheatley Vodka…then they threw in some bourbon cream with root beer as a treat.  No Blanton's, no Weller, no Stagg Jr, no EH Taylor…just the run of the mill basic lineup.  The same goes for the gift shop – but that is the luck of the draw.  Some days they have fun stuff; other days they don't.  Although my experience was pretty mixed with this one, I'd still go back in a heartbeat, and I'd check out another tour option.  We did have a reservation for the ghost tour the same evening, but we canceled because the back and forth with Ubers just wasn't worth it.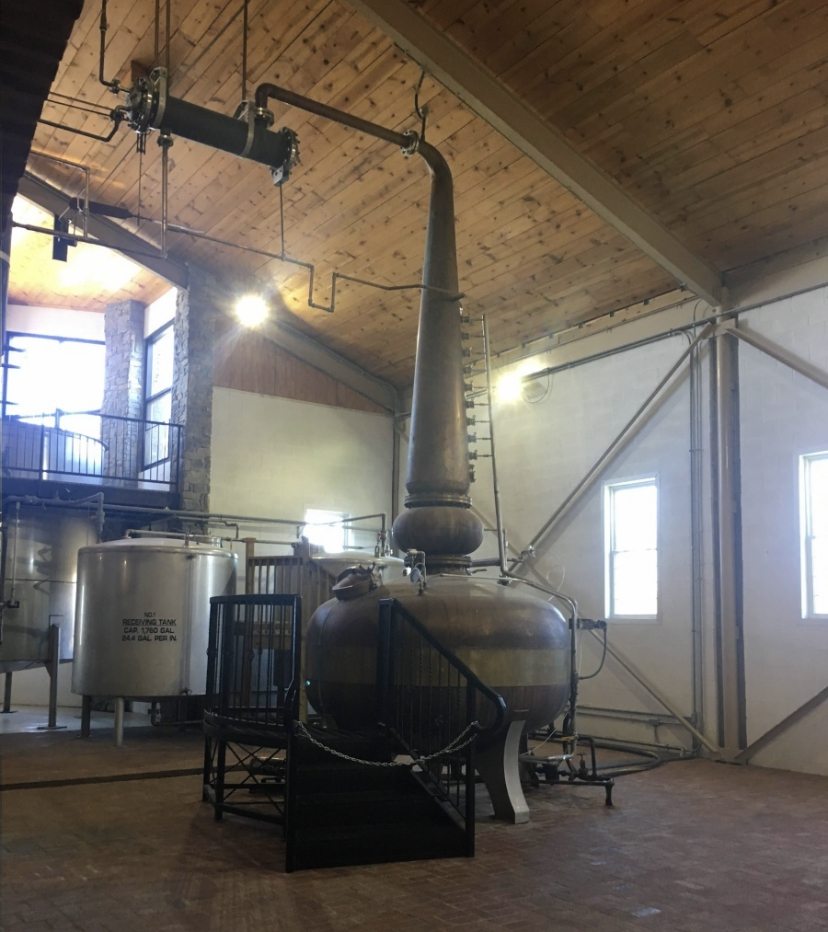 The only other full tour that we completed was at Willett.  Ironically enough, Willett is probably my least favorite distillery out of the ones we visited when it comes to the actual whiskey in the bottle. Still, it ended up being my favorite tour.  We had a personable tour guide who shared a great mix of history, humor, and bourbon facts, and the tour itself featured the process from grain to glass.  I hate cats, but it was pretty cool to see their namesake felines, Rowan and Noah, prowling around the creek and the outside seating area.  They kicked off the tour with a little cocktail sample and ended it with the most robust tasting I saw all weekend. If I remember correctly, they provided four pours rather than the standard three that you'll see elsewhere, and they allowed you to choose those four from an available six or seven options.  Granted, they didn't bring out any of their well-aged products, but it was still cool to have the ability to select what you wanted (if you're with multiple people, you could find a way to try them all.  Sharing is caring!).  I think the coolest part of that tour was the rick house.  Not only did it have that nutty, oaky smell that you look for, but it was funny to see the CEO's dry-aging ham hanging between stacks of barrels.  Maybe I'm just a sucker for cured meat?
We toured three distilleries and visited four or five others for tastings.  If I had to force rank the tours, I'd say Willett, Trace, and then Woodford.  Willett was so well done – plain and simple.  Although BT had some disappointments, they get points for creativity and providing a different type of experience.  Woodford was a fun, butter cookie cutter.  We also had some fantastic food through the weekend – I was super impressed with the food scene in Kentucky overall…steaks, appetizers, sandwiches, you name it!  It's not just bourbon; they do well out there!  Hopefully, this article gave you a quick teaser for our trip to Wildcat country.  You'll have to come back for Part 2 to hear about some other tastings and maybe even get an update on our friend in the blue dress.