Haute Horns by Annlyn Barnett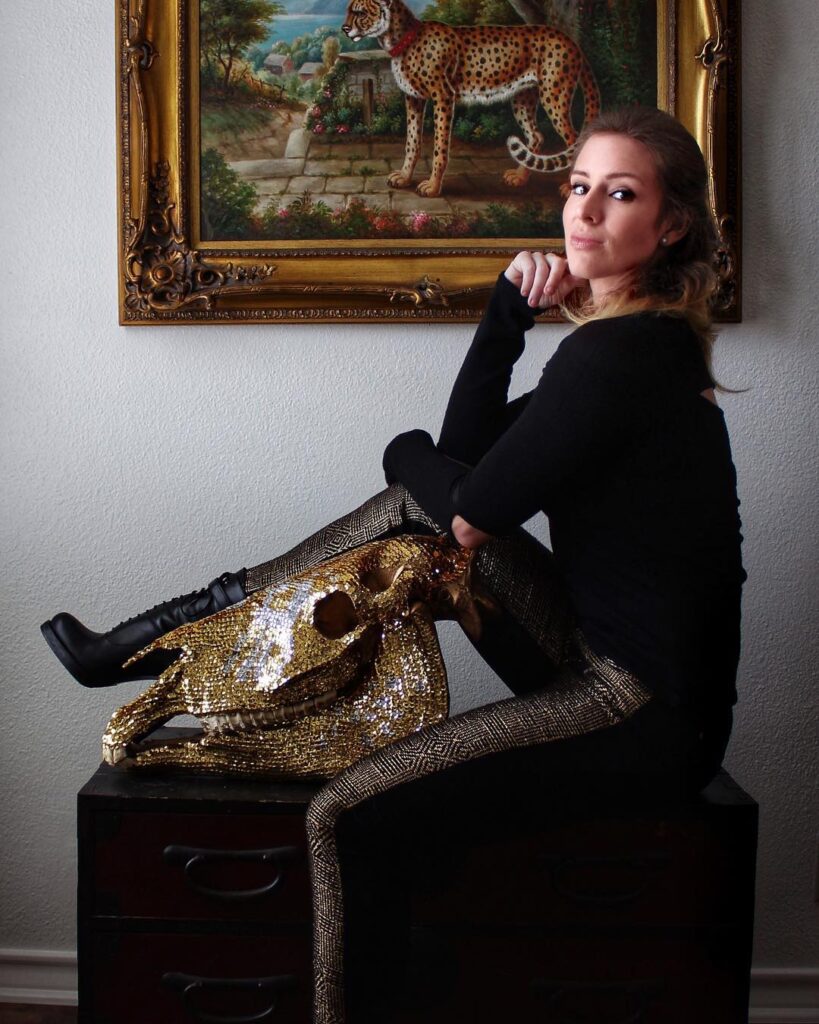 An Interview with Annlyn Barnett
Annlyn, Thank you for taking the time to speak with Feathers & Whiskey. Before we dive into your art could you tell us a little about you and your life outside of the studio? 
My name is Annlyn Barnett, and I am a 33 year old Texan to my core with a passion for art and design, ranching and my family. My day to day life has changed pretty drastically in the past year and a half. My then-six-month-old daughter and I relocated in March to be with my husband full time who lives and works as a police officer in Aspen, Colorado. My days are now spent enjoying my family and getting outdoors as often as we can, while my evenings are reserved for my art. Eventually, our goal is to be back in the Texas Hill Country.

Have you always been an artist at heart or was it something you just discovered?
As a child I was always engaged in something creative. Dancing, performing skits with friends, drawing (I wanted to be a clothing designer), reading and collecting found items like rocks, bones and feathers. I lost touch with my artistic side as I got older thanks to pretty bad anxiety and dropped my art major at Ole Miss, but thankfully fell back in to creating a few years later and never looked back. 
I read on your website about you finding the discarded deer antler in your parent's garage and giving it a new life. Could you share that story with our readers?
A decade ago, while I was puttering around at my parents house, I found an old sika shed antler in the garage and an idea took root. I ran out to purchase glue and some beads and quickly went to work. The slow, repetitive nature of the process helped relieve some stress I was experiencing at the time.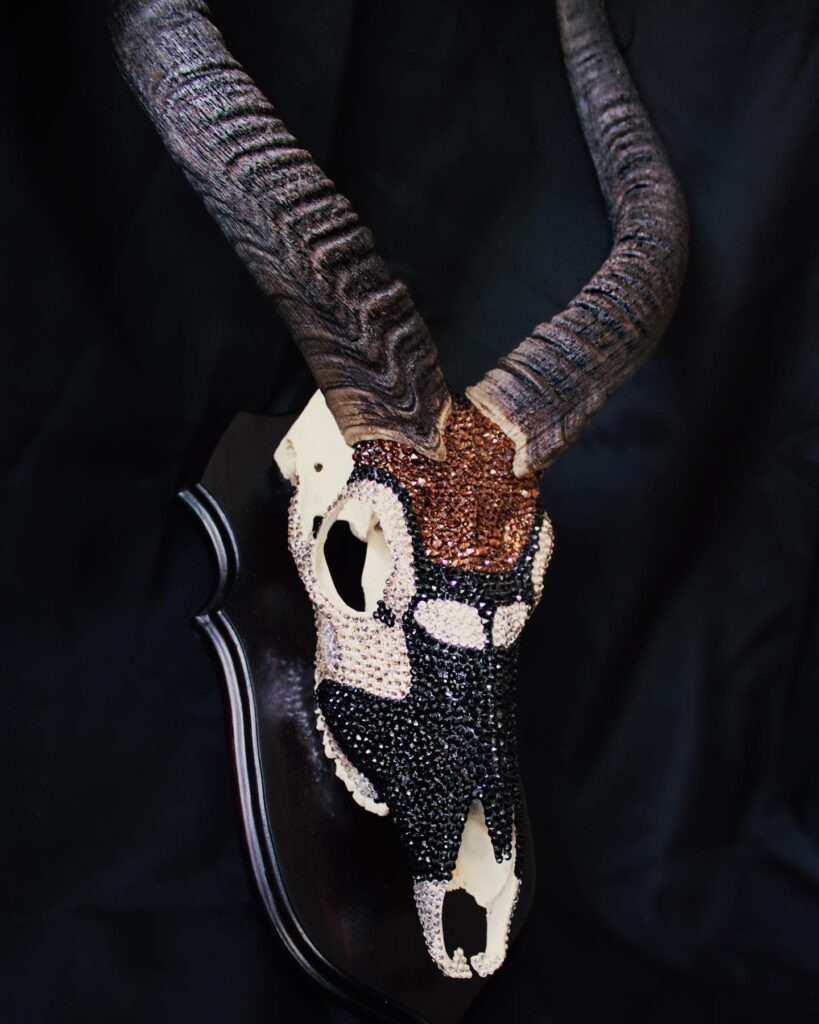 Once you completed the antler, was there a gap between doing more projects, or did it naturally flow into skulls, etc.
I loved the end result of my first project, but realized that I really preferred the natural beauty of the horns, and jumped directly in to working on an old bull elk of my dad's. It certainly wasn't my best work but it became an insatiable hobby and a friend who worked for a marketing company saw the potential in my work and asked me to do a joint show at her office with another artist about a year after I found that old shed antler.
Where do you draw your inspiration for the designs that cover the skulls?
Inspiration can come from anywhere and hit me at any time. I've been very fortunate to have a family that prioritized traveling and I have pulled from a lot of those experiences. For commissioned pieces, I try to communicate with my client to figure out their overall hopes and ideas, where the finished piece will live, the colors and textures that they feel comfortable with, motivated by,  etc. and I do my best to create a piece that will mesh cohesively.
I read that you have a love of hunting, wildlife, and conservation. Do those elements in your life influence your work?
Growing up, a lot of my weekends were spent at my family's ranch in South Texas, and summers  consisted of fishing and exploring the coasts of Port Mansfield and South Padre Island, TX, and hiking and spending time outdoors at another ranch in northern New Mexico. 
My father was an original founding board member for not only the Texas Wildlife Association, but also the Wildlife Habitat Foundation and the Gulf Coast Conservation Association in Houston. So, while I was a late bloomer when it came to actually pulling a trigger, hunting and conservation were instilled in me at a very early age.  I've collected several beautiful trophies since then and the memories behind each one make them very special to me.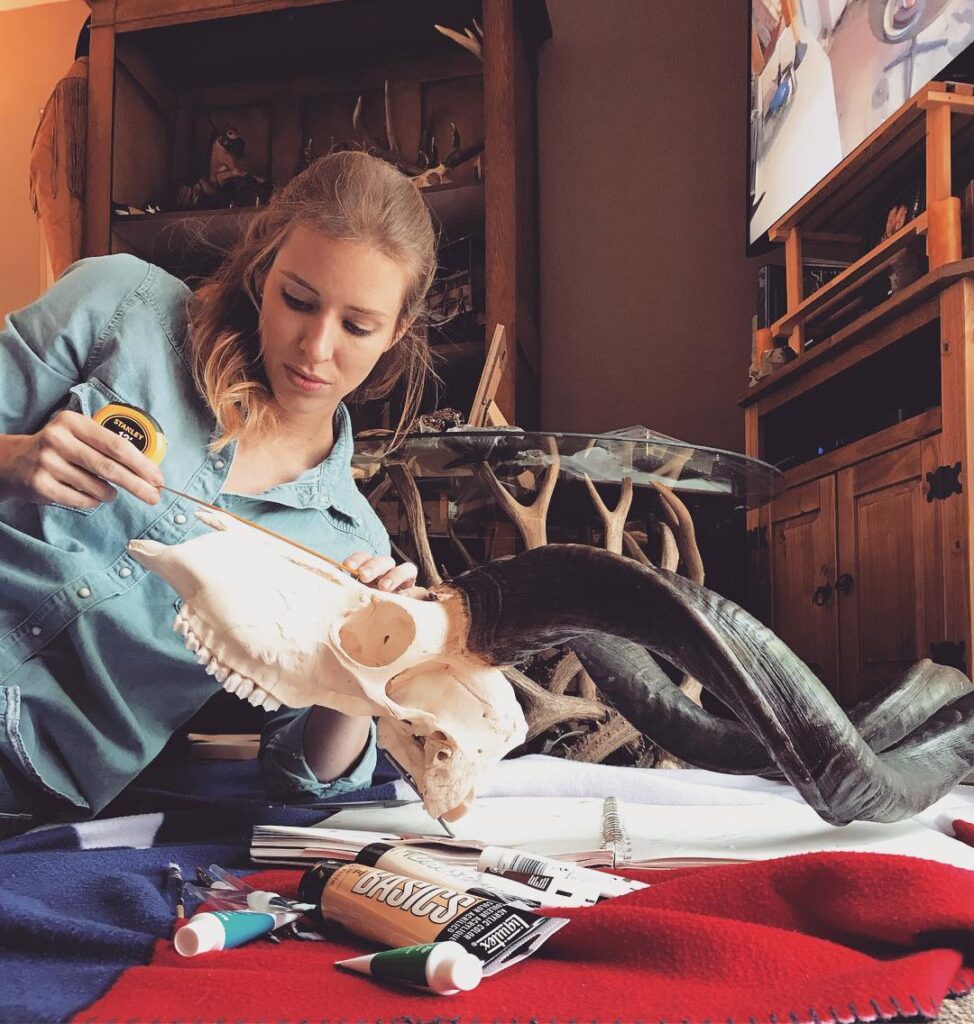 What is the typical time frame on a skull, let's say the size of a whitetail deer.
I've been very fortunate to amass a wonderful group of collectors so my lead time is about 6 months these days. For Christmas orders I am pretty firm about having the skull in my hands by July, if possible to ensure enough time is given to each and every skull. The back and forth, creating mock ups, sourcing materials and executing the painting and beading can take quite a bit of time to ensure each piece is perfectly matched to their respective owner.
If a hunter has for example a Kudu skull he or she would like done, do you take commissions?
I love working with people to create a piece of art that brings them joy. If they are bringing me their own skull, I recommend boiling, power washing and then spraying the skull, not the horns, with hydrogen peroxide. Or, they can take the easy route and hand it off to a professional  taxidermist for a European mount treatment. Then, reach out to me by phone  210-860-7496, email  [email protected] or through my website at www.hautehorns.com and we can go from there. 
Is there a particular skull you would love the chance to work on?
I have had the opportunity to work on some incredible skulls, and each one is spectacularly unique. I did have a good friend and prolific huntress who had reached out to me about taking her hippo skull and beading it, and then turning it into a glass topped coffee table. I loved the thought of such a challenge but unfortunately she passed away unexpectedly and I would love to honor her memory with something similar one day.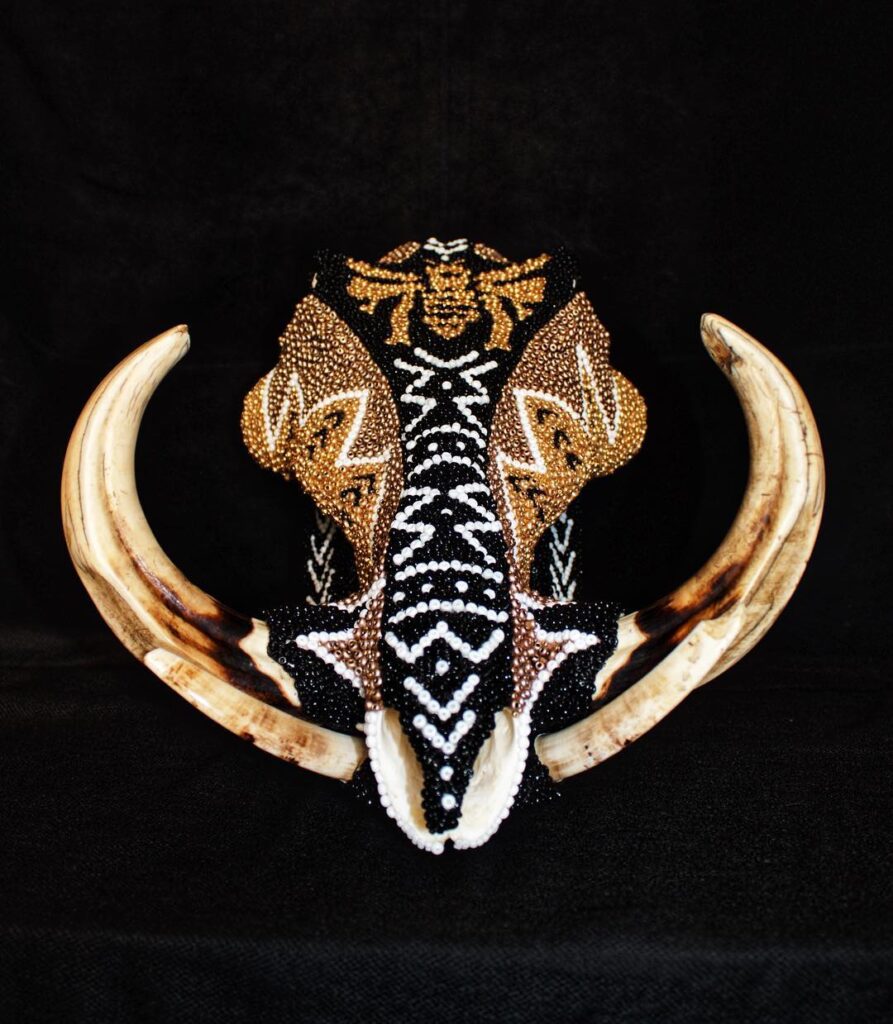 Do you have a favorite project that you have completed?
I don't think I could ever pick a favorite. Every skull has a little piece of me and the dynamic backstories and emotions are all exclusive to that particular season of my life. 
Who are some of your favorite artists that have inspired you?
Georgia O'Keefe is my ultimate inspiration. Growing up and road tripping to the ranch in New Mexico always included a few nights in Santa Fe, and then up past the Ghost Ranch where she stayed and created some of her most prolific paintings. By age 8 I had posters tacked up to my bedroom walls of her Jimson Weed/ White Flower No. 1 ( i thought the large scale of it was beautiful) and Ram's Head, White Hollyhock- Hills, where she incorporated a skull and flower into a New Mexican desert landscape that was so reminiscent of the scenery I knew and loved. I was always looking for bones and skulls to collect, but was unsure of how to utilize them in a creative way that honored the animal like she did with her artwork. 
The Maasai people in Tanzania also play in to some of my pieces. Their beaded jewelry, shields, sword scabbards, etc are true works of art and the few pieces I've collected from past safaris and a trek up Mt. Kilimanjaro bring me so much joy.