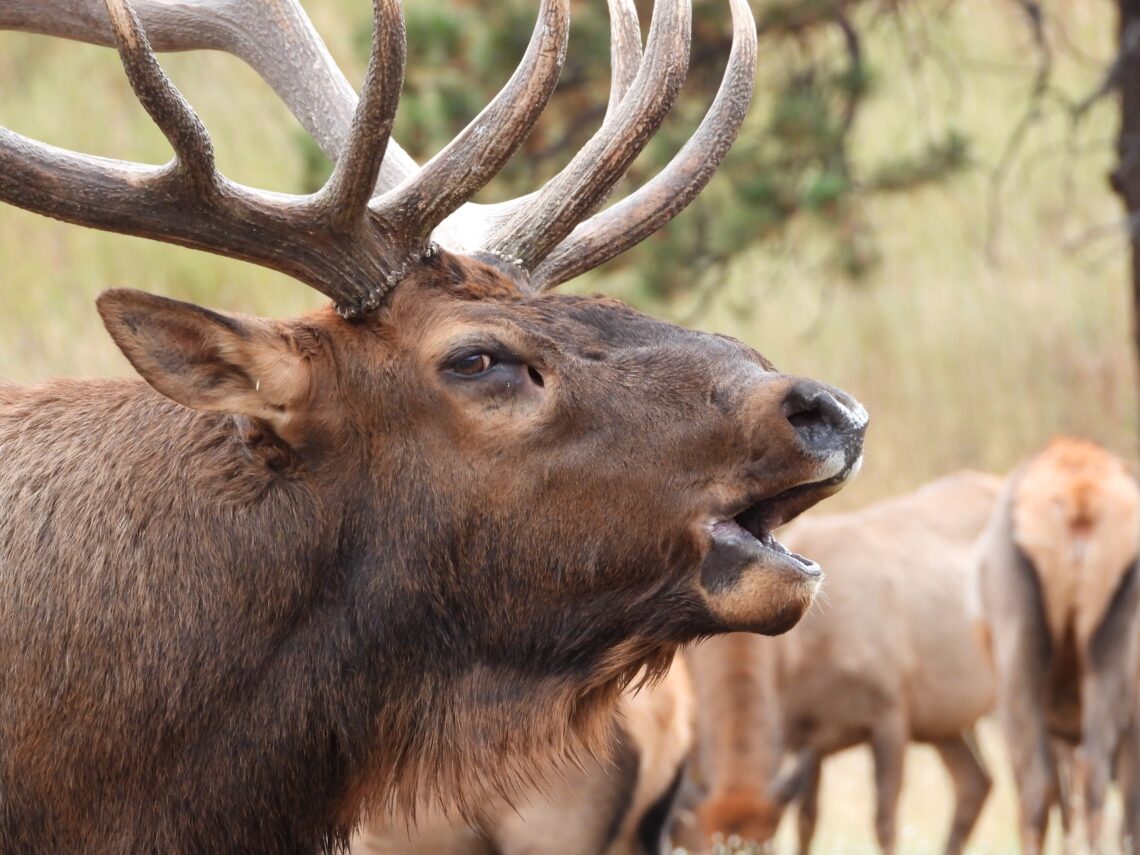 North Carolina To Wyoming
In the verdant landscapes of North Carolina, a seasoned hunter prepares for an unprecedented journey. Leaving behind familiar hunting grounds, he sets his sights on the expansive wilderness of the American West. His quarry: the majestic elk and the elusive pronghorn. This is not just another hunt, but a quest that promises adventure, challenge, and the thrill of pursuing some of the continent's most iconic game.
I started my second bucket list hunting trip on Sunday, October 8, 2017, at 6:00 a.m. I had already packed my 1997 GMC Yukon with all my gear, rifle, ammo, and clothes and left Washington, North Carolina, westward bound for McFadden, Wyoming, for a combination bull elk and pronghorn hunt.
I was traveling and hunting alone this time because my hunting buddy, law enforcement mentor, father figure, and friend, Grady Stilley, couldn't join me due to his health. We would talk by phone every night along the way, even in elk camp. Friend, I can tell you, his absence was greatly missed and felt.
I set forth and drove through North Carolina, a portion of Virginia, West Virginia, and Louisville, Kentucky. It was in Louisville, Kentucky, where I realized I left my cellular phone charger in Washington, North Carolina. It was getting late by the time I was able to purchase a new charger, so I stopped and got a room for the night, knowing I would get up early and hit the road.
The temperature since leaving North Carolina was in the 80's and 90's with no clouds in the sky. I stopped in Kansas City, Kansas, retracing my route from five years earlier with Grady for our pronghorn antelope hunt. I checked into a hotel room and had supper and "refueled and re-armed," as Grady would say when he was flying as a law enforcement pilot conducting marijuana eradication. Just as I settled in for the night, a hellacious thunderstorm hit. It reminded me of a good ol' Eastern North Carolina tobacco thunderstorm. I woke up the next morning and began loading the Yukon with my luggage and soon discovered the temperature had dropped 20 or 30 degrees. Well, I went from shorts and t-shirts to jeans and a flannel shirt. And I was soon back on the road.
The miles peeled away, and soon I was in Nebraska. I stopped in Kearney for lunch at McDonald's for a Quarter Pounder meal with sweet tea (I'm from Eastern North Carolina, what can I say?), then I was on my way across Nebraska, stopping at Cabela's in Sydney. I picked up a pair of Cabela's brand sunglasses and lightweight hearing protection because I forgot mine. I took time to admire the mounts and gun library
After Sydney, I was back on the road and closing the distance with Cheyenne, Wyoming. My dilemma was whether I should push it and drive another 45 minutes to Laramie or spend the night. I was tired and hungry, so I stopped, got a room, and looked for a steak. I found out the storm I encountered in Kansas was a front that blew through Wyoming, dumping several inches of snow in an unseasonable snowstorm. I found Wyoming's Rib and Chop House and ordered a steak, baked potato, salad, and a beer at the bar.
The next morning was Wednesday, and I was up early enough to wake up the rooster and on to Laramie I went. I stayed in Laramie for the next three days and enjoyed walking around the town, getting acclimated to the elevation, and having supper at one of my favorite restaurants, The Altitude Chop House. I took in the sights of Laramie, including walking the campus of the University of Wyoming and exploring the dinosaur museum on campus. I thoroughly enjoyed lunch at Taco John's for the three days I was in town. When I was not exploring Laramie, I was napping, reading, and enjoying my vacation time.
On my last night in Laramie, a gentleman I befriended at the hotel suggested I might want to check the weather and get an earlier start than anticipated because a snowstorm was being predicted for Saturday morning. Sure enough, another front was being predicted by the weatherman, and when the snow is bad enough, I-80 is closed for traffic.
I set the alarm for 6:00 a.m. and was up and at 'em, loading my truck and checking out, heading for elk hunting. Every trip out to load my truck, the ceiling continually dropped and kept turning darker. I still had Laramie in my rear-view mirror and noticed something blowing across the road in front of me. It couldn't possibly be sand, could it? It was too darned wet. No, friends, it was snow! The wind hit me sideways, and I felt my Yukon rock side to side. It snowed and blew all the way to McFadden and elk camp.
I made it to the hunting lodge in record time and got checked in with the manager of the lodge and the lodge cook. I stowed my gear and was taken to sight in my Thompson Venture 7mm Remington Magnum with Hornady 162 grain SST rounds by the cook's husband. I cranked off three rounds at a hundred yards to make sure my rifle kept its zero on the trip out.
The cook's husband asked me if I had ever fired a .45-.70 Government round before. I had not, and he let me sight in his Marlin .45-.70 lever-action rifle. He let me shoot several rounds, and let me tell you, I loved shooting that big .45-.70 lever-action. I felt like Colonel Custer.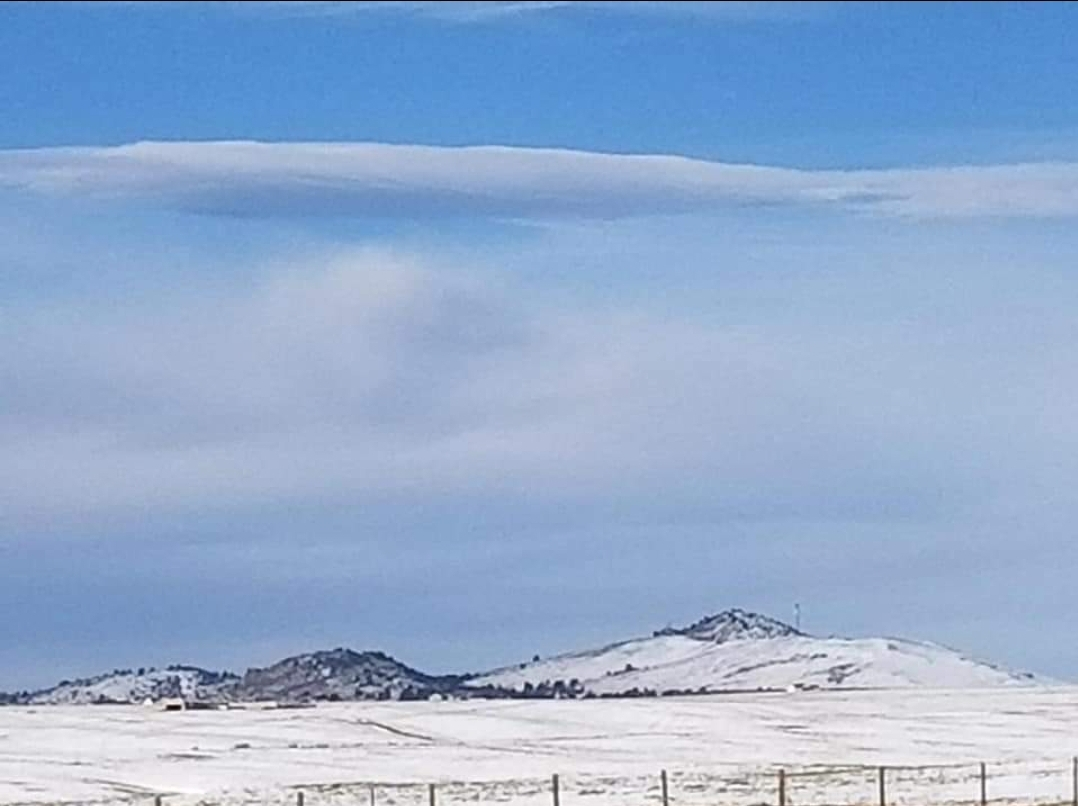 Back at the lodge, all the elk hunters met, and we had supper. Tags and licenses were passed out, and we were told we would eat breakfast at 3:00 a.m. My elk hunting guide came in late with two antelope hunters, a father and son from Florida. It was their last day in camp, and they both tagged out with small bucks on the last day. Colter told me he would explain his frustration later. I learned on my first Western hunt that guides do not like taking 500 plus yard shots at any animal because there is too much room for error to make a clean kill.
My elk guide was a 22–23-year-old senior at the University of Wyoming and was paying his way through school as a hunting guide. I was paired up with a gentleman from Kansas. As usual, 3:00 a.m. came early! We were soon fed and on the road to hunt elk. Colter was nonplussed about his antelope hunters from the previous evening. We soon learned the antelope hunters wanted to take incredibly ill-advised 500 plus yard long shots in extremely high, 20-30 mile per hour crosswinds. Colter said after three days and with time running out, the father took a shot at a much closer, younger pronghorn. In an ironic twist of fate, the father told Colter he should have taken a much closer shot earlier in the hunt. I told Colter I was dialed in for 400 yards but would be thrilled for a much closer shot. Colter smiled and said his job was to put me on an elk within 200 yards but be prepared for a 400-to-500-yard shot.
We arrived at the hunting site and flipped a coin as to who would hunt with the guide and who would be solo for the first morning. Colter asked me what my expectations for a bull elk were. I answered by saying I was depending on him to tell me what was a shooter bull. I also added that he was in these mountains every day and knew what was here, and I would be thrilled with a good representation of what he deemed to be a shooter bull. My partner won the coin toss, and I would be hunting solo the first morning. As we exited the guide's GMC pickup truck, we spooked a cow moose, and she ran the opposite way from us. She was HUGE! We then saw cow elk and calves and yearlings.
Colter put me in a valley called a park. He thought a 5×5 bull would be along shortly and I might be able to get a shot. At last, at 50 years old, I was elk hunting! A dream come true! To say my feelings were surreal is an understatement. I did see two nice-looking bulls approximately a mile away. I later learned they were on someone else's property and we could not hunt them. I enjoyed seeing them nonetheless.
Around 10:00 a.m., Colter came back with my hunting partner, and they did not get a shot either. We went to an area to glass, and spotted several cows. I finally saw them and glassed them as well. Colter saw a bull in the group as they fed up the hill to their morning bedding area. Colter said we had bedded the elk and we would come back that afternoon and hunt the bull.
We returned to the lodge and ate a lunch of leftovers from our supper the night before. Colter went back to his camper for a nap and to work on a school project. I took a power nap, and it was time to pack up and go out for the afternoon hunt.
Colter told me to backtrack the path we were on earlier in the morning while he set my hunting partner up for his afternoon hunt. As I walked on the path, I spooked a mule deer doe and a young fork-horned buck. I continued to walk, and Colter caught up to me, and we continued our hike. We came over one small ridge and walked into a small herd of approximately 20 mule deer does and yearlings.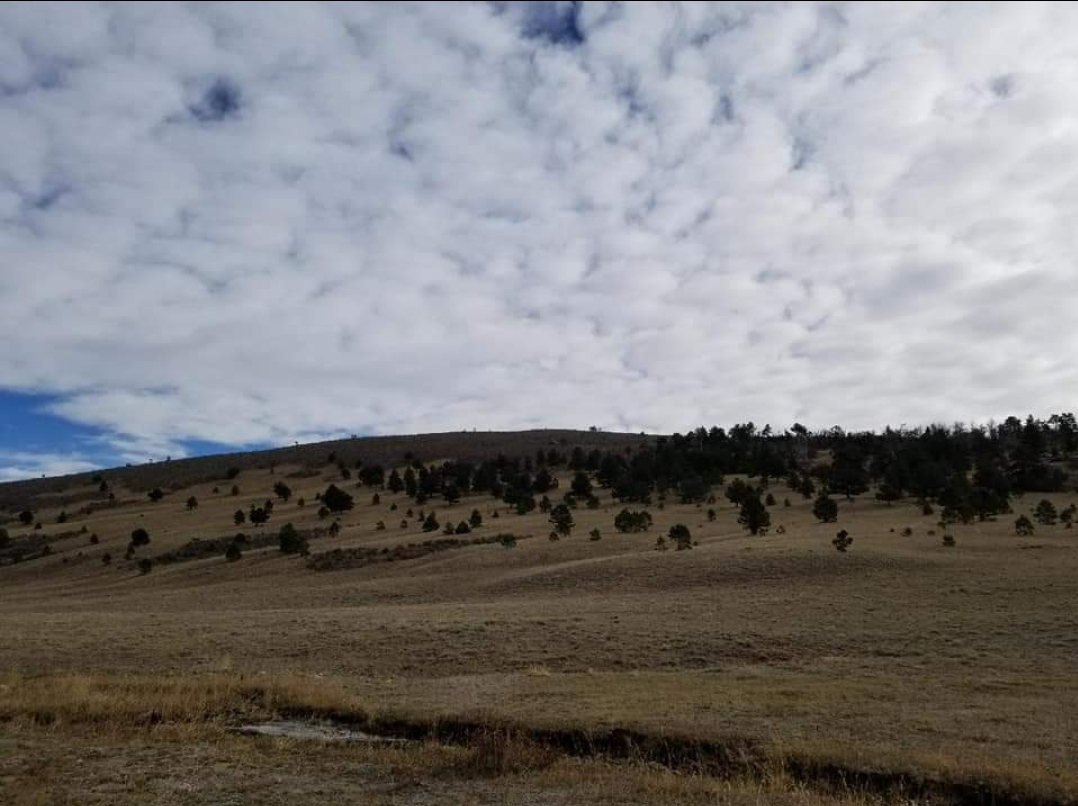 We walked way around the mule deer and got back on track when we jumped a dandy 4×4 mule deer buck and a smaller 3×3. We were only 30 or 40 yards away. I remember commenting, "What a helluva time for there not to be a mule deer tag between us."
We continued our hike for about 20 minutes. Colter stopped and glassed the ridge we had glassed earlier in the morning. Colter turned to me and asked me if I would like to shoot a 6×6 bull. I replied, "Absolutely!" Colter told me where to glass with my Vortex binoculars. I finally saw the bull in all his glory as he fed down the ridge. This was the second rut of elk season, and we could hear the bull bugling. His harem consisted of approximately 30 or 40 cow elk.
Colter said we were going to cut the herd off as they fed down for the evening to water a couple of miles from our location. We walked and walked and walked. We got to the bottom of a hill (mountain) and proceeded up. Colter lived in those hills and mountains and went up the side of that mountain like a mountain goat. I live approximately six inches above sea level. Holy cow. That was tough going. Colter finally showed me where he wanted me in position, and he left to scout the elk herd.
Approximately 20 minutes or so later, huffing and puffing, I reached the area Colter wanted me to set up in. I sat on a nice flat rock to catch my breath. I glassed the area, watched the highway, and enjoyed my view from this elevation. I was probably at 8,000 or 9,000 feet now. Just then, two mule deer does walked up and looked at me, not 30 yards away. But they did not just look AT me, they looked AROUND me. I thought, "What the hell are they looking at?" Turning around and looking over my left shoulder, maybe 300 yards away, were cow elk. Thirty or so cow elk. The lead cow barked at me and continued to bark at me. There was no cover except a single pinion tree 40 yards away. I ran on my tiptoes and hunkered behind this tree. The lead cow continued to bark. I heard the bull off to my left in the distance bugling. I loved this moment. More cow elk continued to come out moving left to right on the top of this mountain. It was now a waiting game. Time ticked away slowly. Bugles, cow barks, bugles. I continually checked my Casio G Shock wristwatch, 3:30 p.m., 4:00 p.m., 5:00 p.m., 5:30 p.m. Sunset was 6:00 p.m.
More cows came out. The sun was sinking behind the mountain, sky lighting the elk. The bull was coming, getting closer, bugling all the way. 5:45 p.m., 5:50 p.m., the sands of the hourglass were draining out…
5:56 p.m. and a young cow elk came out and turned around and began walking back. I heard a loud bugle, and the young cow elk turned and joined the other cow elk. A large-bodied elk came, and I glassed him; it was him, the big bull, all 6×6 of him. I quickly tucked my Vortex binoculars in my jacket and laid down in the prone shooting position, bracing a rock under the pinion. It was 5:58 p.m. I sighted the bull in my Leupold scope, just behind his massive shoulder. I squeezed the trigger of my Thompson Venture 7 mm Remington Magnum and sent a 162 grain Hornady SST uphill, striking the bull behind his shoulder. The bull favored his right shoulder, spun, and walked off the top of the mountain.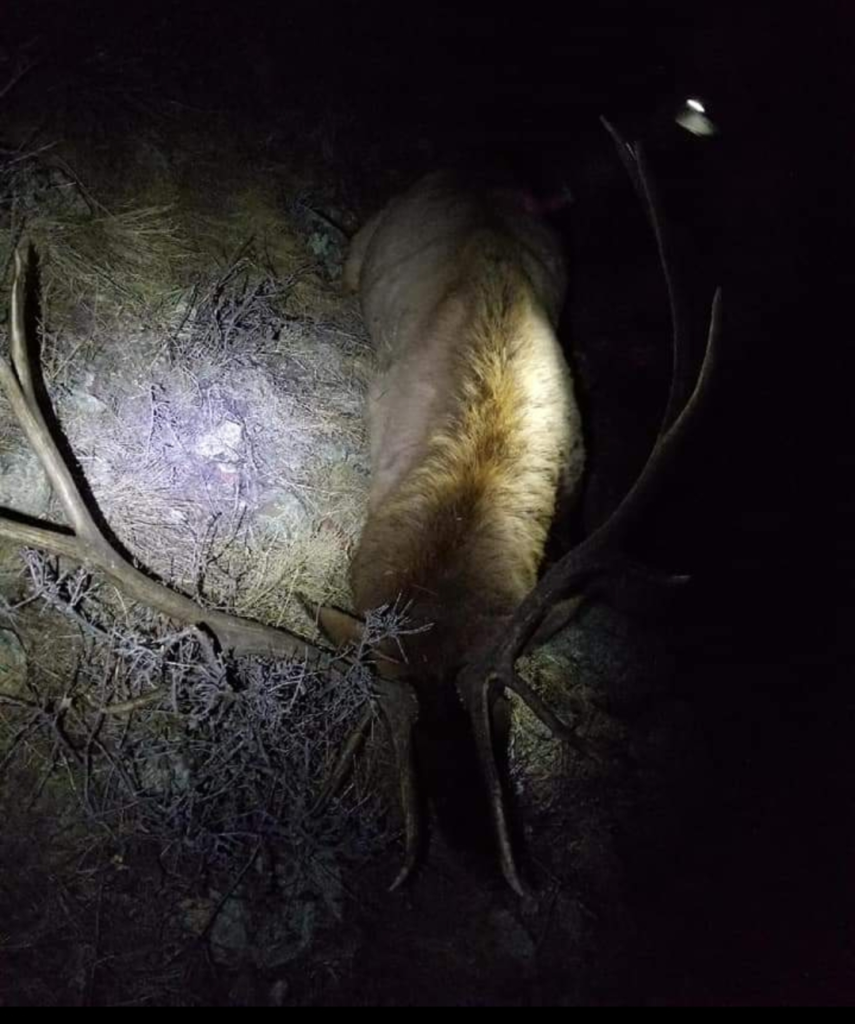 Colter was screaming 30 or 40 yards behind me, congratulating me on a 300-yard shot. He ran up and checked to make sure the big bull was down. Success, the bull was piled up not 20 yards from the mountaintop where I took the shot.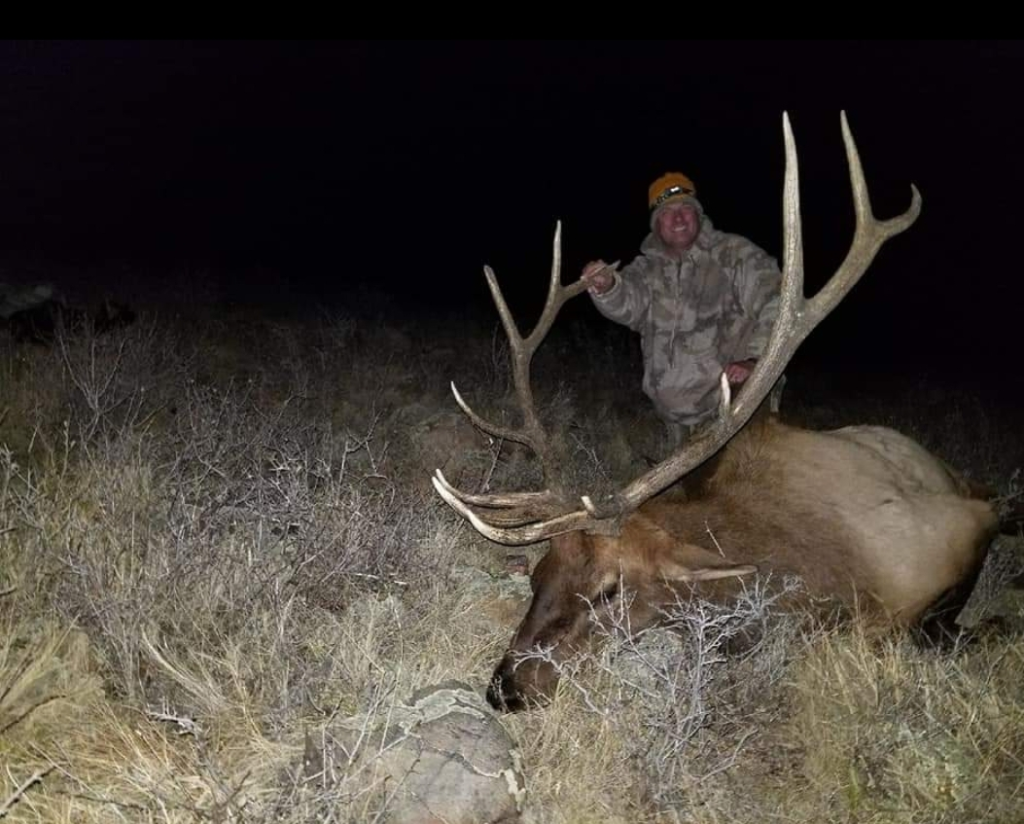 I joined Colter for handshakes and hugs! We field dressed the big bull to retrieve the next morning. It was a beautiful night. We could see all the stars not ruined by the loss of the night sky in this beautiful land.
The next morning, I woke up with the other hunters and had breakfast. Since I tagged out the evening before, I hung back at the lodge and napped in a plush, leather recliner until around 10:00 a.m. The morning elk hunt was over by then, and Outfitter Tyler Sims drove me to the back side of the mountain where my elk was waiting for retrieval. We took Tyler's Dodge Ram to the base of the mountain and then rode Tyler's four-wheeler as far as we could go on the mountain and then walked the rest of the way to my elk. Colter and the other hunter had already driven Colter's GMC pickup truck to within 40 yards of my kill.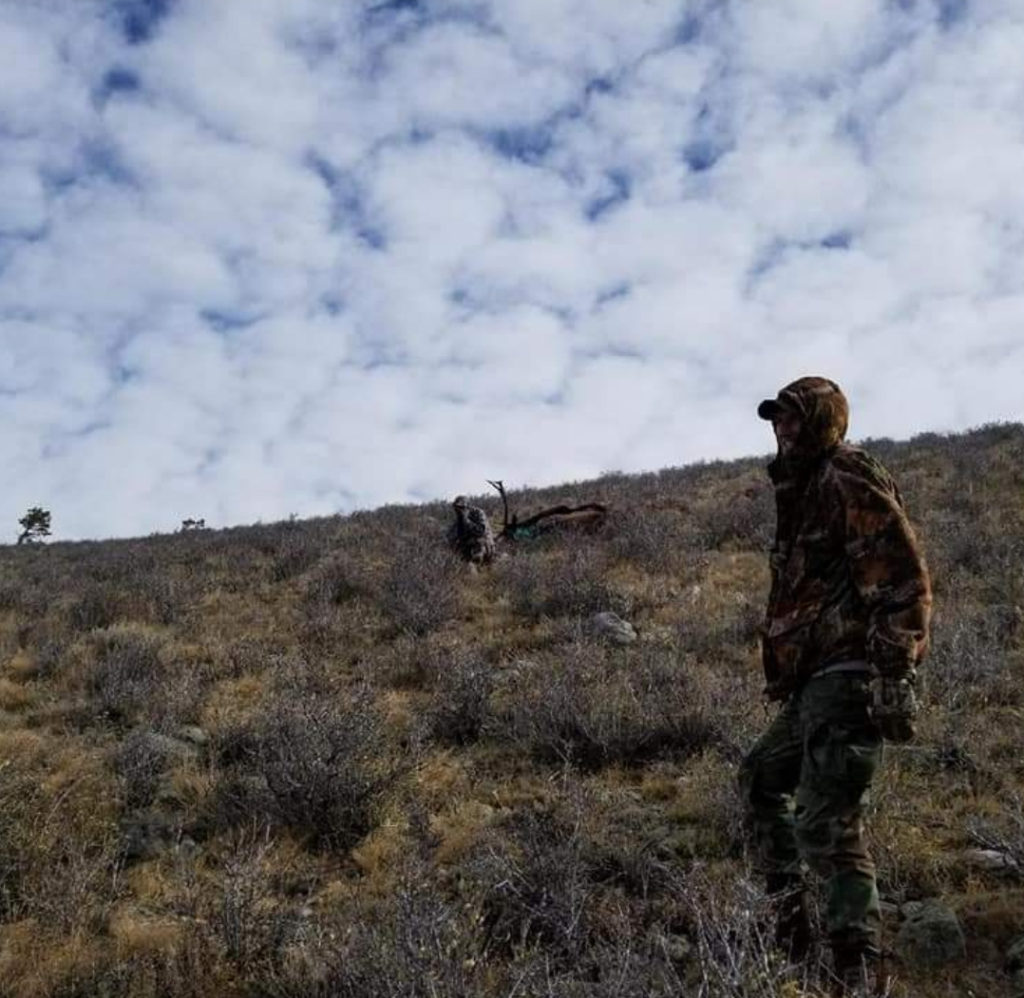 The running joke between Colter and Tyler was that the GMC would never make it to the kill, and Colter was adamant the GMC would get closer than Tyler's preferred Dodge Ram. Colter won a $10.00 dollar bet on that one. We used a come-along and brute strength to load my bull in the back of Colter's truck. Once my elk was loaded, we took it to the processor to be transformed into burgers and steaks. While in the small town of McFadden, we ate lunch at a very good diner and had cheeseburgers and homemade French fries. The meal was delicious. It was late in the day by the time we returned to the lodge. My antelope hunt would begin before sunup the next morning.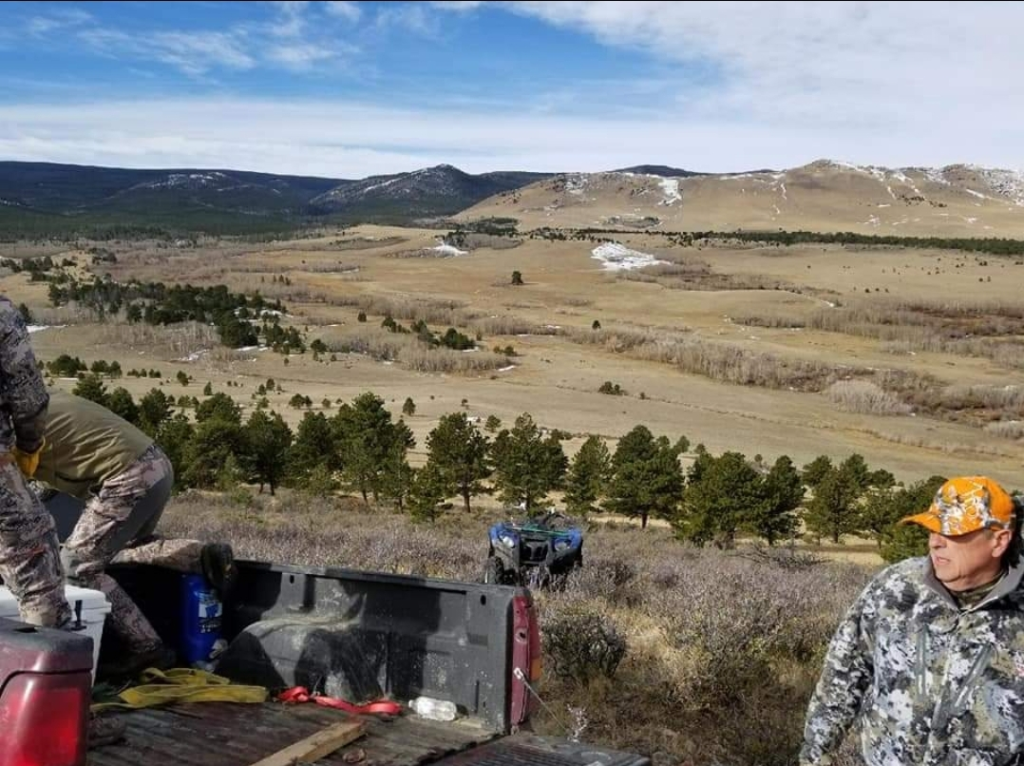 My roommates each shot 6×6 bulls the evening before. We had breakfast and, since I had a combination hunt, I was headed out again with Antelope Guide Randy Emmerson. Randy retired from Carbon Light and Power and guided antelope hunters as a side gig.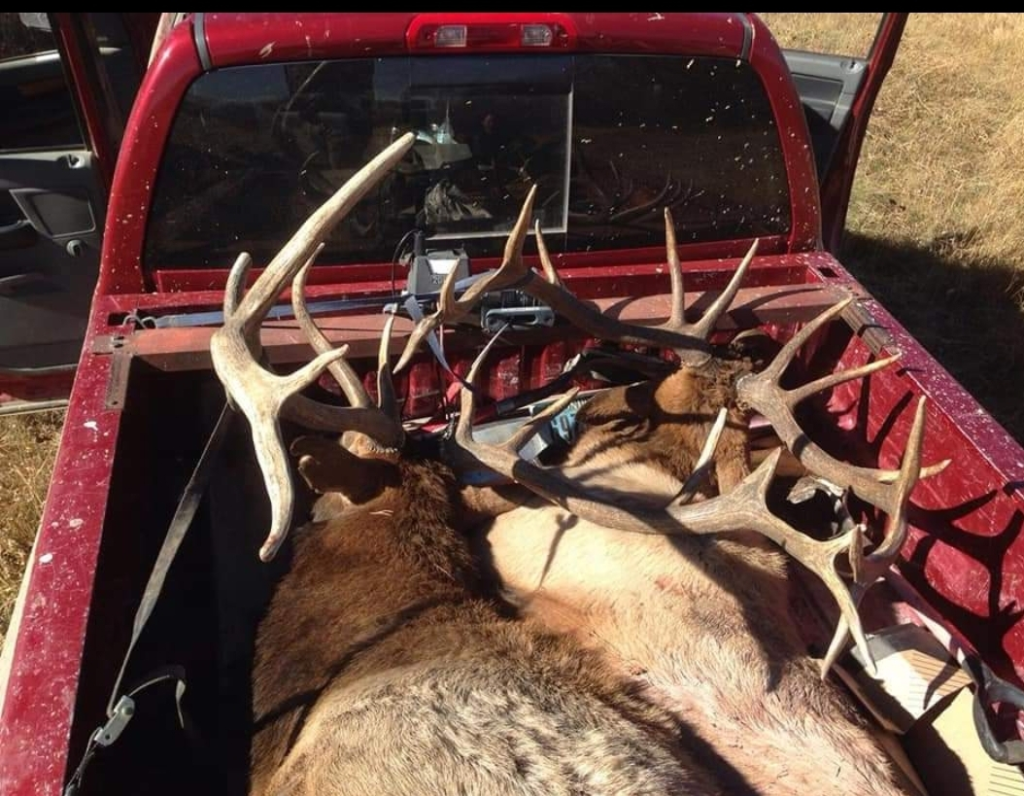 We drove approximately 20-30 miles to the area we would hunt and got into antelope right away. We scoped and looked for a couple of hours before we saw the buck that Randy suggested we pursue. Randy pointed out a particular mountain and told me that was the back side of the mountain I shot my elk on. As we made our way around the high plains in Randy's 2014 Chevy Silverado, we kept spooking the herd. We attempted a couple of stalks and were busted each time. The antelope ran like scalded dogs and were over the next rise before quick. We kept up the cat and mouse chase for the next couple of hours. We finally caught the herd on the other side of a rise. We exited the Chevy Silverado and began another stalk. 
We spotted the buck we decided on, and Randy ranged him at 301 yards on the dot. Randy asked me if I was comfortable with the shot. I practiced shooting out to 400 yards with my 7 Mag back in North Carolina. The wind though, whew was tough. I eased up to a huge flat rock with sage and prairie grass for scant cover. I dropped into the prone position and low crawled to a good spot. Dang, I could not see the buck for the grass and sage. I eased up until I had a better sight picture. I found the buck in my crosshairs and adjusted for the wind. The pronghorn buck was standing at a perfect broadside. I squeezed the trigger, boom, the buck looked as though he had been poleaxed. The rest of the herd spooked at the sound of my shot and lit out for the hills. We took photos and field dressed my pronghorn. Once we field dressed my buck, we drove back to the lodge and finished cleaning my buck. My shot hit the buck square in the neck and ruined the cape. Luckily, Randy and Tyler had several extra capes for such a shot. We got the paperwork in order for the taxidermist and we put the meat in green plastic garbage bags and froze it.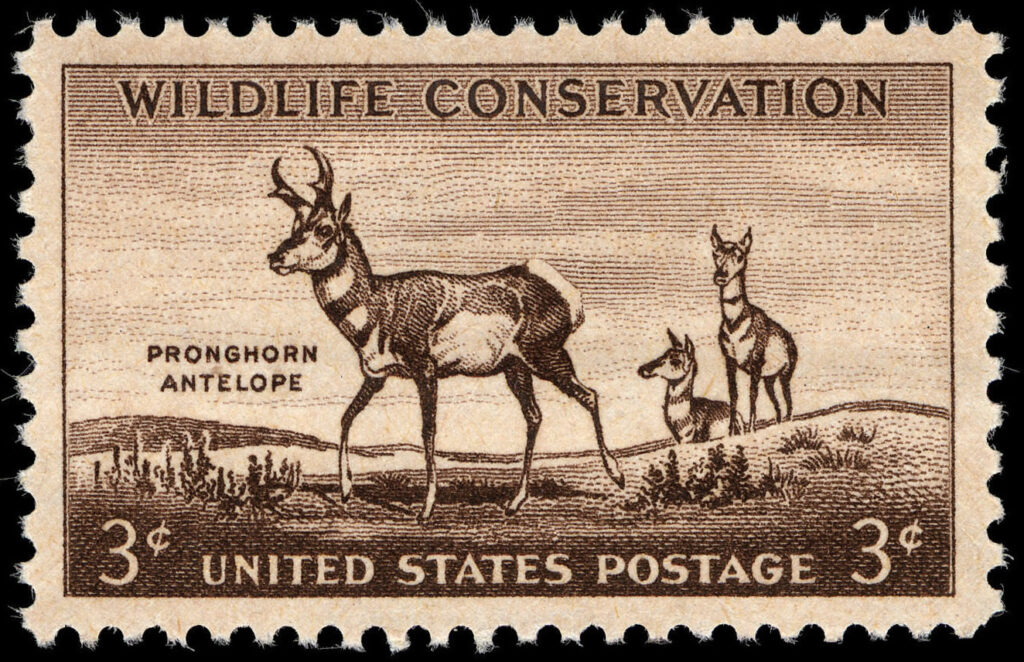 My hunt was over and I had a fabulous time. It was going to take another day and a half to have my elk processed. I spent the next day trout fishing. The rest of my time was anticlimactic. I savored every single second. I picked my elk meat up on Thursday afternoon and headed back to North Carolina. My next elk hunt is scheduled for October 2024 and it will be a combination elk/antelope hunt. I cannot wait to return and begin another adventure. The meat on both elk and antelope is fantastic. 
I raise a glass of bourbon and salute all the hunters. Cheers!