Ding Darling: The Father of the Duck Stamp
In the realm of wildlife conservation, few names evoke as much reverence as Jay Norwood "Ding" Darling. A renowned political cartoonist turned environmentalist, Darling made an indelible mark on the world with his tireless efforts to preserve and protect our nation's waterfowl populations. His instrumental role in establishing the modern duck stamp program, a unique and successful conservation initiative, continues to leave a lasting legacy on both wildlife and the arts.
Early Life and Career
Born on October 21, 1876, in Norwood, Michigan, Jay Norwood Darling exhibited artistic talent from an early age. After studying at the Michigan State Normal College (now Eastern Michigan University), he embarked on a career as a cartoonist. Darling's political cartoons caught the attention of readers nationwide, earning him two Pulitzer Prizes and solidifying his reputation as a talented satirist and social commentator.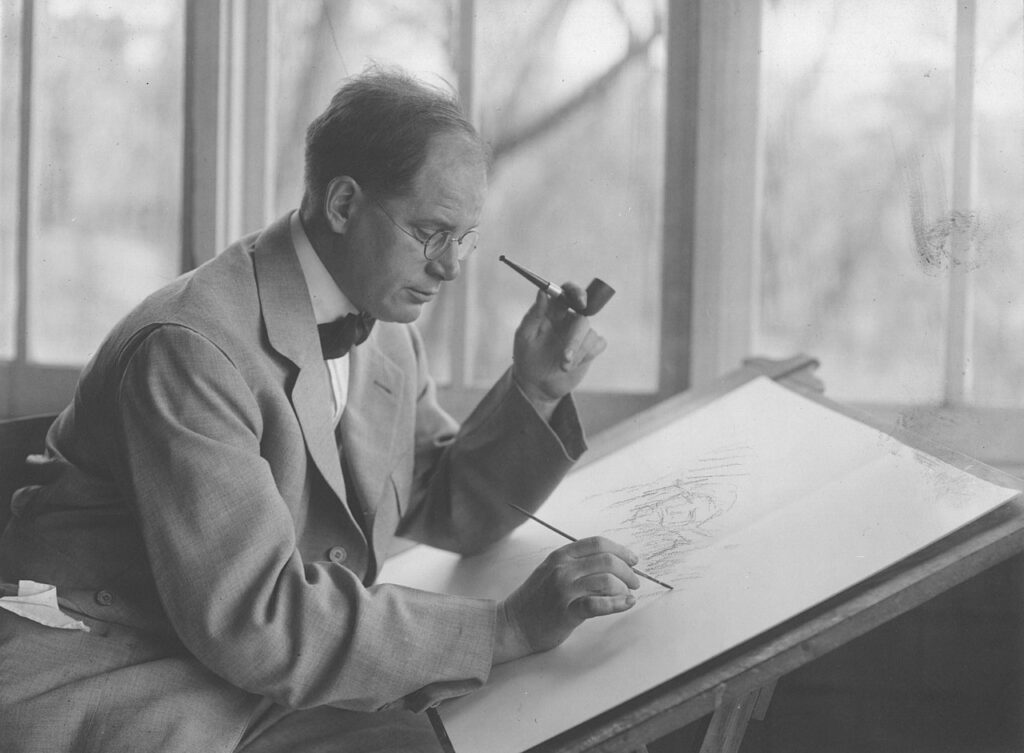 Conservation Advocacy
Darling's passion for conservation grew alongside his cartooning success. In the early 1930s, as the nation grappled with the devastating impacts that unregulated hunting and habitat destruction had on waterfowl populations, Darling saw the opportunity to affect change. Drawing from his artistic background, he proposed the idea of a federal duck stamp program, an innovative approach to funding wildlife conservation.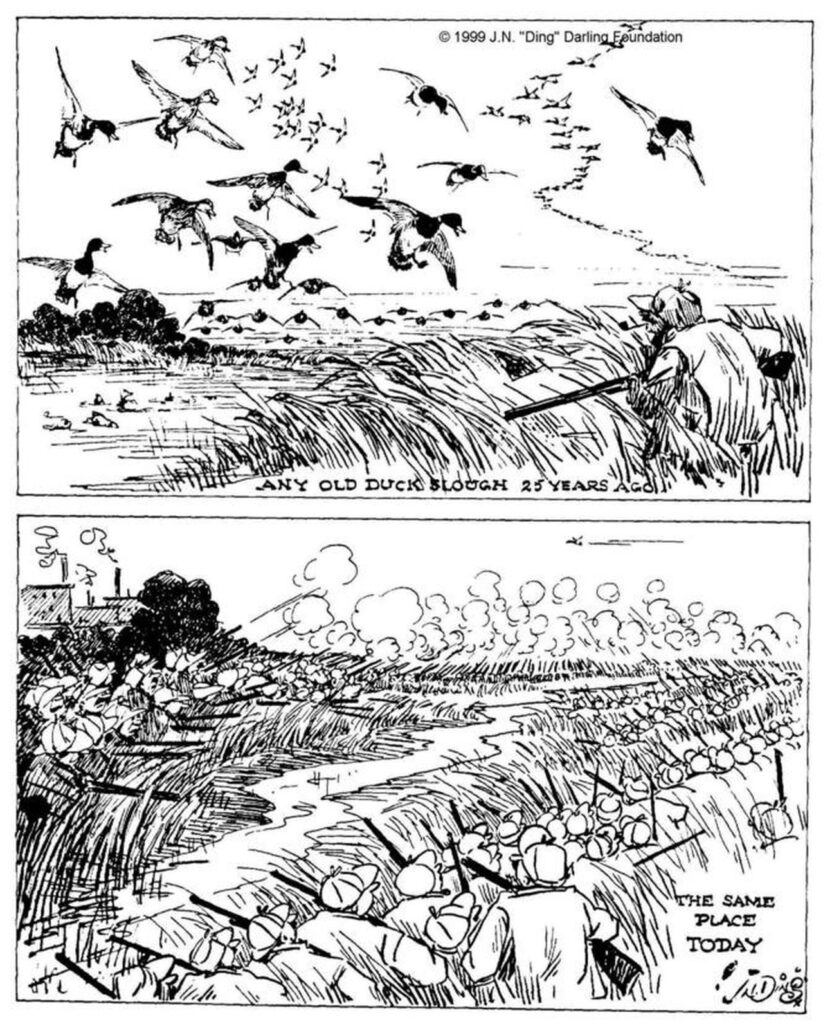 The Duck Stamp Program 
The concept behind the duck stamp program was simple yet effective: issue stamps that hunters would purchase as a requirement to hunt migratory waterfowl. The revenue generated from the sale of these stamps would then be dedicated to preserving and enhancing waterfowl habitat. Darling's vision was soon realized when President Franklin D. Roosevelt signed the Migratory Bird Hunting Stamp Act into law on March 16, 1934.
In 1934, when the duck stamp program was in its infancy, Jay Norwood 'Ding' Darling not only championed the cause but also lent his artistic brilliance to create the inaugural stamp. The artwork he crafted depicted two mallard ducks in flight, a masterpiece that symbolized the essence of waterfowl and their habitats. This iconic stamp, priced at merely one dollar, not only became a collector's item but also initiated a legacy of conservation. Darling's artistry, coupled with his profound dedication to wildlife, set the stage for an enduring tradition that continues to fund vital wetland conservation efforts today.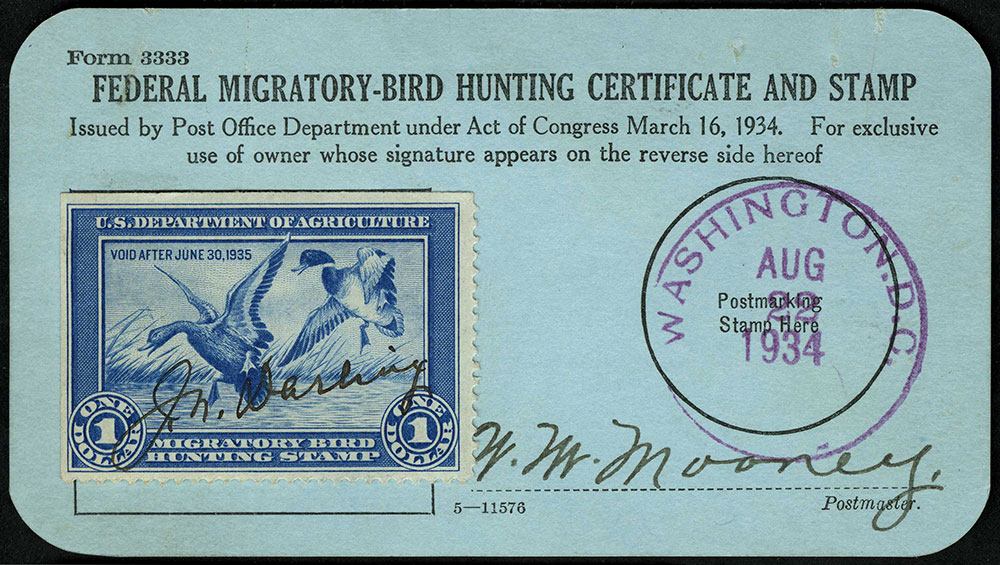 Impact and Legacy
Impact and Legacy: Under Darling's guidance, the duck stamp program flourished, surpassing initial expectations. Not only did it provide crucial funding for wetland conservation and restoration, but it also served as a powerful symbol of public involvement in wildlife conservation. Over the years, millions of duck stamps have been sold, generating substantial revenue and preserving countless acres of vital waterfowl habitat.
Darling's dedication to conservation extended beyond the duck stamp program. He played a pivotal role in establishing the National Wildlife Federation and worked diligently to promote sustainable hunting practices, habitat preservation, and environmental education. His efforts laid the groundwork for subsequent generations of conservationists and helped shape the modern conservation movement.
The Million Dollar Duck 
In the documentary film 'The Million Dollar Duck,' the captivating story behind the annual Federal Duck Stamp Contest comes to life. This film, directed by Brian Golden Davis, delves into the passionate world of wildlife artists competing for the prestigious honor of creating the next duck stamp. The documentary sheds light on the artists' dedication, creativity, and the profound impact these stamps have on conservation efforts. 'The Million Dollar Duck' not only provides a behind-the-scenes look at the artistic process but also highlights the broader significance of the duck stamp program, showcasing how a small piece of artwork can make a million-dollar difference in preserving our natural heritage.
Conclusion
Jay Norwood "Ding" Darling's life and legacy continue to inspire and motivate conservationists worldwide. Through his artistic talents, persuasive advocacy, and visionary thinking, he revolutionized wildlife conservation by championing the federal duck stamp program. Today, his contributions live on as a testament to the power of individuals to effect positive change. Darling's enduring legacy serves as a reminder that art, activism, and environmental stewardship can intertwine, leaving an indelible mark on both nature and society.