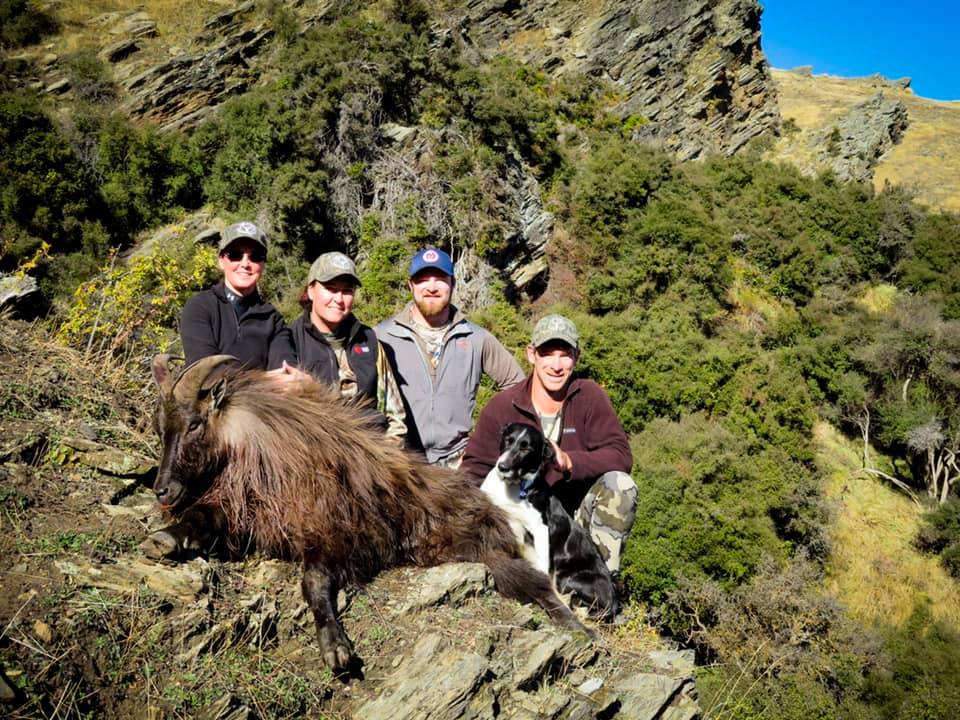 So You Want to Hunt a Himalayan Tahr … in New Zealand?
People tend to light up with excitement, at least in the United States, upon hearing you're headed to New Zealand. 
With wide eyes and a big smile they often respond, "Wow! I've always wanted to go to New Zealand. I hear it's absolutely amazing." 
Then the questions begin: "What part of New Zealand will you be visiting? How long are you planning to stay? What sights will you be seeing? What are you planning to do while there?"
My answers to their questions quickly become complicated when I inform them that I'm headed to the South Island to hunt.
"Hunt? Hunt what?"
"Tahr."
"Tahr? What's a tahr?"
That was the conversation I had with my orthopedic surgeon and his attending resident — among other people. 
Before I could even respond, the resident quickly disregarded the notes he was taking on my case and googled "tahr." Upon finding a photo of one of these gorgeous, woolly creatures, he turned the screen around for my physician to see and exclaimed, "How cool is that?"
That's exactly how I felt when I was first asked if I wanted to join Kate Ahnstrom, my agent and friend, on a hunt in New Zealand. It's also how I felt when I made the decision to hunt a Himalayan tahr. 
How incredibly cool would that experience be? A new country I had never been to before, chasing after one of the loveliest animals I had ever seen before, over some of the most beautiful terrain in the world. 
Then reality set in as I began to research further what hunting a tahr would entail: the terrain I would have to traverse, the climates we would possibly face, the equipment I would need, the type of shot I would have to take on the animal — distance and angle — the physical fitness required to handle such a hunt, and those possible heights we'd have to climb. 
I am terrified of heights and falling. No matter how much I've tried to conquer that fear, including jumping out of a plane, it still lives within me. 
What had I gotten myself into now?
I would not back out. There was no doubt in my mind I had signed myself up for a challenge. 
I was in — all in. 
Someone recently asked me at what point did I start to prepare for the hunt. My answer? The moment I made the decision to go, one year in advance. 
I first read everything I could find on hunting a tahr in New Zealand. I'd like to tell you there is a wealth of information out there to read, but I'd be lying. 
I did manage to find a couple articles that really helped and I put to use. The rest of the information I would need would come from my outfitter; Chris McCarthy of Lake Hawea Hunting Safaris; my agent, Kate Ahnstrom, who had previously hunted New Zealand; social media hunting friends residing in New Zealand; and my rifle coach, Bill Curry. 
I was in good hands. 
My weekly schedule changed a bit. I spent six days a week in the gym and one day a week at the rifle range.
Since I already worked out six days a week and have for years, the change in my workouts involved increasing the weights I used and to increase my cardio to improve endurance. 
While you don't have to be an Olympic contender of any sort, you do have to be in shape for hunting tahr. The elevations are steep, and you have to be able to move up and down those mountains for however many days your hunt lasts. 
Also keep in mind any equipment you'll be required to carry.
On that note, the outfitter you use should provide you with a gear list. The list will provide not only the hunting equipment you will need but also the recommended clothing you will need to wear for New Zealand's climate.
I opted not to take my own rifle on this hunt, but to use the outfitter's. My decision was based on the fact I would be sightseeing on the North Island the second week of my stay in New Zealand, and I did not want to deal with having to store my rifle while touring. 
But when at the range, I practiced using my Remington 700 .30-06 with a Zeiss Conquest 4.5-14×44 MC scope. The rifle I would hunt with was a Browning .270 Win.
Being what I consider a novice hunter, range time was truly important to me, and my shooting ability my greatest concern. Though I have hunted and taken 13 animals in South Africa, New Zealand's terrain is altogether different, and I would need to be prepared to take longer distance shots than I had before and at elevations where my quarry could be above or below me. 
Possibly shooting distances beyond 300 yards, and either uphill or downhill, was a game changer and would require learning new skills. 
I was extremely blessed to have a rifle coach in Curry. A retired mechanical engineer, he now passes on his knowledge of all things guns and ammo while participating in target shooting competitions when he can. 
Not only did I have Curry, but I am also fortunate to be a member of a rifle and gun club near my home with a long-range shooting course out to 600 yards. So once a week, for nine months, Curry and I met at the rifle range. 
I not only had to develop consistency in my shooting at various distances but also learn how to dial in my scope based on the distance, trajectory of the bullet, wind, and angle of inclination to the target. 
Developing your shooting abilities is a must, but so is knowing the shot placement on a tahr. 
A social media friend sent me photos showing shot placement that he had created for his clients who hunted New Zealand. The great thing about the photos he sent me: the tahr in the photos were standing at different heights and angles.
While we would all wish for a perfect broadside shot on our quarry, that opportunity doesn't always present itself.
I printed off several of the photos and taped them to mirrors in my home gym. At night, I would dry fire placing the cross hairs of my Zeiss scope on the designated shot placement. 
I went through this drill over and over again.  
But the best advice I received from hunters out of New Zealand, because of the elevations and rocky conditions, was the importance of taking the tahr down fast. Their recommendation of the best shot on a tahr was one that would take out its shoulders. 
Even with a lethal hit, if the tahr gets up and runs, there's a good chance you won't see it again.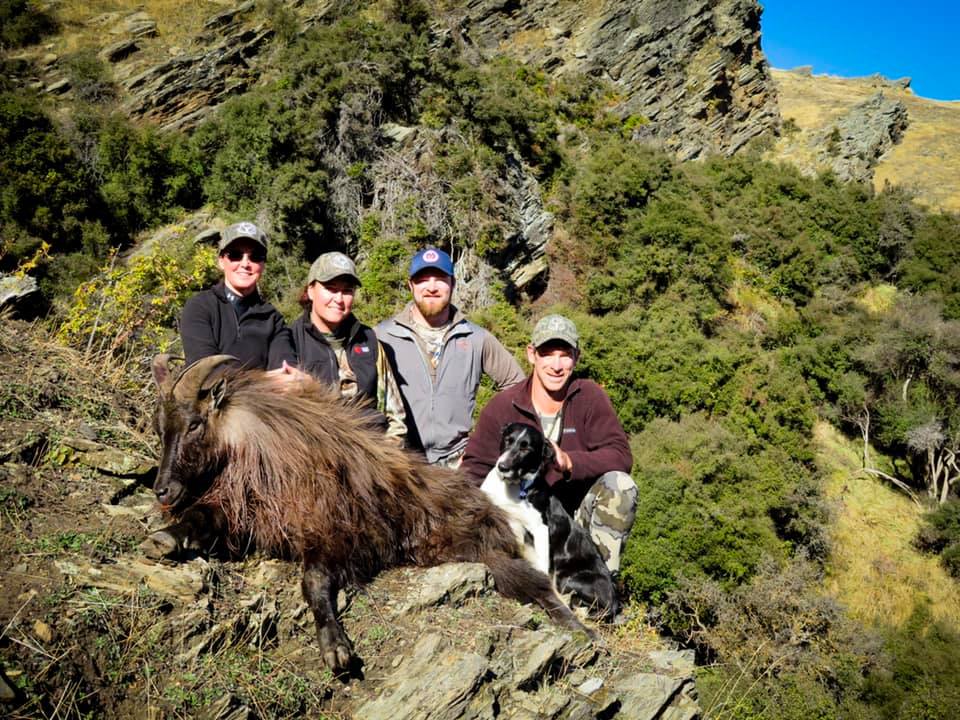 My final concern in preparing for the hunt was what to wear when hunting. 
The hunt would occur between the end of April and beginning of May, which is New Zealand's fall. I prepared for anything: cold, wet, warm, and downright freezing. 
Needless to say, nothing I wore on my African hunts would work. Once again, I turned to social media hunting friends in New Zealand for the best advice. 
I was given several recommendations but often found the companies had very few options in women's hunting clothing or — because of my small stature — did not carry clothing in my size. What also did not help is that I do not care for camo and wanted to purchase solid earth-colored clothing if I could. 
Then there were the above-the-ankle boots I would need to wear on the hunt. With the rocky terrain we would cover, it's extremely easy to twist your ankle. 
One gentleman out of Australia recommended I check out a New Zealand company called Stoney Creek that produced men's, women's and children's hunting clothing. Another gentleman out of New Zealand messaged that I should check out Lowa boots. 
I could not have been more thrilled with my purchases from both companies.
Stoney Creek has one of the largest choices for women's hunting clothing I have yet to find, even here in the U.S. Their women's hunting clothing is designed by women who hunt, and hunt New Zealand year around. Color choices include camo and solid colors, and the best part yet — they make a size that fits me perfectly.  
They have so many options that I contacted their customer service to see what they would specifically recommend for the type of hunt I was doing, in the area I would be hunting and for the time of year the hunt would take place. Customer service had me speak to a woman who worked for them who was an avid hunter. 
I even asked her about her thoughts on Lowa boots. She said it was the only boot she would hunt in. 
I followed all her advice.
My final purchases included the women's Stowit jacket and overtrousers, rain gear that fits easily over your hunting outerwear; two pair of their women's Landsborough trousers — I will purchase two more pair I loved them so much — and their women's Thermolite jacket. Another great feature to the clothing: They all come with their own packing pouch, so the garments will fit easily into your backpack. 
I also found a couple stores here in the U.S. that carried the Lowa boots. I purchased two pair of the women's above-the-ankle Renegade Ice GTX boots. The boots proved to be extremely comfortable. 
Just a word of warning: When I broke the boots in, I opted to do it during part of my workout on the treadmill as opposed to outdoors where they could get dirty. Due to biosecurity concerns, New Zealand frowns on dirty boots coming into their country. You might find yourself delayed upon landing in New Zealand because you have to have your boots washed. 
All the questions, all the researching, all the preparation paid off. Having a great outfitter like McCarthy and his assistant, Gus Karr, made the experience that much more amazing. I was able to successfully take a free range tahr the first day out on the hunt. 
The weather conditions were rainy and a frigid 40 degrees. I took the tahr at last light, an uphill shot, in prone position at 306 yards. 
After field dressing the animal, it was too dark to retrieve until the next day.
We spent the rest of the week scouting and glassing for a fallow deer. It was the end of their rut season, and finding one that had both antlers was a challenge. 
I finally took a free-range fallow on the fifth day. It was an uphill shot, in prone position, at 390 yards.  
I look forward to hunting again with McCarthy in 2021. On my list is red stag and chamois. 
I fell in love with New Zealand.
Besides hunting New Zealand, Christina has also hunted South Africa, Argentina, and on the eastern coast of the United States. When she's not planning her next hunt, she enjoys long distance target shooting, tactical pistol shooting and sporting clays as well. Christina resides in Midlothian and Hot Springs, Virginia with her two dogs, Roo and Baxter