The Whiskey Ledger with Bourbon Apprentice
Entry: 007
Support Local – Broad Branch Distillery
Back in April of 2020 and amidst the height of the pandemic, a number of NC bourbon enthusiasts were brought together by my buddy Cam to establish what is now known as the NCBurbCrew.  I could honestly write a full article on the group's inception (and I might), but for now, you can just follow that hashtag on social media to find out more about it.  
One of the mainstays of the group, affectionally called the "Crüe," is Daniel Spivey, who is @Tipples_And_Drams on Instagram.  Daniel knows more about whiskey in his eyelashes than I'll likely ever know.  I've learned a ton from him over the last year and can't wait to finally meet him in person.  I'm grateful to have the opportunity to interview him and learn more about one of North Carolina's finest distilleries, Broad Branch!  Find yourself a comfortable seat, grab yourself a pour and enjoy!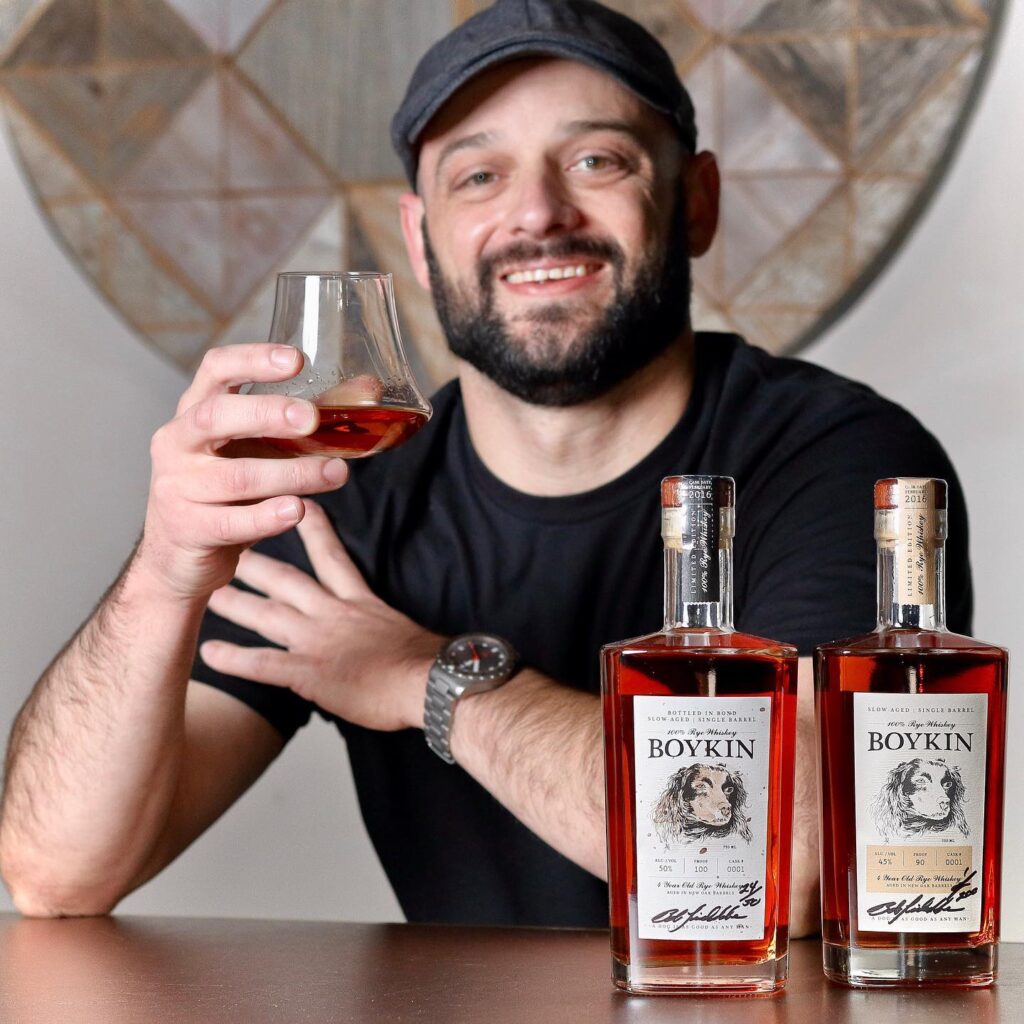 Mike: Tell me a little bit about yourself (outside of whiskey)
Daniel: I have been married to my wonderful wife, Kaelan, for 5yrs and we call Winston-Salem home. My family is all from the Southeast, but I grew up in southern and central California. I knew at a young age that college was not the right path for me, so at 19 I enlisted in the Air Force. I have lived all over the US and had the amazing opportunity to be stationed overseas for 7 years. I retired from active-duty last June after 20 years of service.
Mike: That's awesome, Dan.  First and foremost, THANK YOU for your service!  How did you get into whiskey and eventually the whiskey industry?
Daniel: That is a big question with no short answer. In 2010, I was assigned to temporary duty in D.C. at Joint Base Anacostia-Bolling. I spent a little over 6 months there and took full advantage of being in the nation's capital just as a sort of cocktail renaissance was happening. One thing I discovered was that a cocktail could be more than a Rum & Coke. The craft cocktail scene was exploding, and it instantly captivated me. I read everything I could get my hands on and started making my own drinks at home. After a while, I realized I tended to prefer whiskey-whisky based cocktails, so I decided to learn more about that spirit.
As for how I ended up at Broad Branch? Well, let's just say that the stars aligned! In early 2019, I was prepping for my last trip overseas when my wife told me that a recruiter had contacted her about a job in Winston-Salem. We had never planned on staying in the D.C. area she ended up taking that job. I spent about a month in Winston-Salem when I returned from overseas. I was surprised to learn that there was a distillery producing whiskey and rum in downtown WS. I decided to check it out and I was shocked by how good everything was.
The DOD has a program called "Skills Bridge". It is designed to help service members transition from military life to civilian life. They do that by releasing you from duty, while still giving you all your pay and benefits if you find an internship or apprenticeship. I approached BB about becoming an intern and they said "yes". I started at Broad Branch in Feb of 2020. That first month I mainly helped on the production side of the house – cooking mash, learning the still, barreling & bottling. Not long after I started helping with sales and social media and we all figured out that it was a good fit. Broad Branch brought me on as a full-time employee in May of 2020.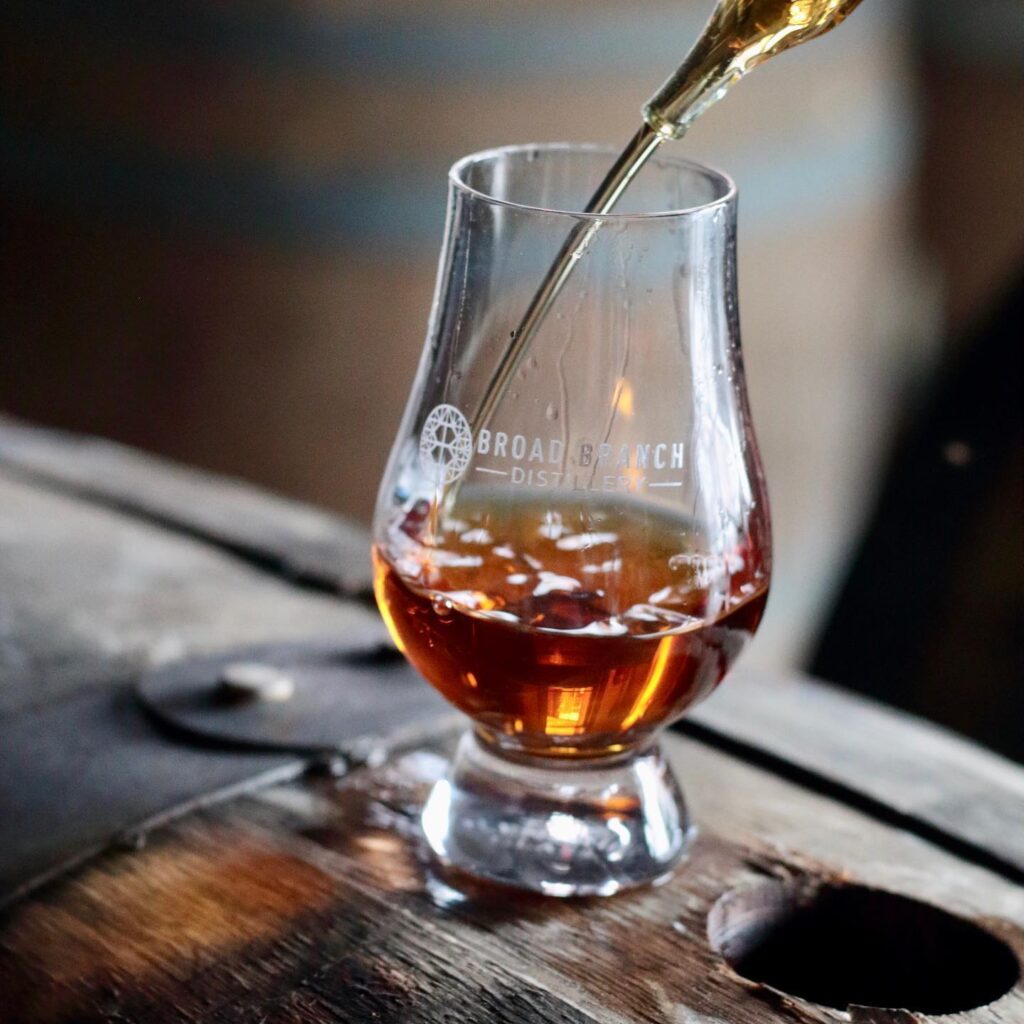 Mike: What's your role at Broad Branch?
Daniel: I am the Head of Brand Development which is a bit of a hybrid job. My primary responsibilities are marketing and sales.  That being said, we are a small distillery, so everyone wears multiple hats and chips in wherever they're needed.  Being exposed to and involved with every aspect of the distillery is great because I'm constantly able to learn new things. 
Mike: When did Broad Branch open their doors? 
Daniel: We received our DSP in 2013 and opened the doors to the distillery in 2015.
Mike: What sets Broad Branch apart from other local distilleries in North Carolina?
Daniel: There are a ton of passionate distillers in North Carolina. We all have different business models and goals so I can only talk about what we do at BB. Our focus has been, and always will be, on quality. Period. If we don't like (drinking) it neat, we don't put it in a bottle.
Mike: Who is your master distiller?
 Daniel: We don't have a single Master Distiller. It really is a team effort at the distillery. We have 2 Distillers, Joe Tappe and Don Jenkins. Joe also functions as our Operations Manager, while Don does all of our barrel selection, blending, quality control and is also a very talented photographer. Finally, John's daughters, Natalie and Anna, act as our primary liaisons with the ABC. I think one of the nice things about having such a small team is that it allows us to be nimble.
Mike: Being nimble is key, especially when it comes to my next question.  Smaller distilleries typically source at the start or sell their own unaged distillates while other products are aging.  Where did/does Broad Branch fall on that spectrum?  Do you source any distillate?  If not, are all of the grains locally grown?
Daniel: The only products we bottle that was not distilled on-site are Rye Fidelity & Supercollider. That will change in the next 2 years as we transition to our own Rye distillate. It's turning 5 this year! We sourced our original rye barrels from Second Chance Distilling in Washington. We use the exact same recipe as our sourced barrels and we even source our rye grain for the exact same farm. I am happy to say that there will be little to no flavor shift when we fully transition to our own rye distillate. Everything else goes from grain to bottle on site.
Mike: That's pretty impressive considering the wide array of products you have!  Many craft distilleries use smaller barrels to increase the surface area contact of the wood over time.  Does Broad Branch employ this technique or are you using the full-size barrels?
Daniel: Great question! We have a mantra around the distillery, and it is "53 gallons and patience". We believe that in our climate all you need is good new make, a quality 53-gallon barrel, and a hell of a lot of patience. 
Mike: Wow! I never get compliments on my questions, thanks!! <chuckle> Broad Branch labeling is transparent, is that level of visibility part of the Broad Branch philosophy?
Daniel: 100%. It doesn't matter if it is whiskey or another product, consumers want to know what they are buying. We are proud of what we make and are more than happy to be open and transparent with our customers.
Mike: Transparency is so refreshing.  It's not the norm, but it seems to be becoming a bit more en vogue these days and I appreciate that.  My focus here is about whiskey and I fell in love with Broad Branch when I tried your Rye Fidelity rye whiskey.  In ten words or less, describe Rye Fidelity.
Daniel: That is tough.  How about…. the bold spiciness of American Ryes with the nuanced sweetness of Canadian Ryes…ok, I need 3 extra words unless we aren't counting the words "the" & "of".
Mike: I was extremely excited to learn about the Boykin released back in December, which was created because it "embodies both the Carolinas rich hunting and distilling tradition."  As you know, Feathers & Whiskey was largely founded on those exact ideals, so it was only natural that I had to feature a piece on this expression.  What can you tell me about how this concept came to fruition?
Daniel: Bob and his people actually approached us. It was an opportunity that we couldn't pass on. It isn't very often that a distillery our size gets to partner with an artist like Bob Timberlake. I have to say it has been an absolute pleasure working with him on this project.
Mike: Boykin is labeled as 4-year-old 100% rye whiskey.  Aside from the age, how does it differ from Rye Fidelity?  Are they the same mash bill?
Daniel: It is the same mash bill as Rye Fidelity. As you know we focus on single barrels for our whiskies and every barrel has its own personality and flavors. It was more of a matter of finding a barrel that had flavors that evoked the right emotions or encompassed the flavors & aromas of being in the woods with your friends and family.
Mike: That sounds like the spirit of the label for sure!  Boykin was bottled at both 90 and 100 proof.  Are you appealing to different audiences with that or was there another reason behind the double bottling? 
Daniel: This initial release was supposed to celebrate Bob's 50-year career. We did the fifty 100 proof bottles to place an emphasis on that. Sadly, because of COVID, we couldn't have the big event that we planned, but the release was still a resounding success!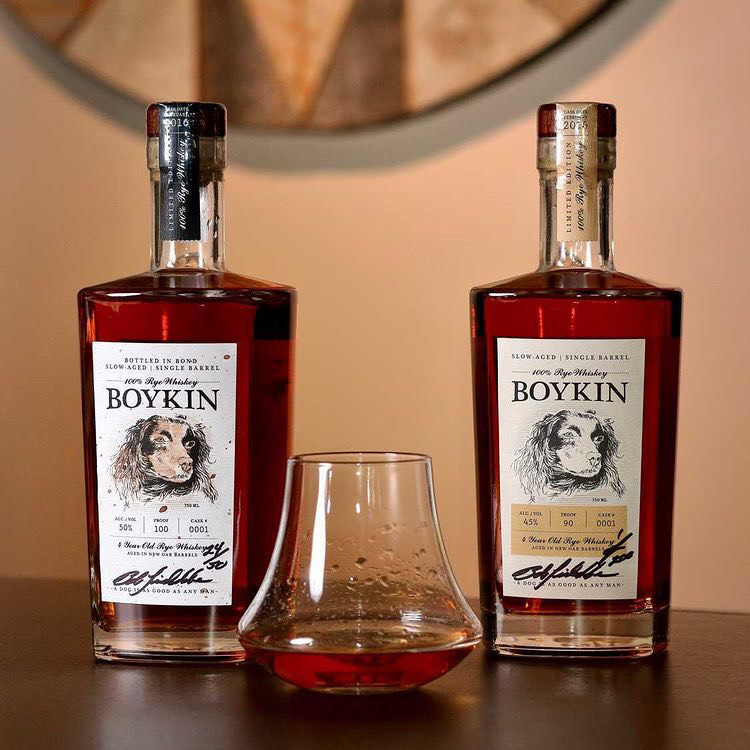 Boykin-100% Rye Whiskey -90Proof
Nose: Minty berries and root beer, toasted marshmallow
Palate: Caramel cover oranges and berry, burnt marshmallow, rye, and cinnamon
Boykin- Bottled in Bond 100% Rye Whiskey- 100 Proof
Nose: Mint, berries, and Orange Fanta
Palate: Cherries and rye spice with basil simple syrup. A camp-fiery charred orange peel with faint chocolate-covered raspberry
Finish: Creamy viscosity with a pink peppercorn bite that tingles your throat
Photo credit: Don Jenkins, Broad Branch
Mike: Broad Branch's latest release is a 4-year-old straight bourbon whiskey called Big Winston.  It's an 85-proof low rye recipe bourbon.  Is this the first straight bourbon that Broad Branch has released?  I know patience is key in whiskey making, but were you tempted to release a younger product sooner just to get it to market?
Daniel: Big Winston is our first bourbon. Releasing anything other than a 4+ year old bourbon was never on the table. Patience is the hardest part of doing this. You really have to walk into distilling whiskey knowing that every barrel you lay down is a 4+ year investment. We have a few 5-year bourbon barrels in the back, along with some 7+ year ryes.  When those get bottled…we shall see…
Mike: Way to put us in suspense!  What went into the decision to bottle this at such a low proof?  Are there plans to release at other points in the future?  And where does Big Winston stand in NC's bourbon history?
Daniel: Because this was Winston's first bourbon since at least prohibition, we wanted to make sure that it was at a proof point that anyone could enjoy. With that being said, I don't think you will ever see it at that proof point again. Our next Big Winston barrel is already in a cistern resting. That one is coming out at Cask Strength, and it is another 4-year Straight bourbon.
Mike: Oh man, take my money!!!  Rye Fidelity, Boykin, and Big Winston are all single barrel expressions.  Do you do any blending or batching with your whiskeys, or are they all single barrels? 
Daniel: Currently, we are only doing single barrel whiskeys. We do have an aged blended/small batch expression of our grain spirit, Nightlab 1.0. Some of your readers may know it as Nobilium, but we recently changed the name to Frank's Reserve. It honors the man behind the original Nightlab recipe, Frank Williams, and gives consumers a better idea of what the spirit will taste like. Frank's Reserve actually presents as a low rye bourbon even though it's not legally a whiskey. It is possible that you will see some small-batch or blended whiskeys in the future, but for now, it is all single barrels.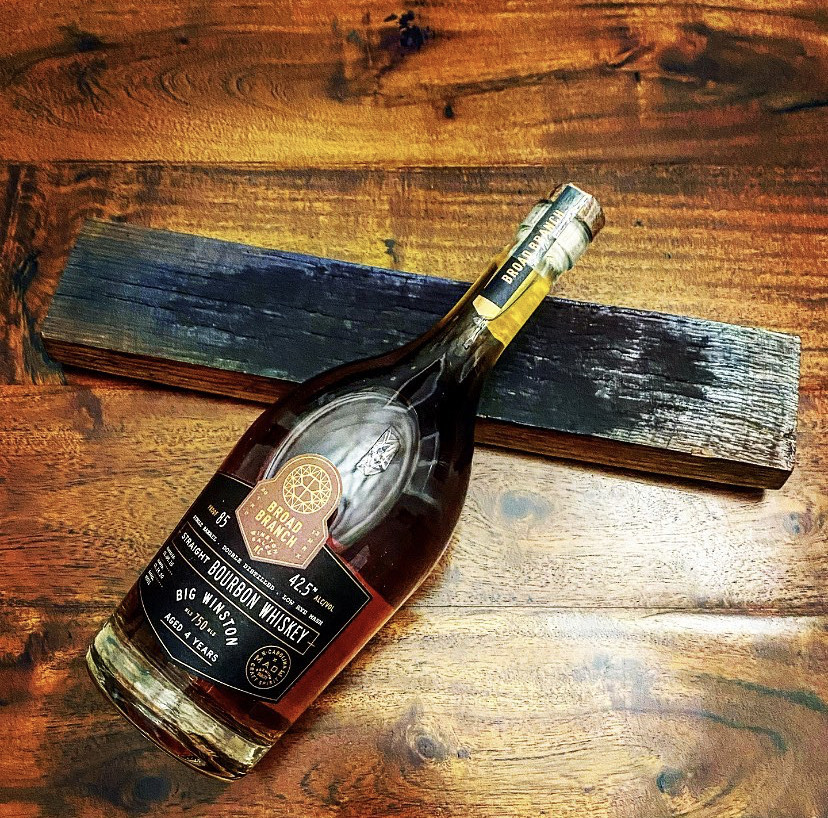 Big Winston Bourbon-Barrel 0011, 85 Proof, 4 Years
Nose: Charred berries hit my nose, but I can't pinpoint what type. It literally makes me think someone put out their campfire by pouring some type of berry juice on it instead of water. Hints of maple and vanilla the longer it's in the glass.
Palate: Big Winston has Big Flavors! I can only describe the start of the palate as woodys berries. I feel like it tastes both a sweet vanilla charred wood and a savory raw wood. Peppery strawberry with apples rounds it out.
Finish: Non-chill-effing-filtered! This boy is thick! It coats your glass! Definitively the best and longest finish I've ever experienced with a sub-90 proof whiskey. Perry vanilla lasts for several minutes.
Photo Credit: Bourbon Apprentice
Mike: Can you give the Feathers & Whiskey readers a sneak peek into where Broad Branch is going next?
Daniel: This is going to be a pretty exciting year for us. We will be getting into higher proofs and older expressions of our whiskeys. We also have 2 Boykin releases this year, a spring and fall release. Looking a bit further out, we have rum barrels aging right now that we think are going to be special. There is also some Single Malt that should be aging out soon and a bunch of one-off whiskies that we are also pumped about. When it comes down to it, folks will start to see a lot more fun limited single barrel expressions coming out of Broad Branch. 
Mike: What other spirits does Broad Branch have to offer and which non-whiskey spirit is your favorite?
Daniel: Great question! We have Nightlab 1.0 which is a classic Carolina grain spirit that has been made in our area for at least 100 years. It actually reminds most people of tequila because of the sugar cane and hops in the mash. It is fantastic as a tequila substitute in things like a margarita or Paloma.
There is Franks Reserve. This guy is an aged rendition of Nightlab. We blend three barrels together for every batch and each barrel is a different style. So, we use a new charred oak barrel, a French Chardonnay barrel, and a Hungarian Oak barrel. Each barrel adds its own special notes to the final blend. Think bourbon with hints of cherry, black pepper, baking spices, caramel, and vanilla.
We distill a fantastic rum named Sungrazer. It is molasses-based and 100% pot still rum. Sungrazer gets rested in a Heaven Hill Bourbon barrel for about 3 months where it picks up some nice bourbon notes. You get hit with notes of butterscotch, toasted coconut, tropical fruits, and because we don't chill filter any of our spirits, it has a wonderful creamy texture. It is an extremely versatile golden rum that you can enjoy neat or in cocktails.
Last but not least, we have Smashing Violet. This one is my favorite non-traditional whiskey. It really speaks to the cocktail nerd in me. Generally, a product like this would be loaded with sweeteners, artificial flavor, and color. We don't do any of that with Smashing Violet. Each batch is literally just new make bourbon and about 1200 pounds of fresh-pressed eastern North Carolina blueberries. It tastes like a high proof port that was fortified with whiskey. We have a blast coming up with riffs on classic cocktails with SV. 
Mike: Those all sound amazing, but I think you just convinced me to change my name to RumApprentice with that description of Sungrazer!  Is there anything we haven't discussed yet that you'd like to share with Feathers & Whiskey?
Daniel: The main thing—don't be scared of your local distillery. There are a lot of craft distilleries in North Carolina and all over the country that are putting out beautiful spirits. Give your local spot a shot, you will probably be surprised. When you go out to eat or head to the bar, ask for a local pour. A lot of places won't carry a craft spirit unless people start asking for it.
Mike: That's a great point, Dan.  Even I can admit that I'm looking for restaurant pours that are from bigger brands that I can't find at my ABC…but I'm probably missing out on some local gems!  Where can our readers learn more about Broad Branch and where can they find you on social media?
Daniel: We are very active on Instagram (@broadbranchdistillery) and Facebook.  That is where all the info for our releases pops up first. Your readers can also check out our web site. But the best, and my favorite option, is to invite anyone who is interested to see just stop by the distillery.  We always love meeting new people and sharing our passion for spirits with them. Our tasting room is open M-F, 10am to 4pm. We do socially distanced cocktails on Friday evenings from 5pm-9pm and all day on Saturday from 1pm-9pm.
Mike: Dan, I can't thank you enough for the time.  This was super fun and I'm excited to spread love to a local distillery – especially one that I fully support and stand behind the products 100%! Before we part ways, let me share my tasting notes on the Broad Branch expressions I've quickly come to know and love!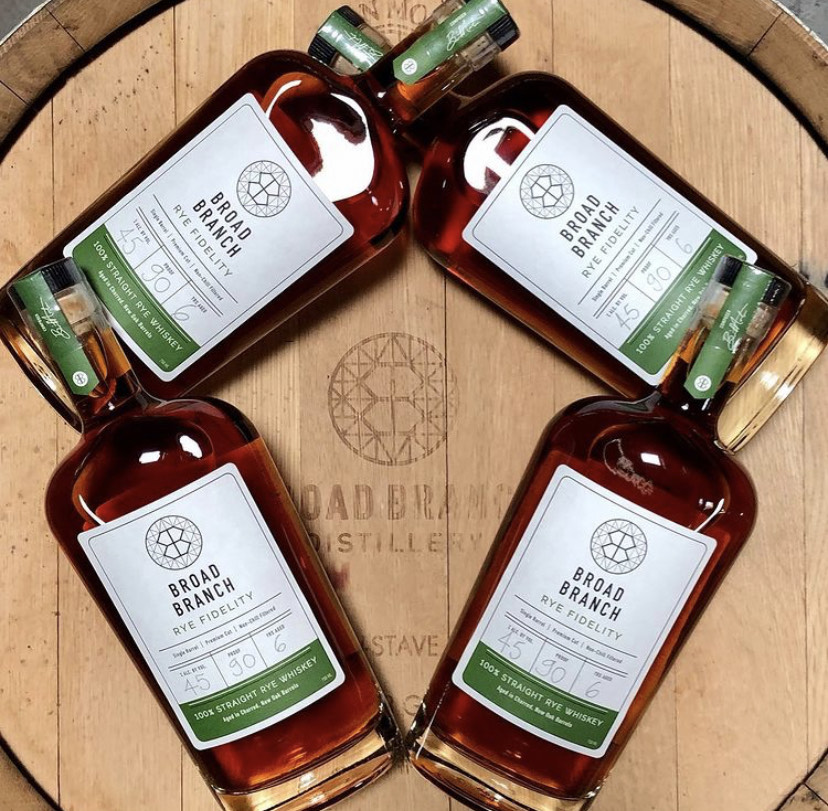 Rye Fidelity-Batch 003,90 Proof, 6 Years 
 Nose: Musty strawberries and mint, smoked vanilla, dried peach, or apricot 
 Palate: Charred oak presents itself in a sweet fashion with dark berries, chocolate, and rye spice. That is definitely a buttery vanilla component as well. 
 Finish: The non-chill filtered coating sticks around for a while and keeps that burnt wood sensation sticking to your gums. Equal parts sweet bitter. The heat fades, but the flavor lasts. 
 Photo Credit: Don Jenkins, Broad Branch