Hunting A Luangwa Crocodile
This entry into the Feathers & Whiskey Magazine is a bit different in format . The text was taken directly from the hunter's Safari journal during his quest for a Nile crocodile with Strang Middleton in Zambia's Luangwa Valley. We join the hunt on day two!
Day 2- Looking for some Plains game for Mike
Our day begins with breakfast at 6 am, then we are off to look for puku, kudu, warthog, and bushbuck. Nothing worth pursuing, so we go to start setting some croc baits. We set upstream from the camp on a bluff, looking down at a piece of sandbar about 40 yards away. It took about 1 hour for crocs to come in and another 30 min or so for one to start feeding. Eventually, about 10 of them were on bait, a pretty cool thing to witness. The death rolls and raw power of these things is frightening.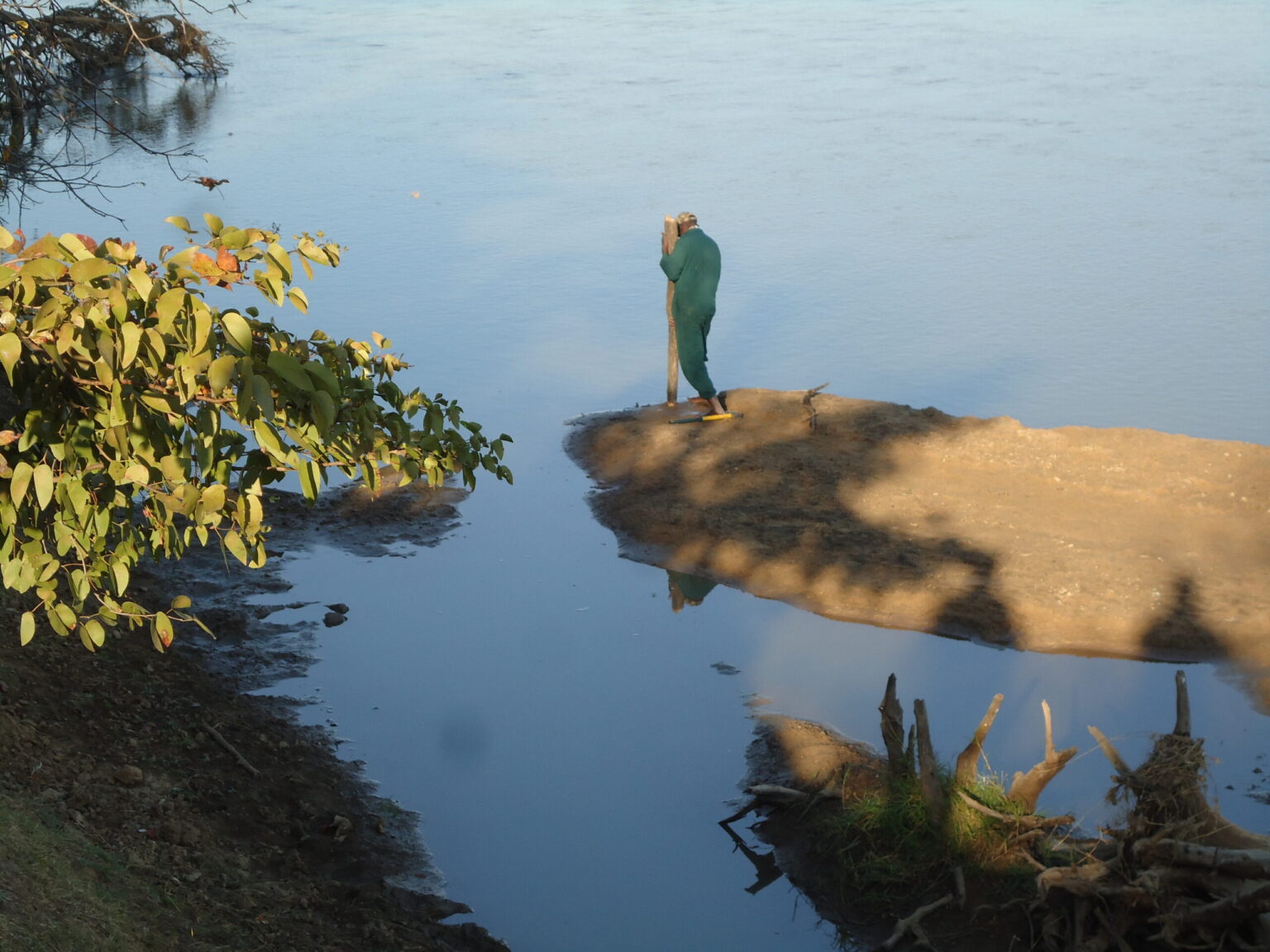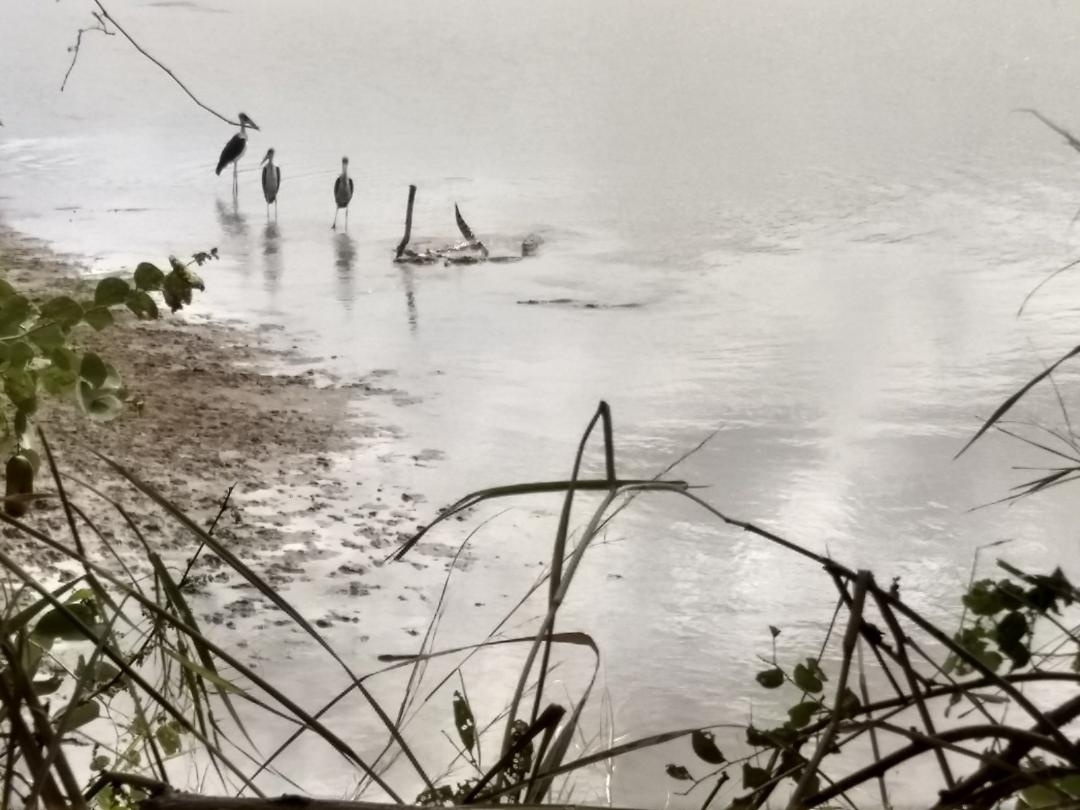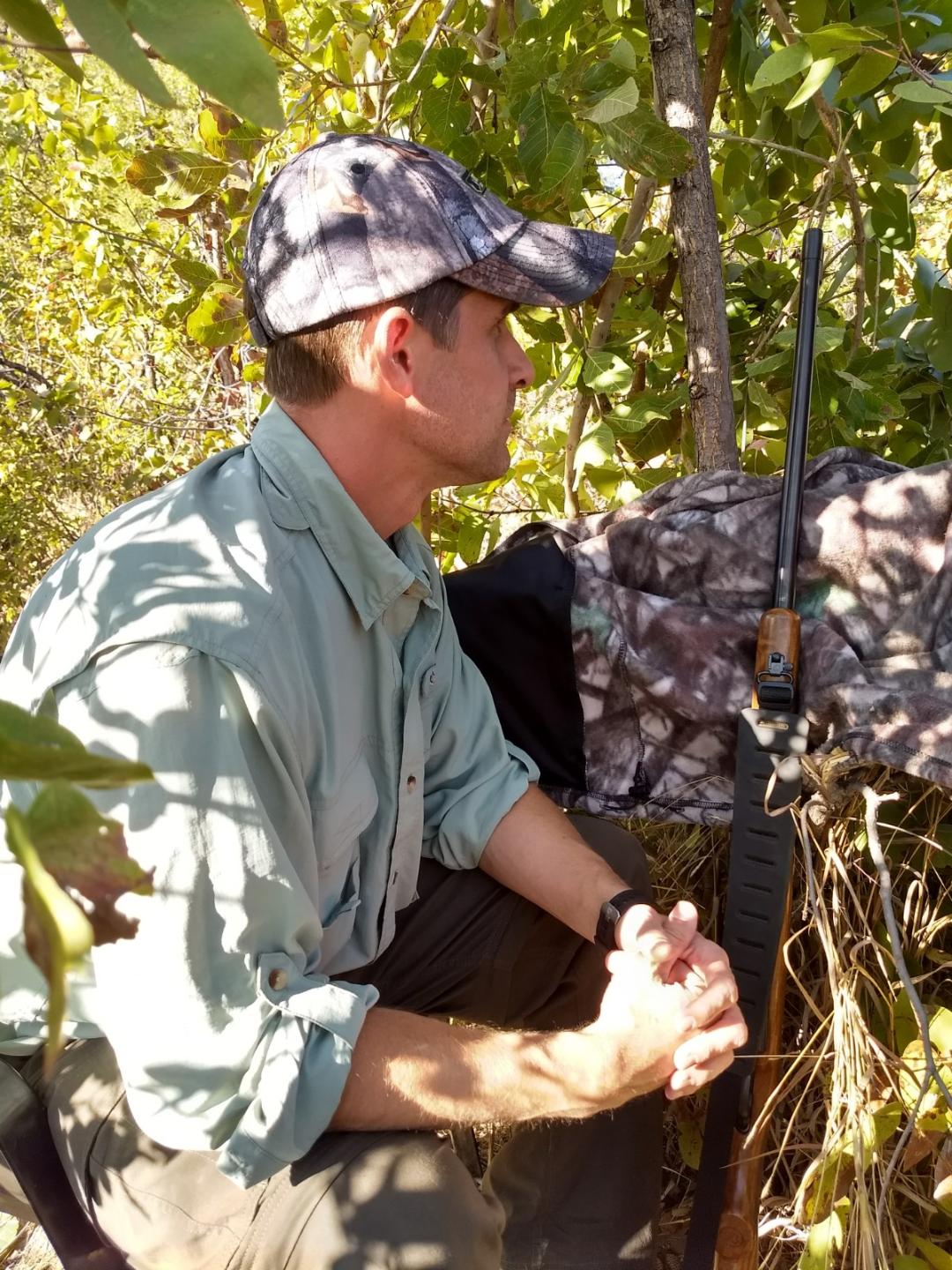 Nothing worth shooting on bait, so we heard in for lunch about 1 pm. Then back out after Plains Game. We get on a puku, but no luck. We then head to the area on the concession where the kudu frequent. I spot a few kudu late in the day, about 4:45. Our professional hunter Strang says it is a good bull for Mike to take and it turns out the Kudu bull is a fine old bull with well-worn horns and scars from narrow escapes from lions. Back to camp for a lovely evening and dinner. Some of the hippo have made it to the appetizer menus as fried fritters, pretty darn tasty!!
Day-3 Buffalo time for Mike
Up really early today so we can be where we need to be by daybreak which is about 5:45, so we were up at 4 and left camp by 4:45. This concession area is a mixture of open grasslands, thick brush, and a mix of the two, along with long grass straight out of the book Death in the Long Grass! We see a group of Cooksons Wildebeest first thing, pretty cool to see! Then we see a lone Elephant bull just meandering without a care in the world, another incredible sight!
We get on the fresh buff tracks about 6:45, then it's on. We eventually catch up enough to see the dust in the air from where they have been. Slowly we solider on and get within a hundred yards of them, where they are getting ready to bed down in the before mentioned long grass. When I say long grass, I mean like 10-15 foot tall stuff you can't see through! This is Mike's number 1 target on this trip. This is the part where one of the trackers, the ranger, and I hold back, and the others go in pursuit.
The buff bump and scatter in 2 directions, again we can't see them, but by the sounds of it, there must be around 100 or more head. We go in pursuit of one of the groups and circle around the edge of the long grass. Again three of us hold back, and the other 3 move on. I can see them on the sticks, and hear buff all around! They move again and get on sticks; at this point, more buff start going in every direction. This is where it gets hair-raising for me. Not 10 yards in front of me, I hear buff and get the sense they are coming out in our direction.
Some scamper off, and then I hear more that I am sure are coming right out in front of us. .375 up and ready, scope turned all the way down, and praying that nothing happens! You talk about eye-opening!! Luckily they move on, and so do we. Back after them for another hour or so until we catch up. Mike is back on the sticks and is able to seal the deal with a nice old buffalo with horns that show lots of character.
Day 3 - After the Buffalo
In the afternoon we go and bait a new site for crocs.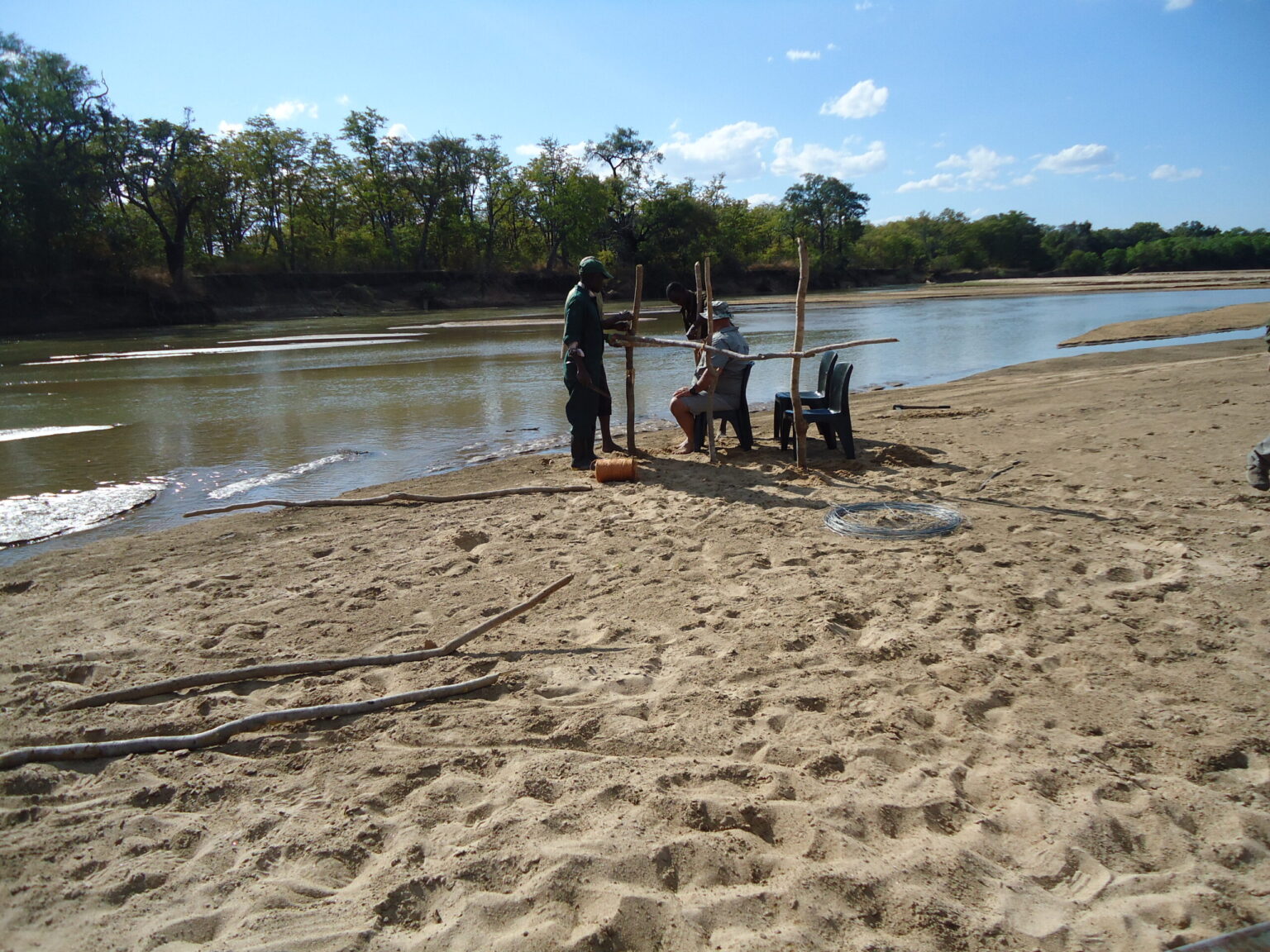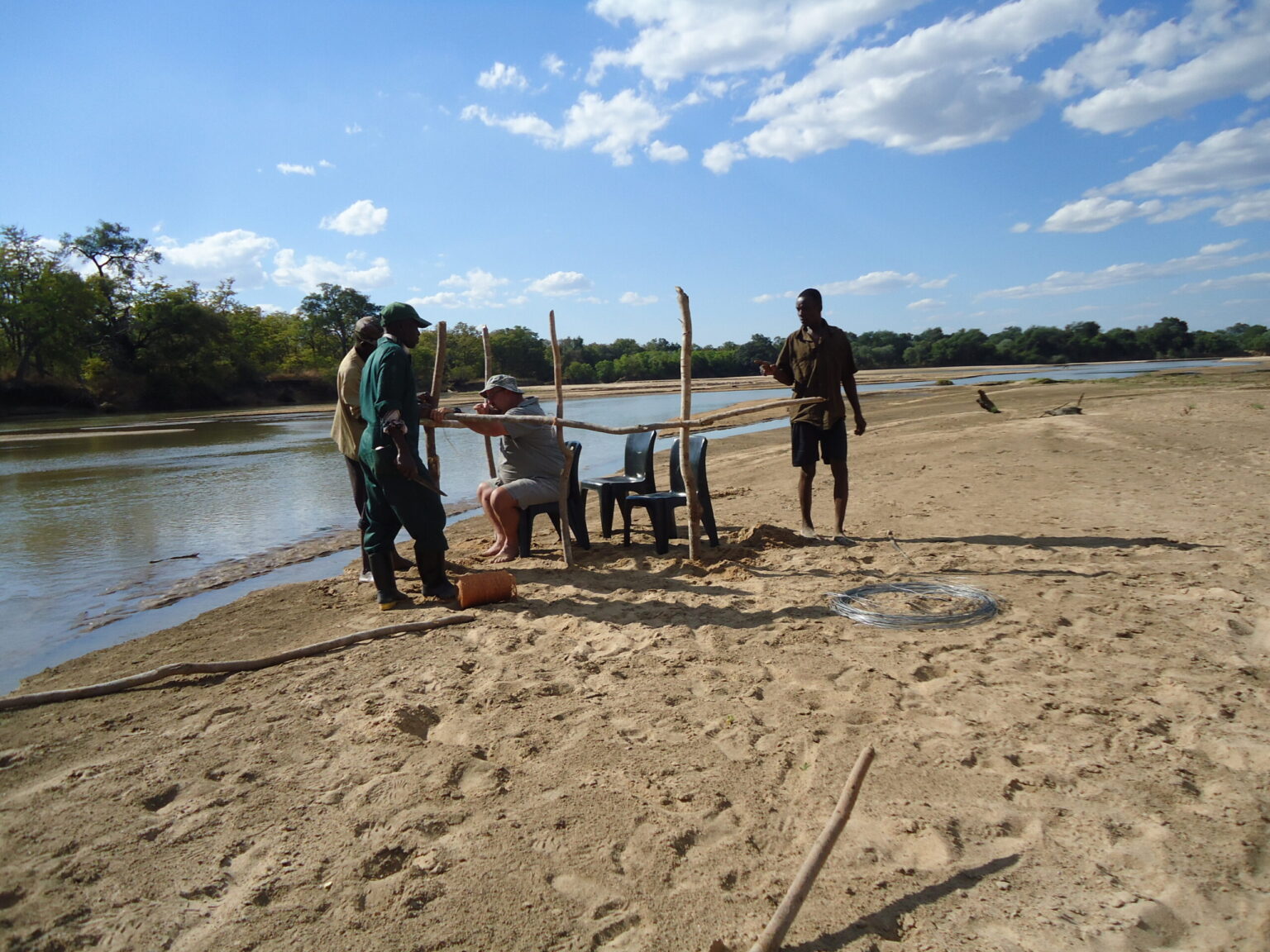 Nothing came in big enough so we call it a night! Nice evening in camp, more hippo tonight in the form of curry, man it was tasty. I was skeptical about hippo, but it is honestly some of the best meat I've ever had. We had it two more times in the coming days in different forms!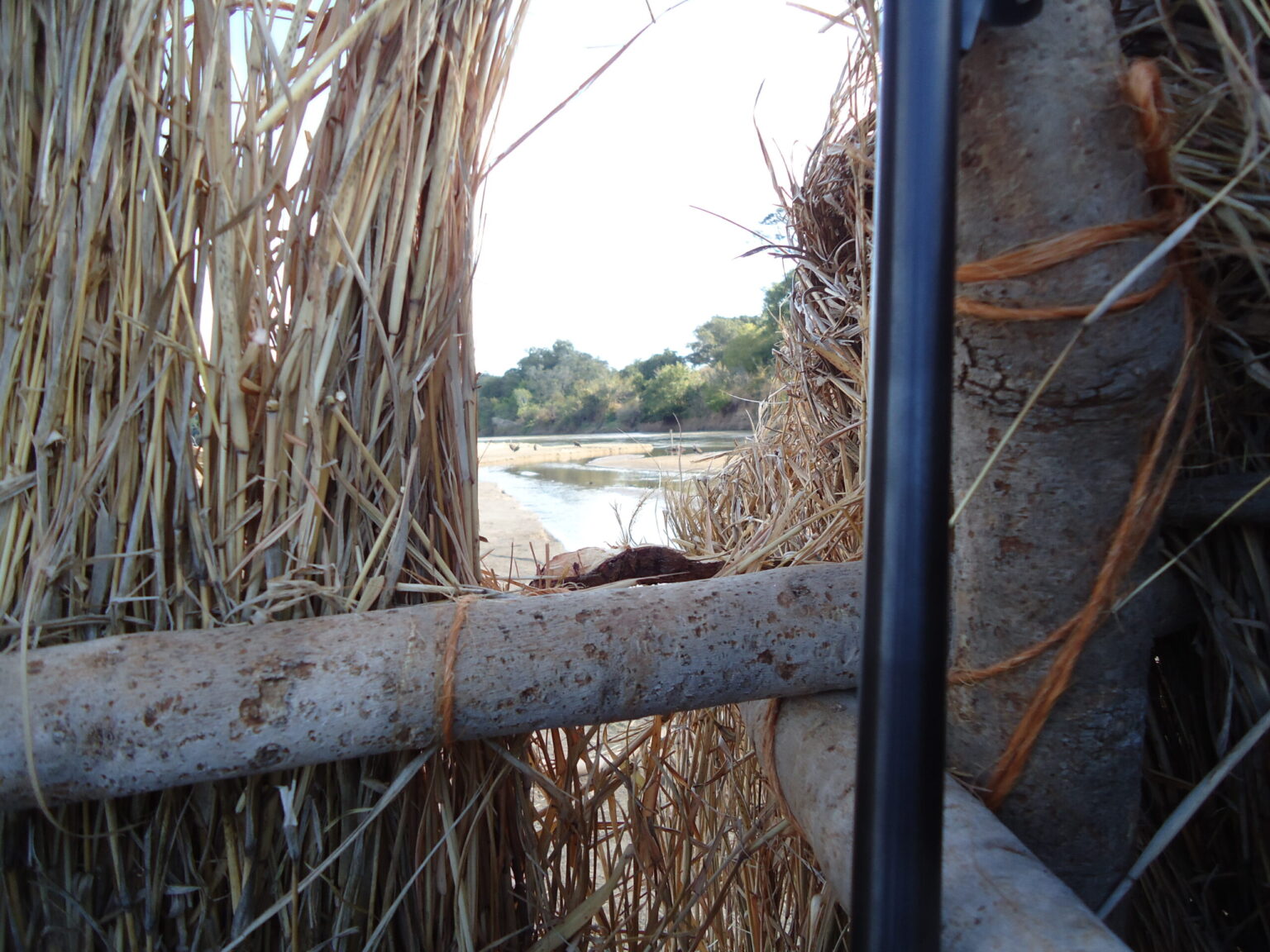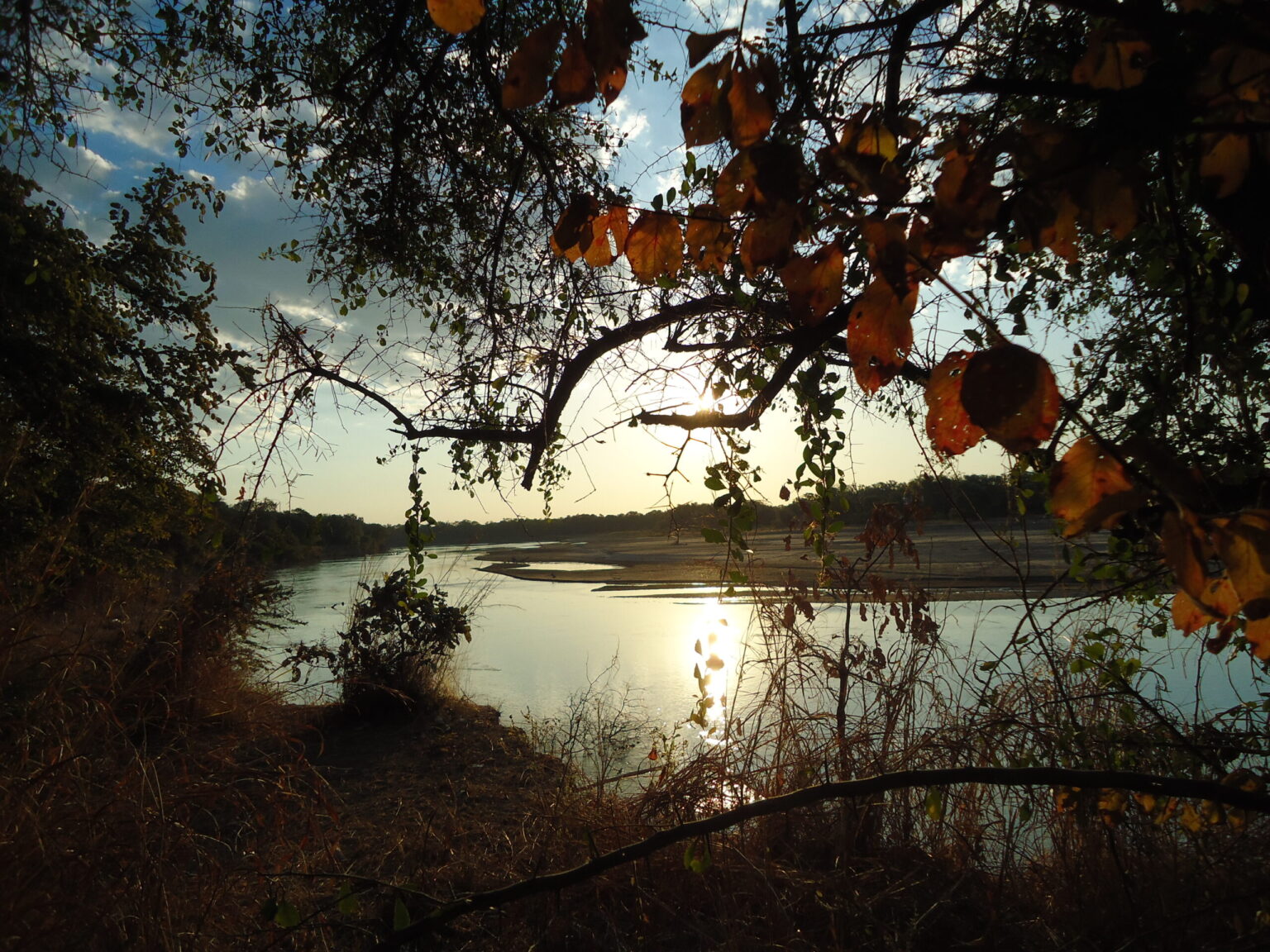 We start out the day with a river drive looking for bushbuck. Seeing quite a few females and young males, along with one ram who had about 2-3 years to go. There is a big ram in the skinning shed from the last hunt, which Strang thinks is the big ram he had pegged when he was last in the concession. No luck on puku or warthog wither today.
We then head back to one of the croc blinds we have made in the past two days. Put a smaller piece of fresh bait back out. No luck on any big guys showing up. But along the way to the blind, we spot 2 big ones in the river, and one of the camp staff has spotted one the other way from camp in the past day or two. We make a plan to build a new blind on a bluff overlooking a sandbar where two of the bigger guys have been spotted, then head back in around 5:30. This blind is one where we will sneak up through the woods/scrub and walk staring into it. Two shooting holes have been constructed as well. The plan will be to sneak up in the morning once the sun is good and out, catch one or both of them on this sandbar, slowly ease up to standing, ease the rifle out, calm down, then take one!.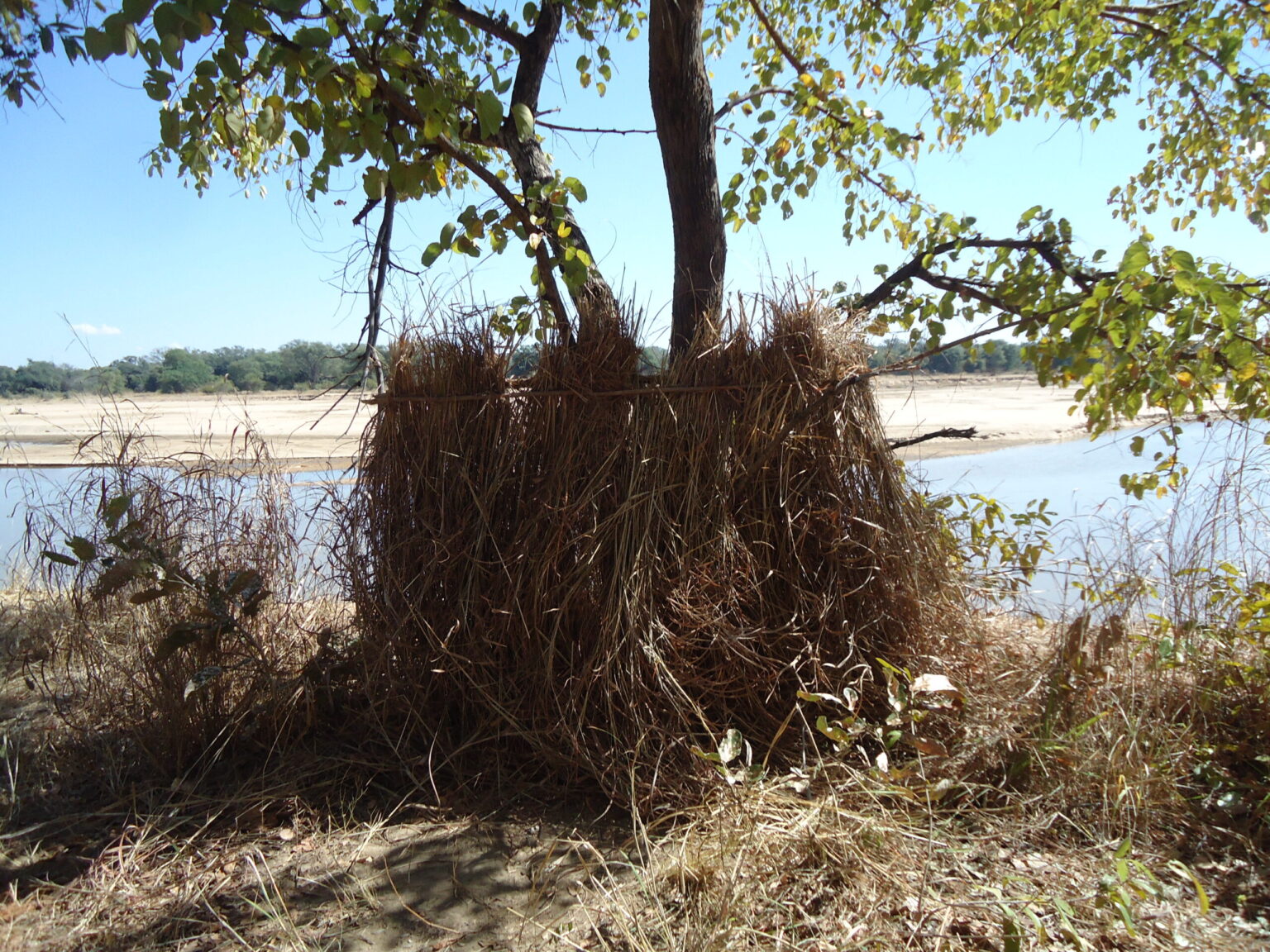 A few pics of the blind and some elephants on our way back to the camp.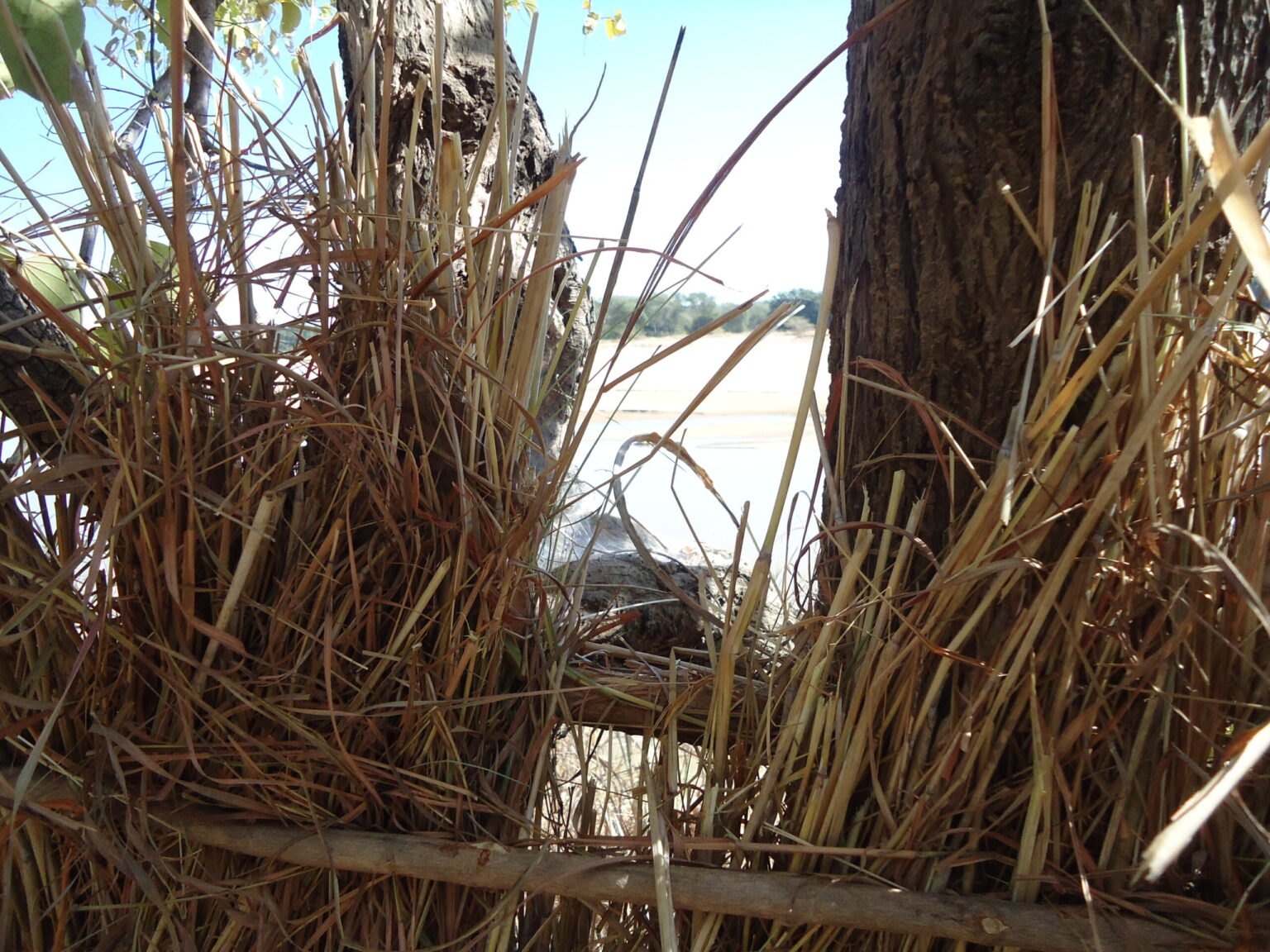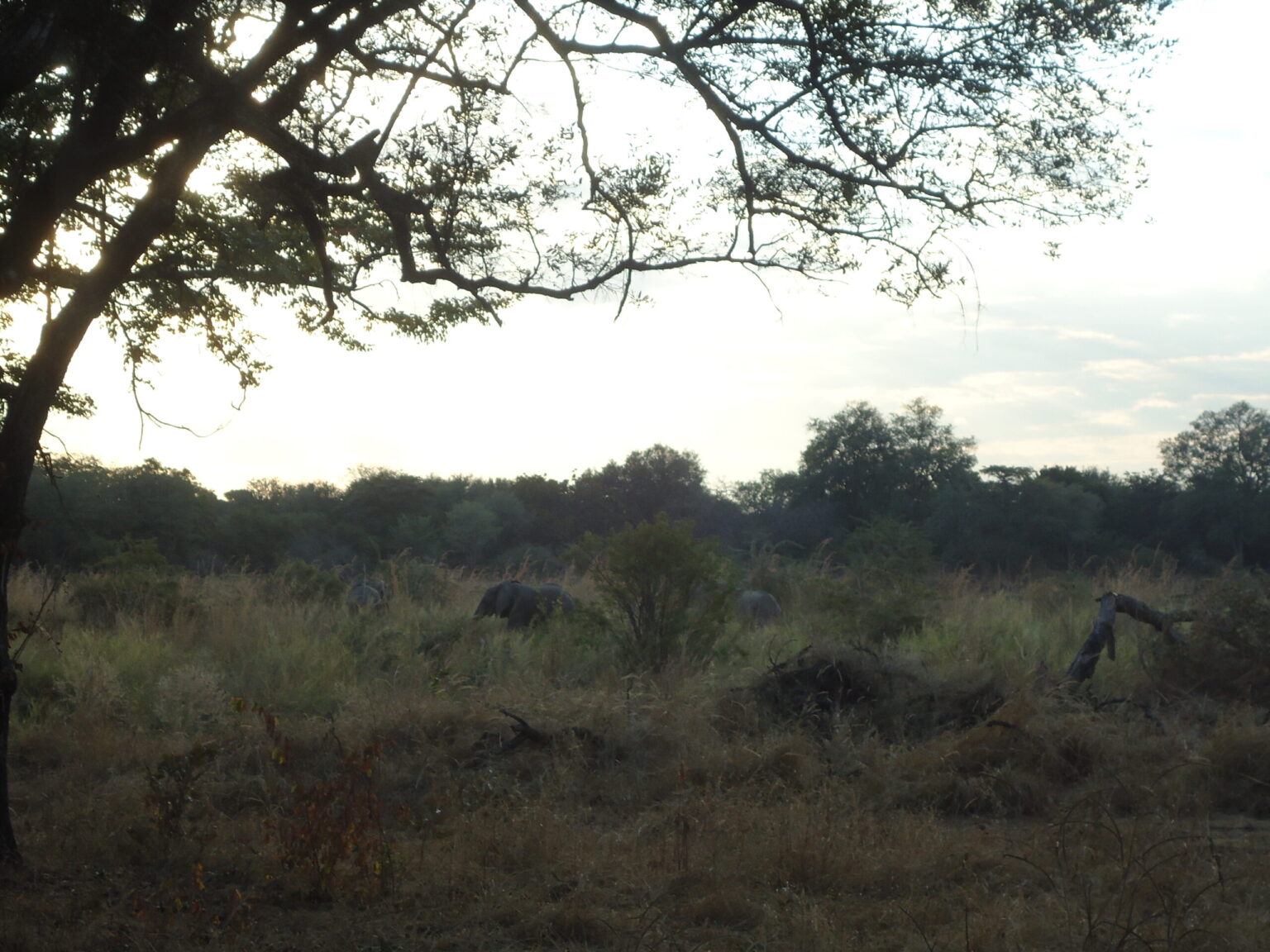 Day 5.... A puku to start and a Croc to finish
Start off the morning looking for a puku for Mike. Travel about 45 minutes to an area they frequent. We quickly get on a group and start the pursuit, and Mike is able to take a nice old Puku ram. . Later in the morning, we head to the croc blind we assembled late in the afternoon the day prior to look for Jaws as our professional hunter Strang likes to call crocs.
We stop about 1000 yards away on the road that runs along the river and can see 2 good crocs where we hoped they would be! So we duck off into the woods to try to remain unseen to get to the blind. We sneak up the last 50 yards or so, and one bolts of the sandbar, the other remains. We ease up to the blind and sit on our butts. Strang sees the other duck off the bank. Dang, is our chance now gone? These things are wily for sure. He says just be calm, and they will get back out of the water. Sure enough, about 10 minutes later, one comes back out. Strang can see the other one from his vantage point; he says it's the bigger of the two, but by bigger, I mean fatter around; they are both about the same length. After about 5 minutes, the croc is comfortable, the wind is good, and he starts to open his mouth. We ease to our standing positions to get a better look.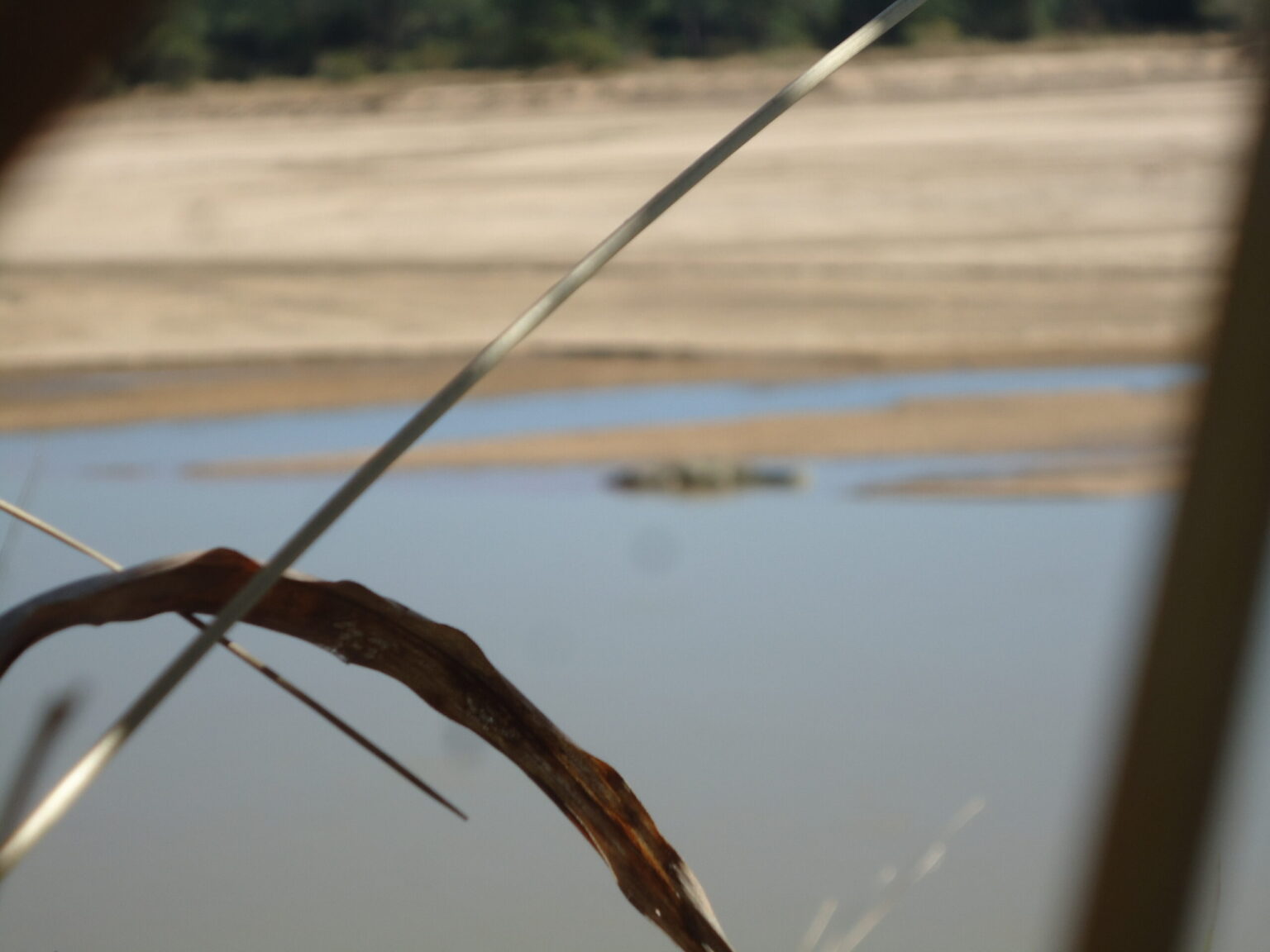 I have since gone through 2-3 cycles of being ridiculously excited/nervous and back to quiet calm while looking over the croc. All this time, however, I have been able to look at him through the scope and can clearly see the spot on his neck that I need to aim for. Strang and I have talked about this a few times this week about where to shoot, reload, and be ready immediately. Also, I have asked him to be prepared for insurance if my shot doesn't anchor him.
After 5-10 minutes, Strang has had a chance to look him over. He says he has a big head, just not quite as big body-wise as the other lurking close by in the water. I ask him if this is a pretty good one for this area, he says yes and will probably go 12 feet. We had previously talked about the crocs in this area, and the fact that an 11-11.5 footer is suitable for this area; anything above is gravy. He judges this on at 12' plus. He said we can wait to see if the other one comes out, or try to sit on bait again this afternoon. To this point in the hunt, we have not had any of the big boys come to dine on the baits.
All that info in my head, I make the call that if Strang is happy with him then I will be. I say let's take him! Ok, now back to a racing heartbeat! The croc is completely calm, and the wind is still in our favor, so don't be stupid and make any noise or rush yourself. Calm down for a minute!! Strang also tells me to relax and catch my breath. I really appreciate a good PH who also talks you through things and reminds you to not shoot until your calm.
He readies his rifle, I ready mine, he says when your ready take him. One more series of breathing in and out, in and out, third time it's a go…… I take aim for the center of the neck between the smile and where the shoulder area starts. Squeeze the trigger of the .375, bang, get him back in the scope asap…. Not moving! What happened? Strang says good shot! The croc is not moving one bit, no tail flutter, no thrashing, nothing.
I am one who wants to make sure of insurance shots on something like this, especially with the fear of losing a croc to the river. He says, take another neck shot, so I do. Again no movement. I want to be sure, and I ask Strang if we need to shoot in the heart or lungs. The croc is done, but I imagine Strang wants to appease my mind, so he instructs me on where to shoot the croc in the lungs, take steady aim and squeeze another good hit! No movement; my mind is finally at ease!!! This is perhaps the most nervous I've ever been on a hunt simply due to the fact of not making a great shot and potentially losing him. So happy I was able to get my breathing in control, take steady aim, make a good shot, and anchor him first shot.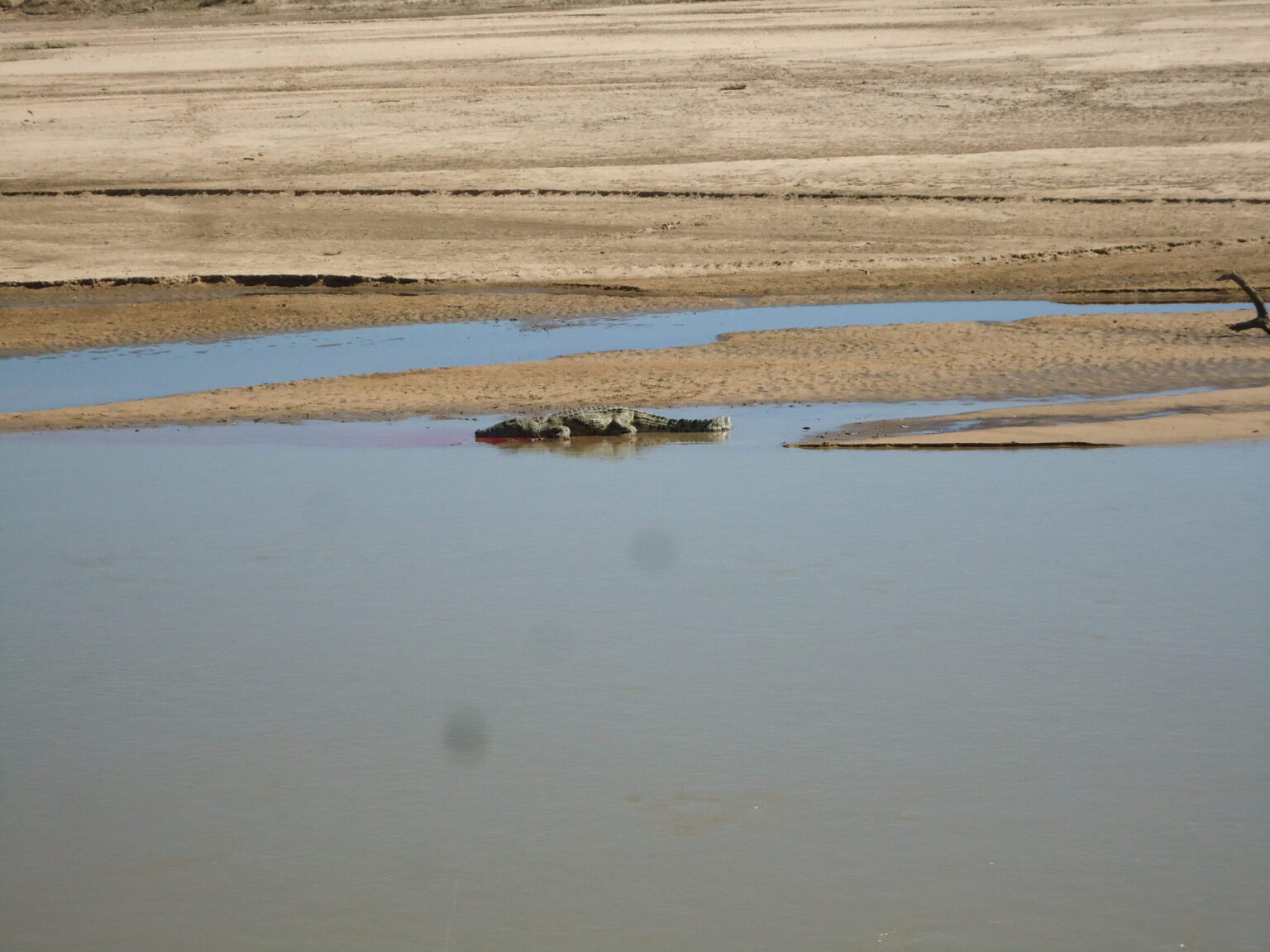 Now for the recovery, which is interesting, to say the least. Where he's at, we have to go about 800 yards downstream where the bluff flattens out to meet the river. When we get down, there is a series of small sandbars intermingled with a deep channel here and there, along with several shallow channels. The tracker (Jason, Darryson, and Obvi) must wade through the river some 500 yards plus a rope to retrieve the beast!!!! At this point, I am very concerned for obvious reasons. These guys have done this before, I'm assuming at least a few times, because nobody really pitched a fit or argued about having to do it. So they go in, and one of them has a stick to measure depth along the way and begin to find the shallowest areas to walk through.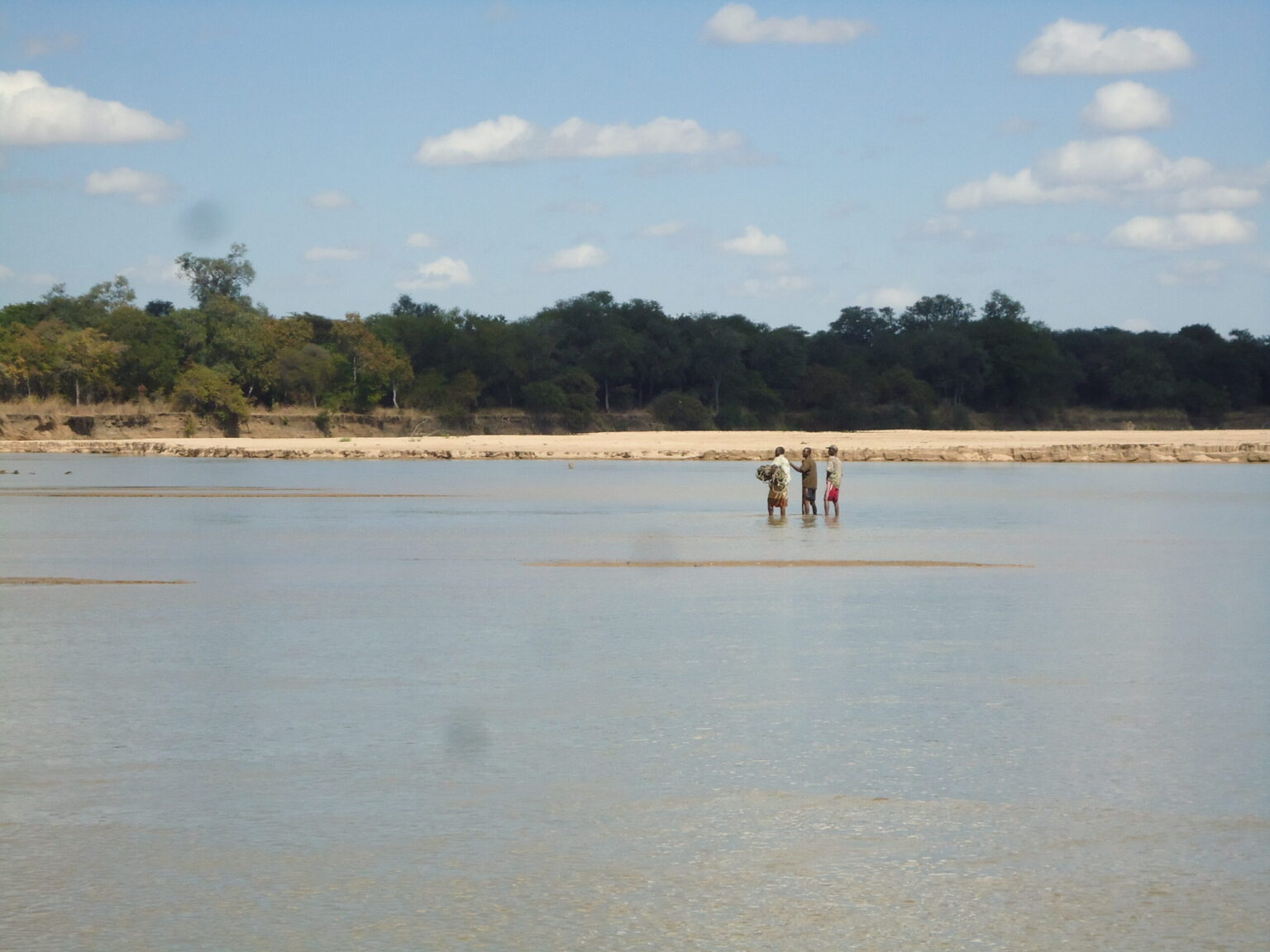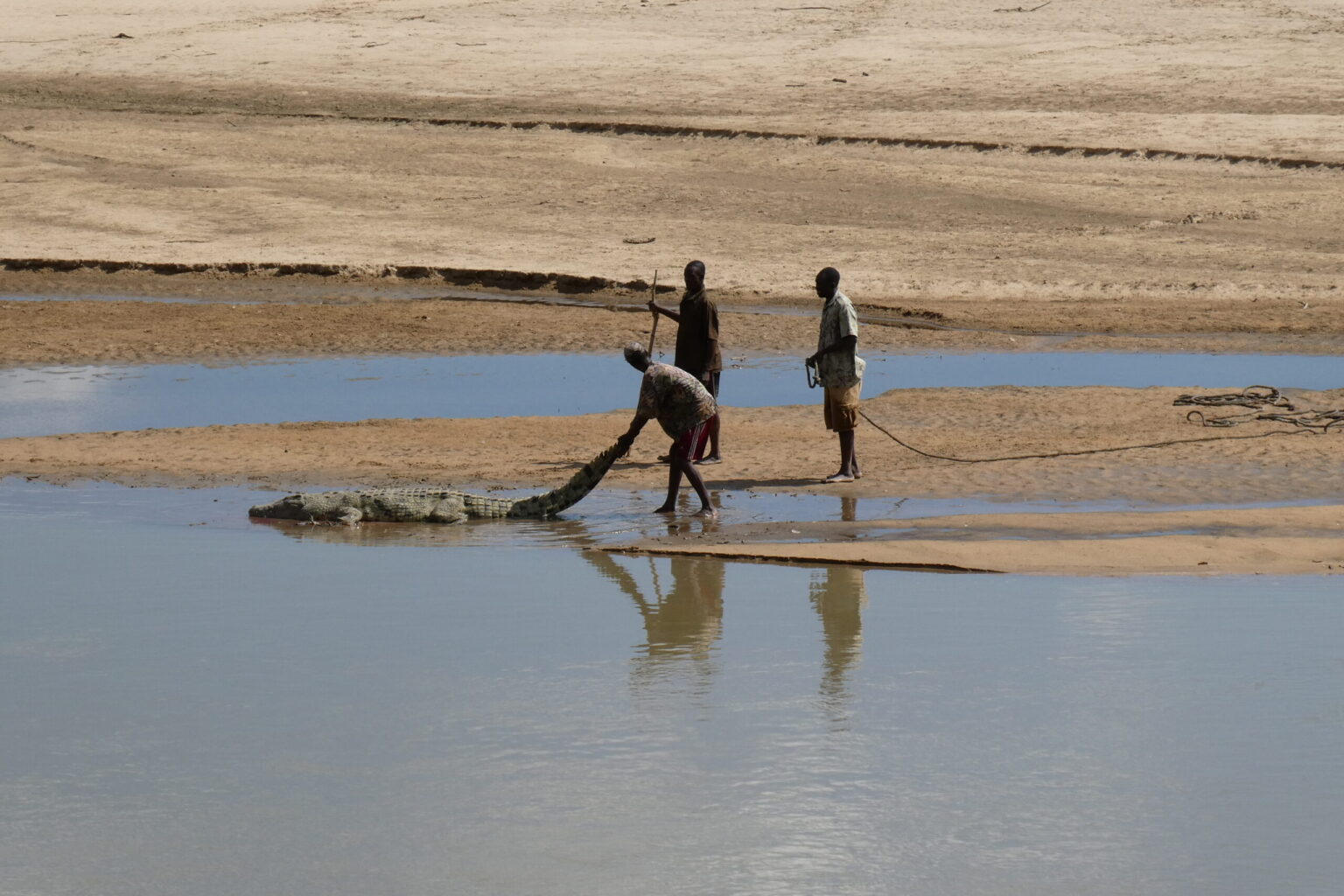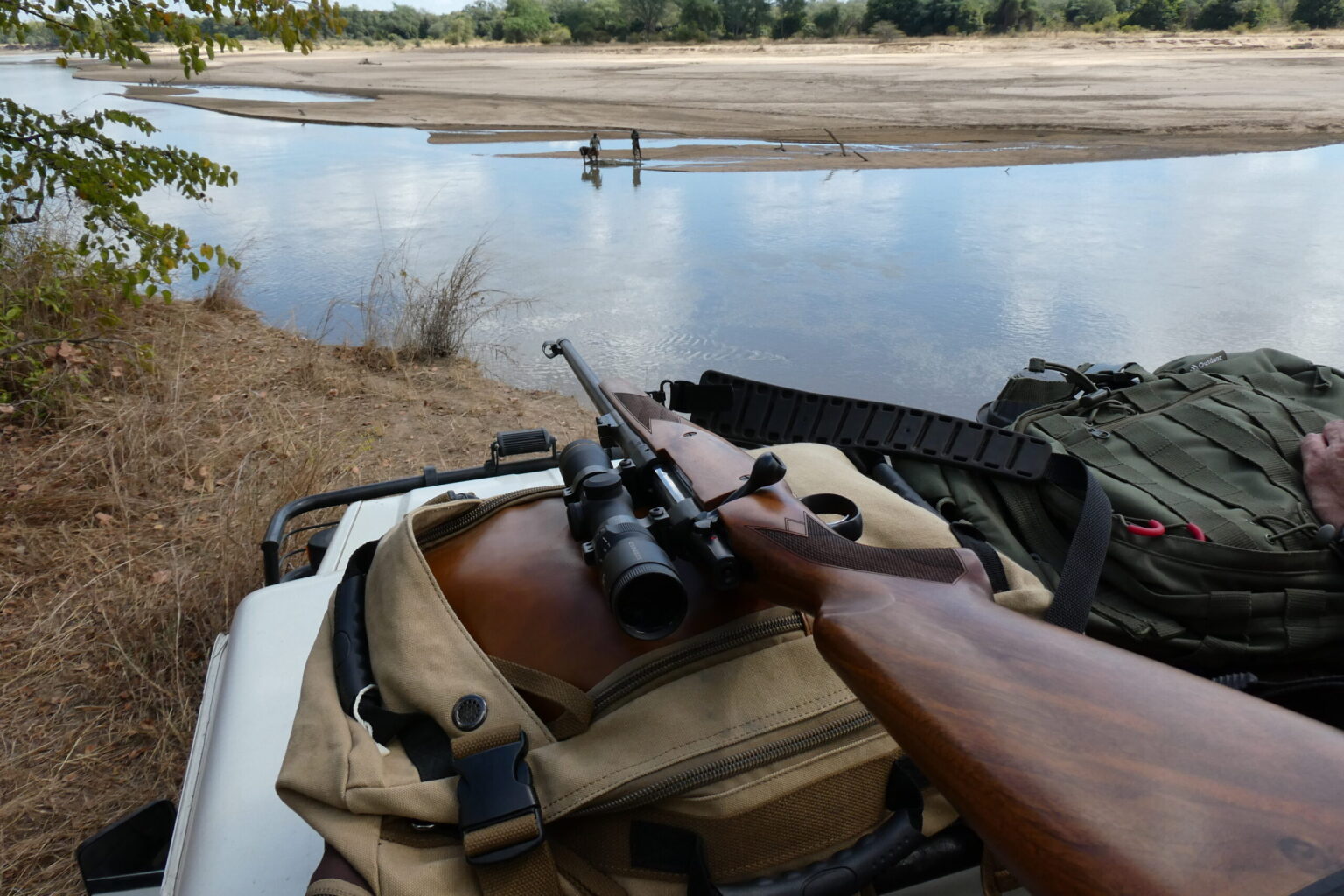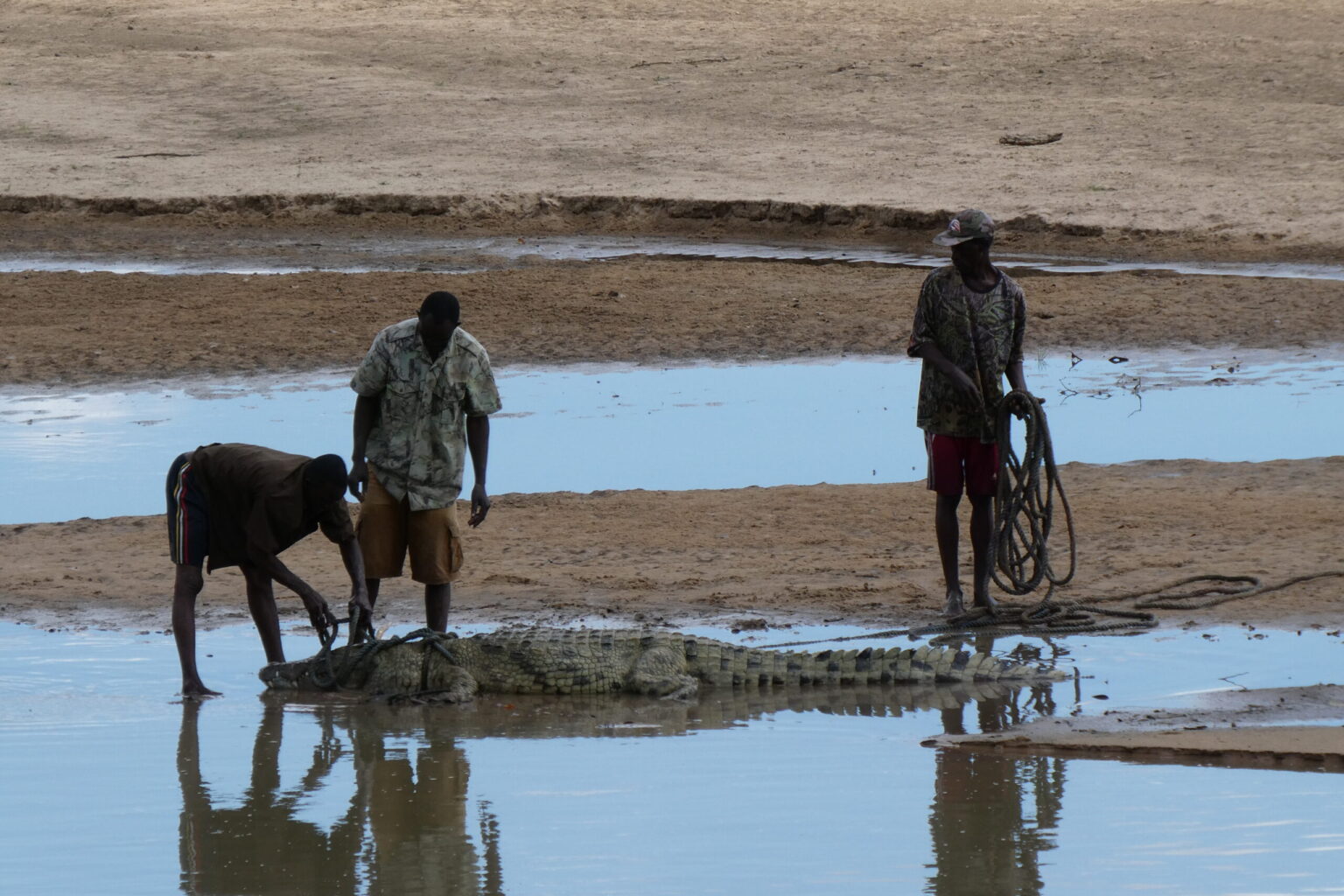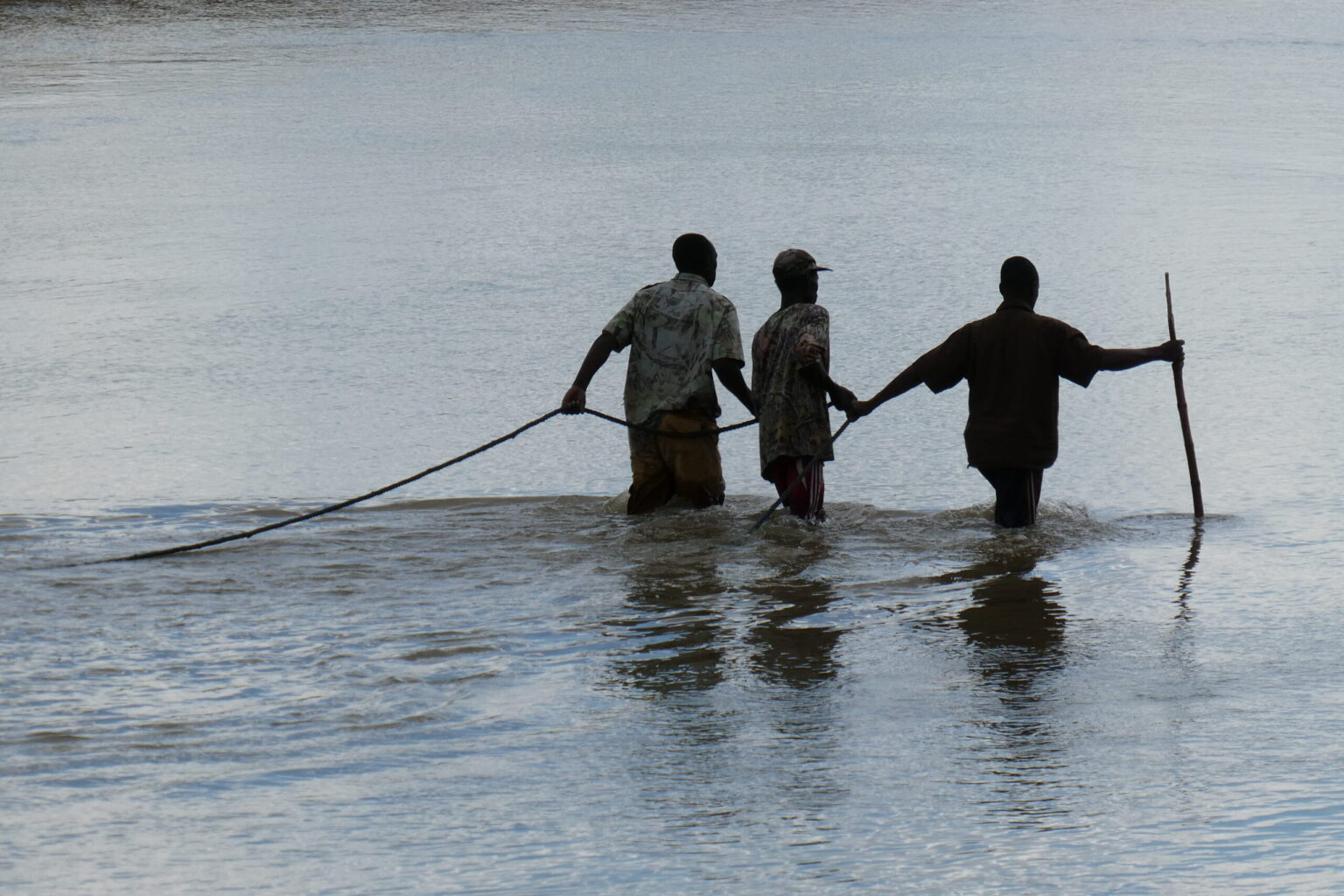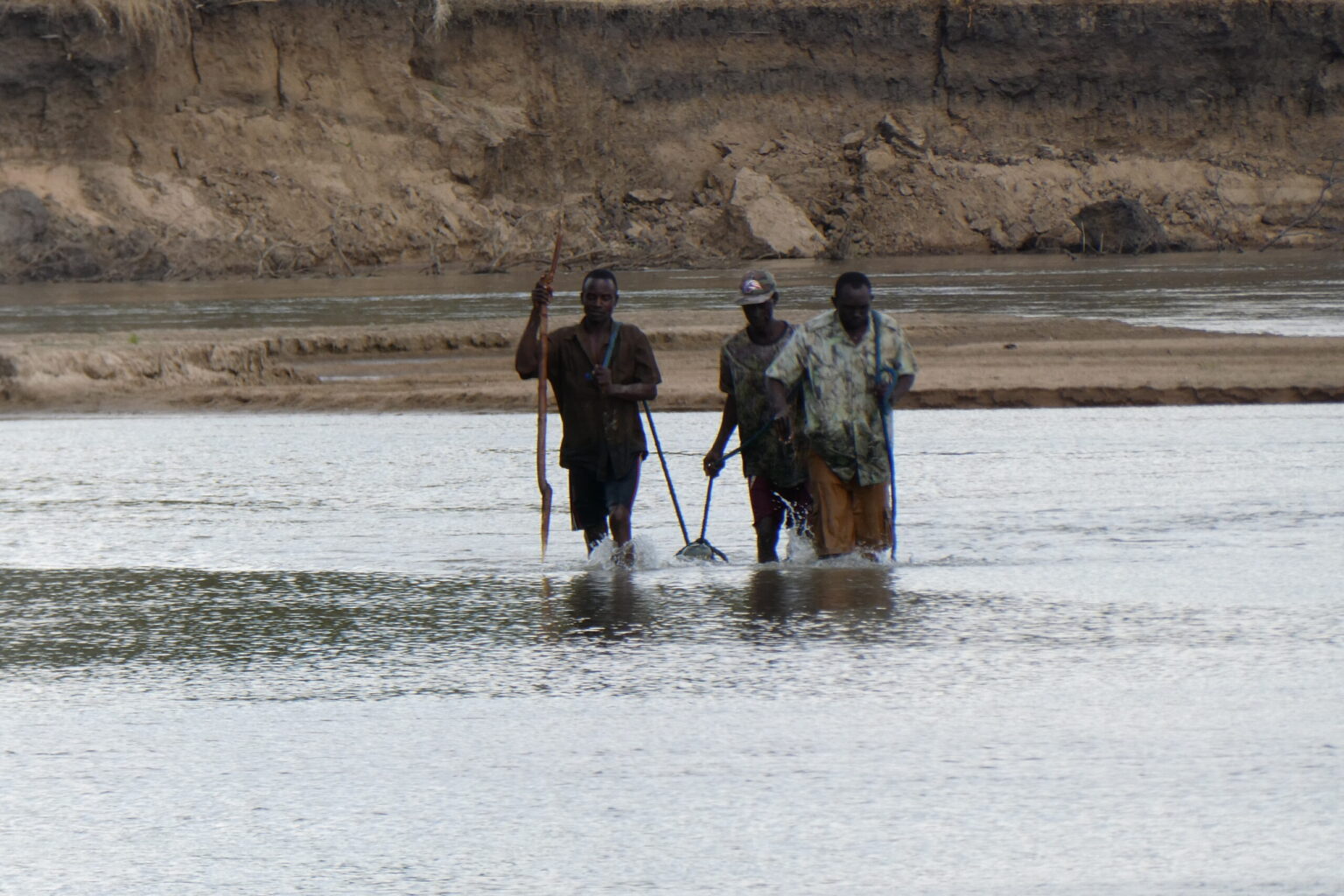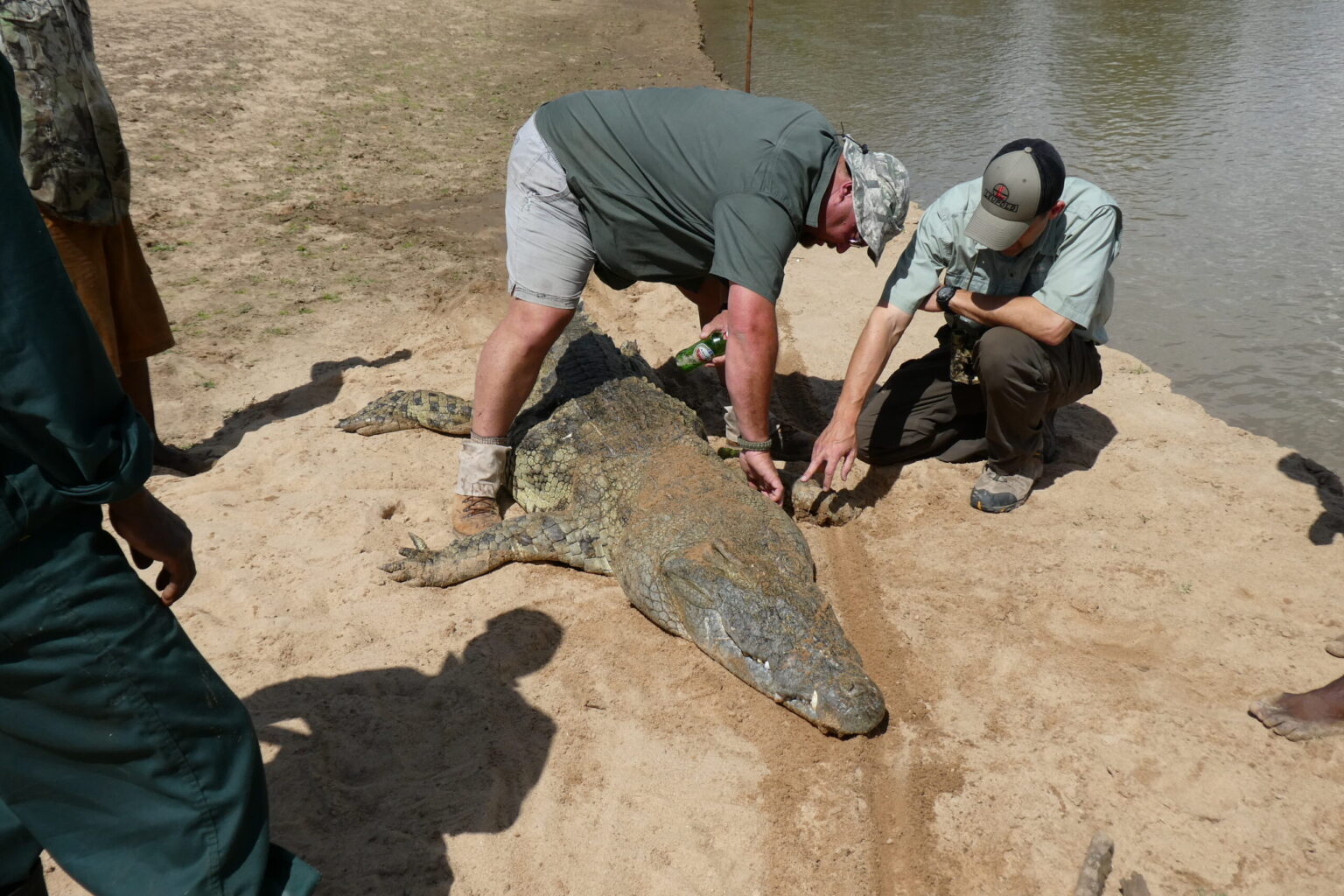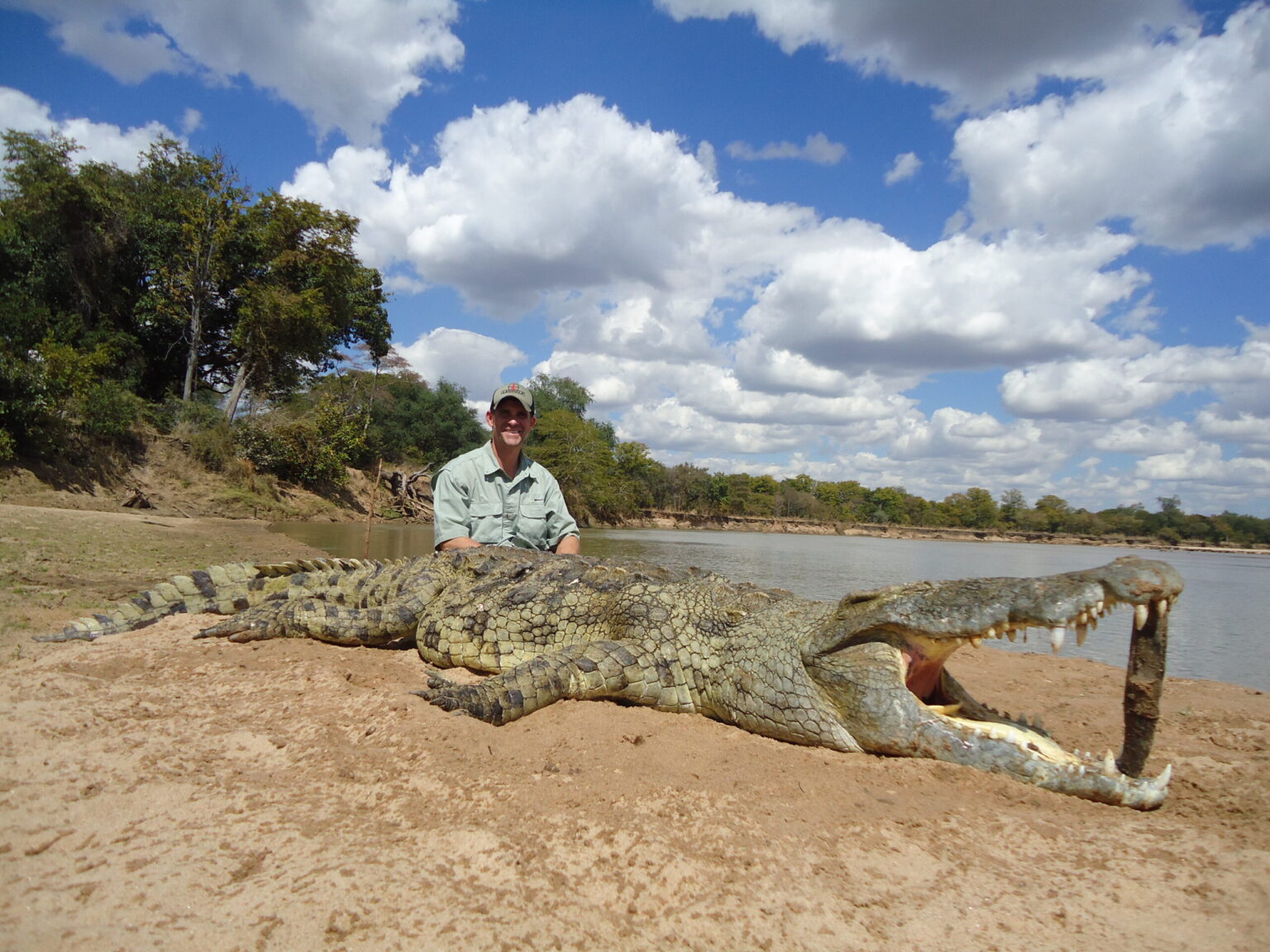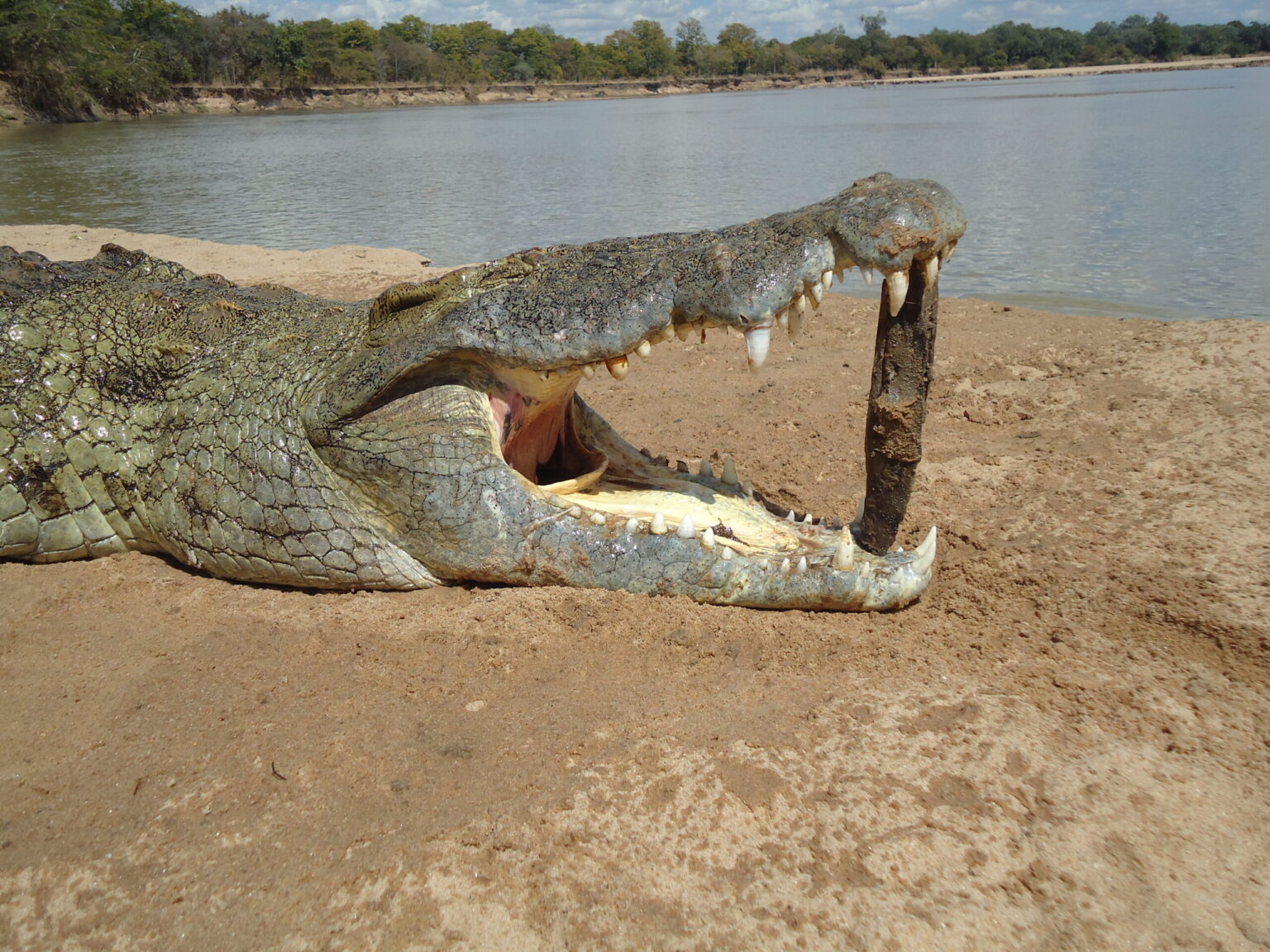 After the pictures were taken and a round of handshakes and thanks, it was a team effort to move this prehistoric relic seventy-five yards across very loose sand and up the steep river bank to the waiting truck. Then it was back to the lodge for drinks and food.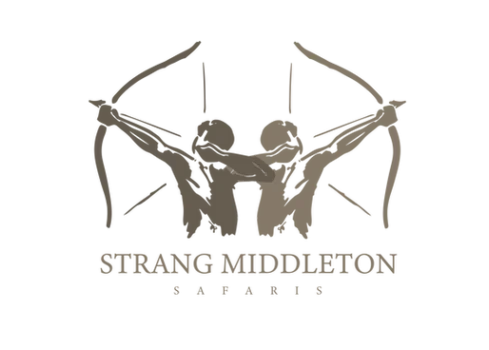 If you are looking to book your own dream Safari in the wilds of Zambia contact Strang Middleton