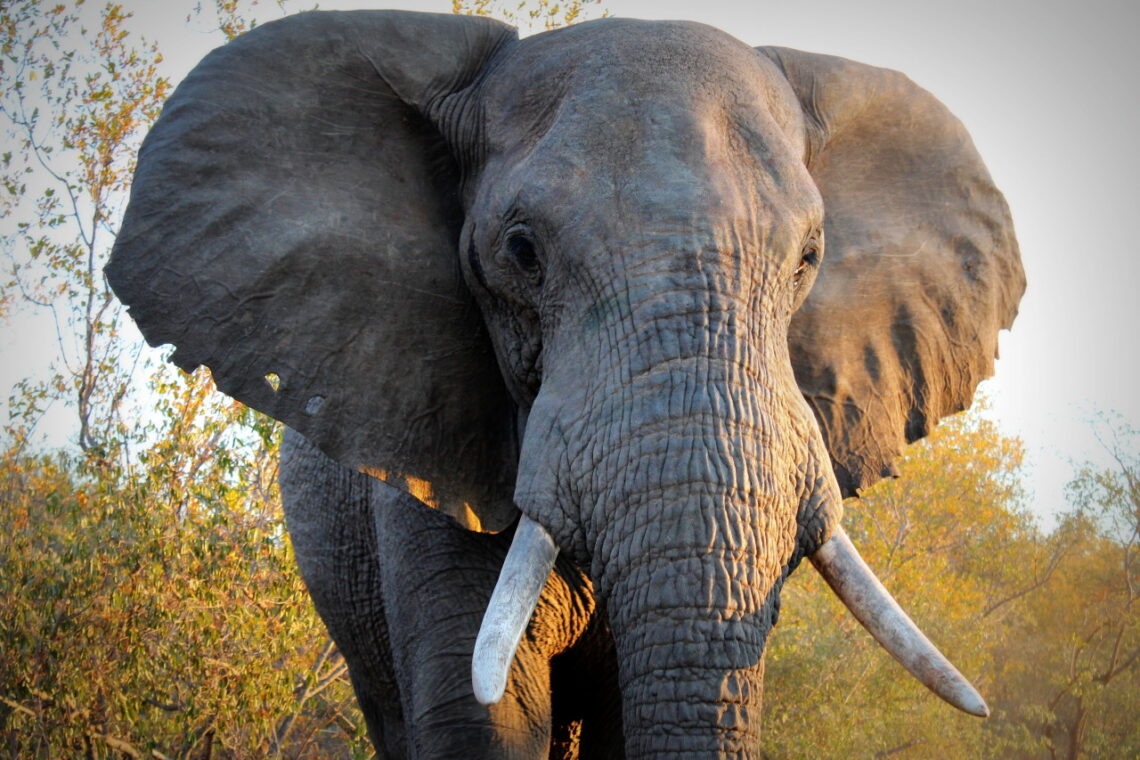 South African Adventure: Pt.1
We land Saturday, May 21,2016 in Johannesburg to the smiles and hugs of Mr. X. And any concerns regarding the handling of our guns, and all the necessary paperwork to bring them into and use in South Africa, are once again dismissed by his management and expertise. With all the appropriate paperwork filled out, we are then greeted by a very sweet man and friend, Maurice, our driver to and from the airport to Afton House.
Once arriving at Afton, a gin and tonic, a chance to catch-up with Annelise, a grilled steak dinner, hot shower and soft bed were everything I needed after a long 18 hour flight in a tin can. On this first leg of the trip I'm traveling with my friends from Safaris Unlimited, Dennis Stanley and Diane Stairs. This is Diane's first trip and hunt in Africa, and I'm so excited to be part of her first experience.
The next morning we are up early for a quick breakfast. How wonderful to wake up to the sound of the Cape doves. It only makes my return to South Africa all the more real. Once finished, the van is loaded with all our luggage, then its back to the airport where we are greeted once again by Mr. X. Mr. X ensures our guns and ammo are properly checked in. The worker for South African Airlines tries to pull a fast one and charge us for our heavier luggage as a third piece as opposed to the ammo containers. Its stunts like this that make you glad Mr. X is there to assist you. Then we are off on our brief flight to the Limpopo area of South Africa.
When we land, the airport is small and quaint. The temperature is quite warm. We are first met by Henry Baskerville of Safaris Unlimited. He arrived ahead of us with two other clients. Those two clients having had very successful Cape buffalo hunts, have now moved on to another hunting area owned by Andrew Pringle of Crusader Safaris in Umkomaas. Then Rad Robertson, my assigned PH, greets us as well as his younger brother, Guy. I learn that a wonderful lunch at a place called Anne's Cotton Club has been arranged for us. We will be dining with a long time friend of Henry's, Wendy Beretta.
I could not have asked for a better way to begin our safari hunt in this area. We dined outside where we could enjoy the cool breeze and spectacular views of the Drakensberg Mountains. The food was fabulous, as well as the South African wines, and Wendy is a very charming and fascinating woman.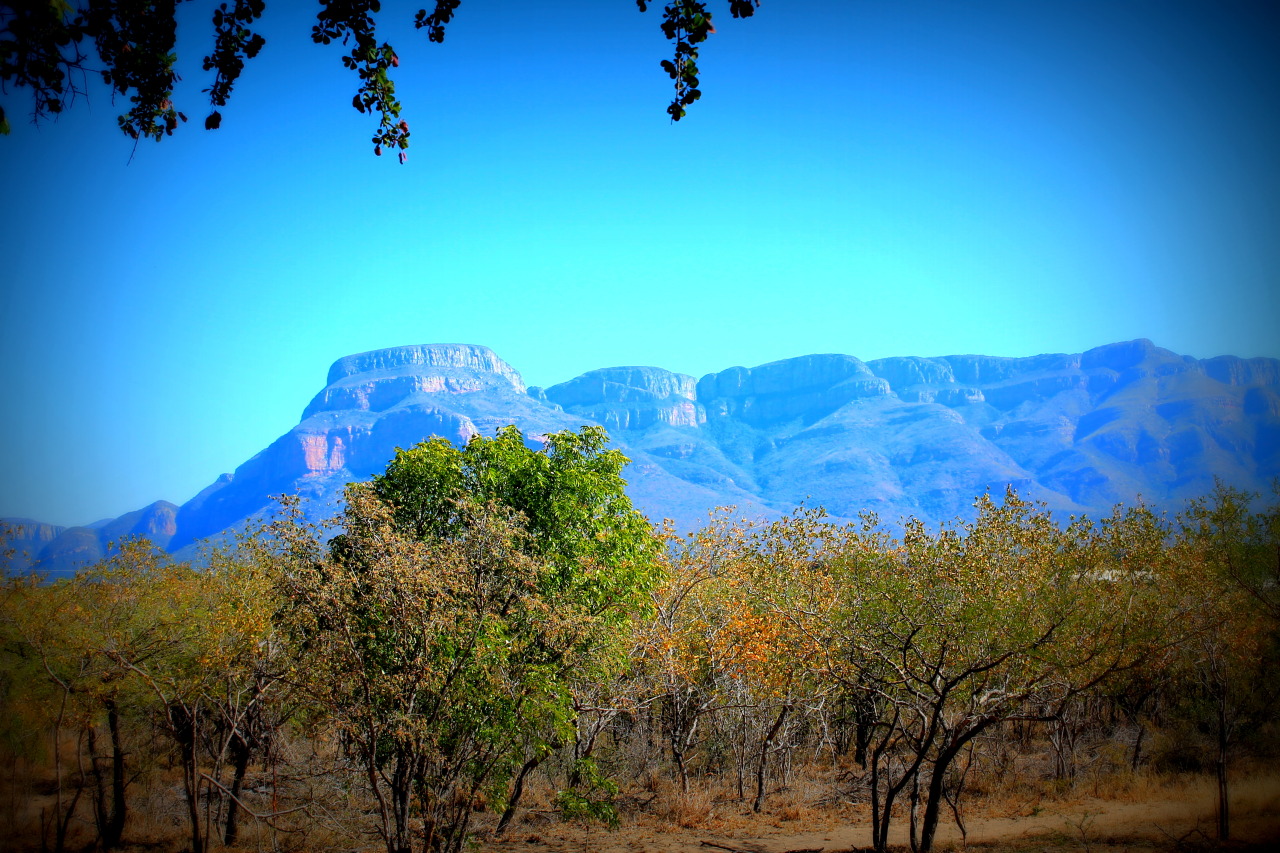 After lunch, we say our goodbyes to Guy and Wendy, then its off to the camp where I will stay for the duration of the buff and sable hunt. How long that will be, will depend on the success of the hunts.
Once inside the area where the camp is located, it was like becoming a total child as I sat in the vehicle in utter amazement at seeing the animals up close. I would not be some simple tourist touring some animal park inside a vehicle, hoping to catch even a glimpse of the wild animals. No. As a hunter, I would walk among them. I could extend my hand to pet them if I wanted. I didn't. But I could.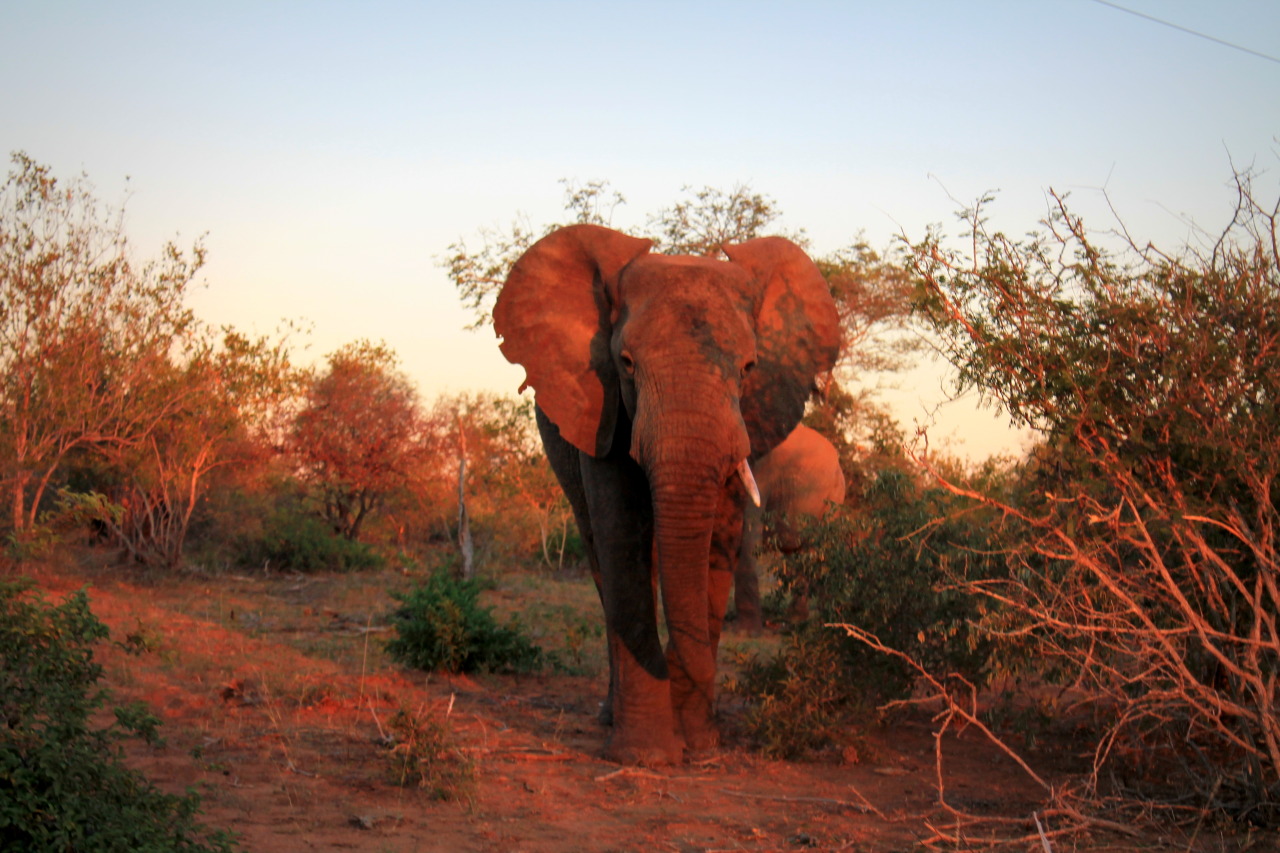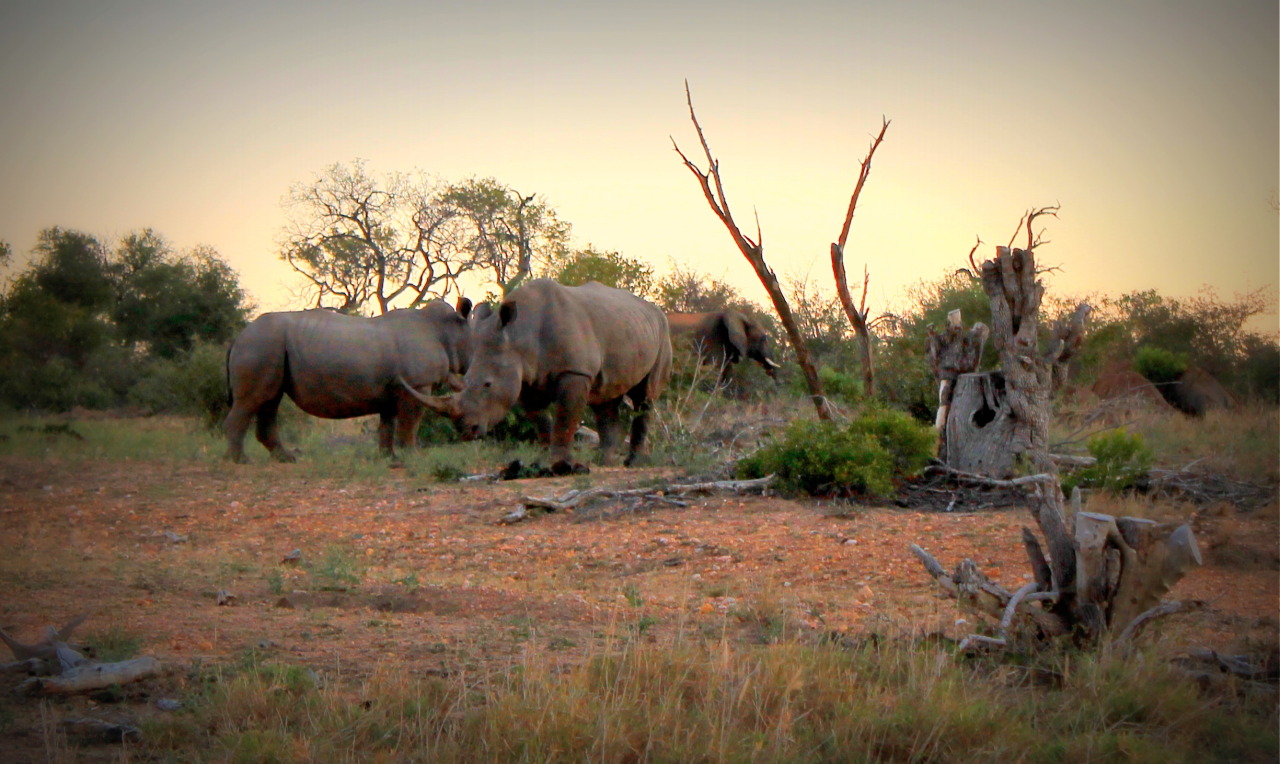 The camp is small consisting of a total of four thatched roof buildings, a tower, and a fenced-in campfire area. Electrical wire fencing surrounds the compound. One would look at the fencing and wonder how on earth it could ever prevent animals from coming in and out. But I was told that the animals can sense the electrical wiring and avoid it. The solar panel that provides light for the camp was blown, so we were given charged lanterns to use in our rooms. The generator provides electrical power for everything else.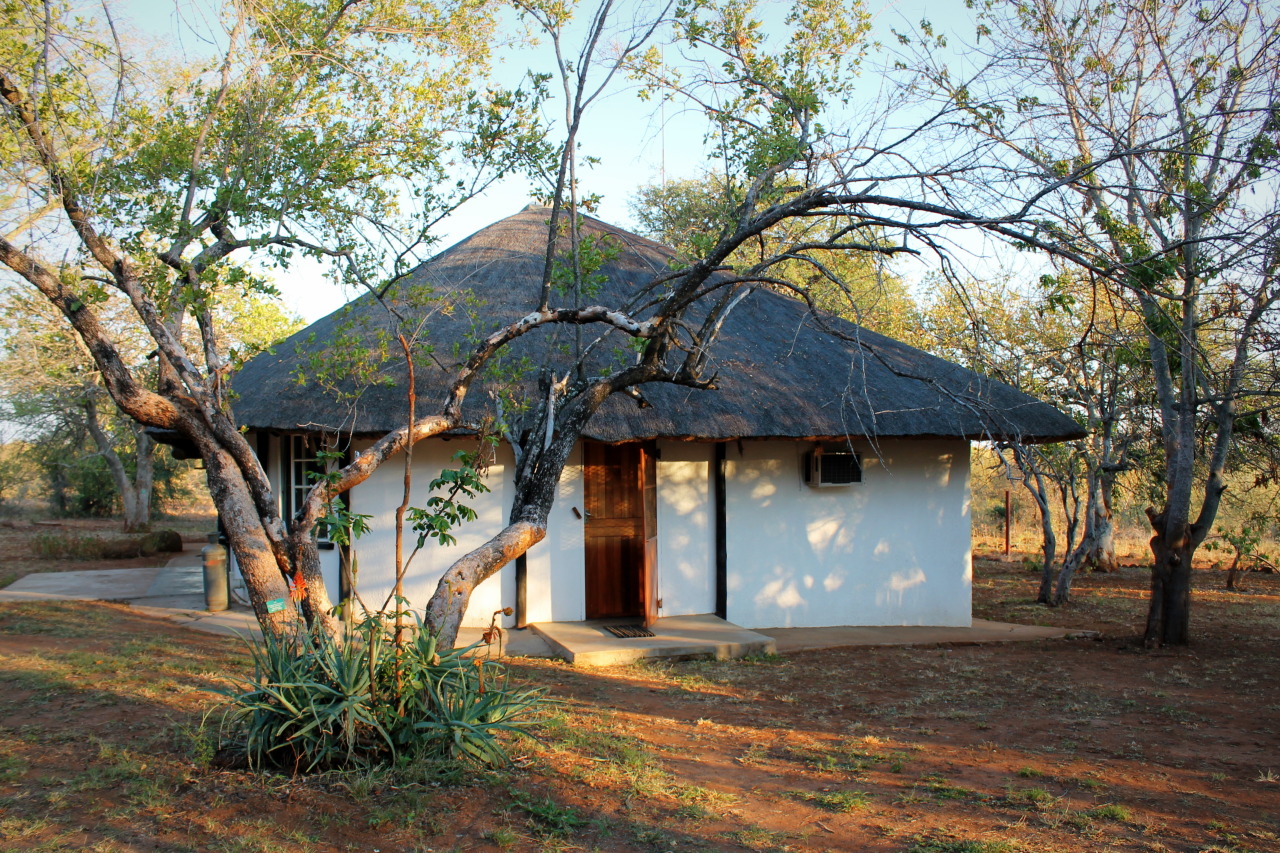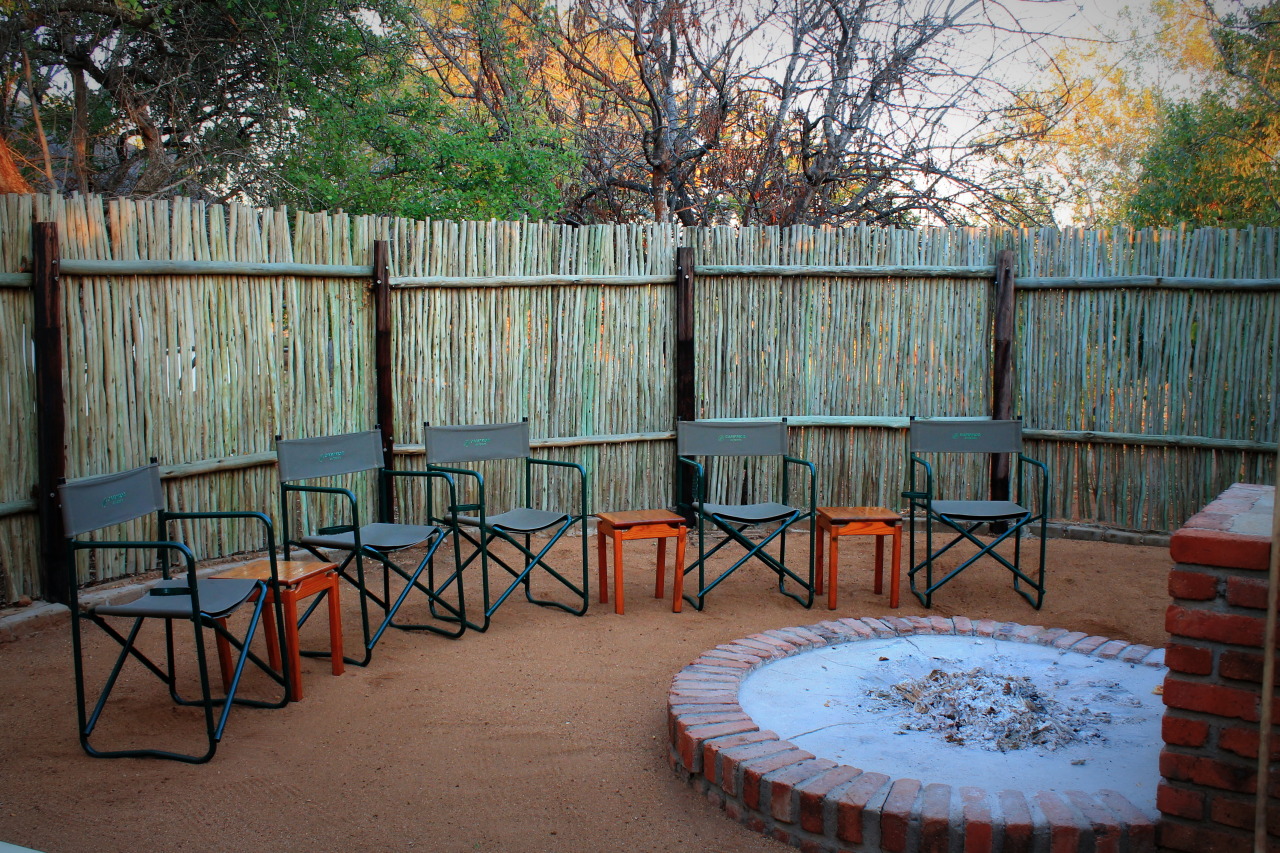 After drinks with everyone around the campfire, and under the full moon and stars, we then moved to the dining room where we were served eland steaks for our first dinner. Not a bad way to begin my first evening in camp.
First Morning in Africa
It's now Monday morning. My alarm was always set for 5 a.m., but I was always well awake before it went off. I learned to love those moments because that's when the lions and leopards would sound off with their territorial roars and the hyena with their grunts, growls and giggles. This morning symphony played just outside our compound. I was also dressed and out my door before the others each morning. I didn't want to miss a single sunrise.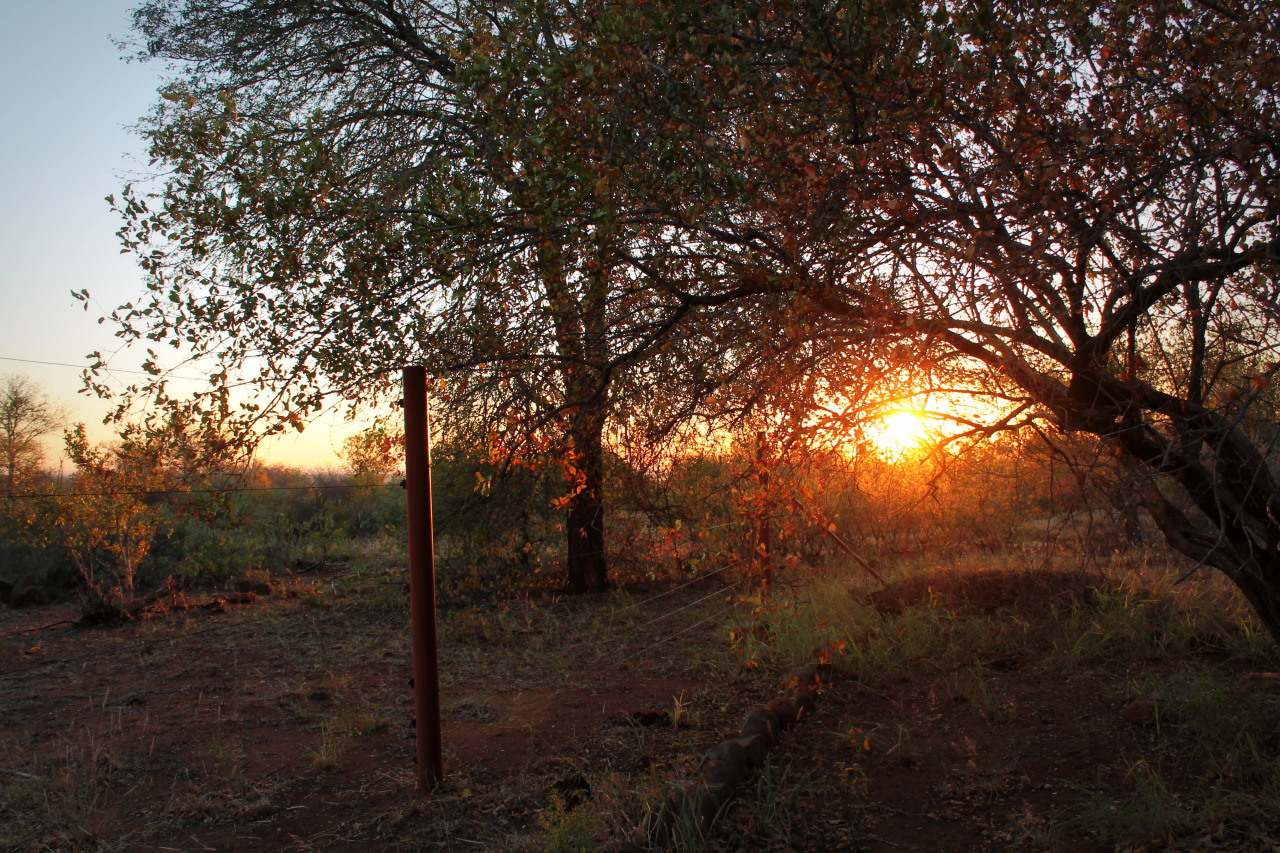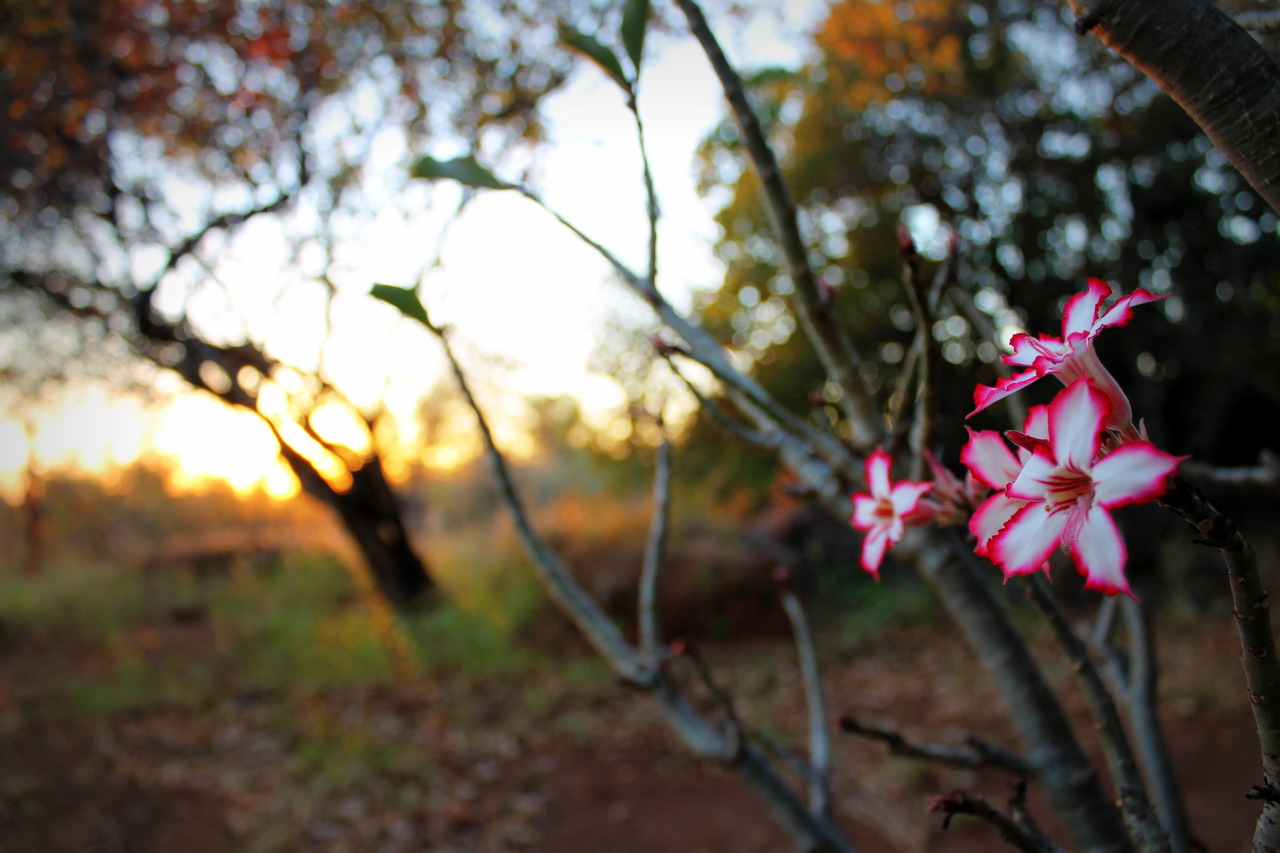 After a breakfast of scrambled eggs, left-over eland steaks, the sweetest grapefruit, and plenty of coffee, we were off to pick up a new addition to my hunting party. While Jacques Louw is a very informative and educated young man, accompanying us on my hunts was (in part) to only further his training. He was a wealth of information concerning any questions I had regarding the animals and area vegetation. Rad had worked with him before and their interaction was often one of a big brother picking on a little brother. All in fun, and having two sons of my own, their interaction was something I am quite familiar with.
After sighting in my CZ .375 H&H at a dry river bed, we were off to scout for buffalo. Henry, Dennis, Diane and my trackers Toolbag and Seeya, ride up high in the back of the bakkie this day. Our first stop is to a popular watering hole where a herd of Cape buffalo are known to frequent to look for any recent tracks. Once the tracks are determined, the stalking begins.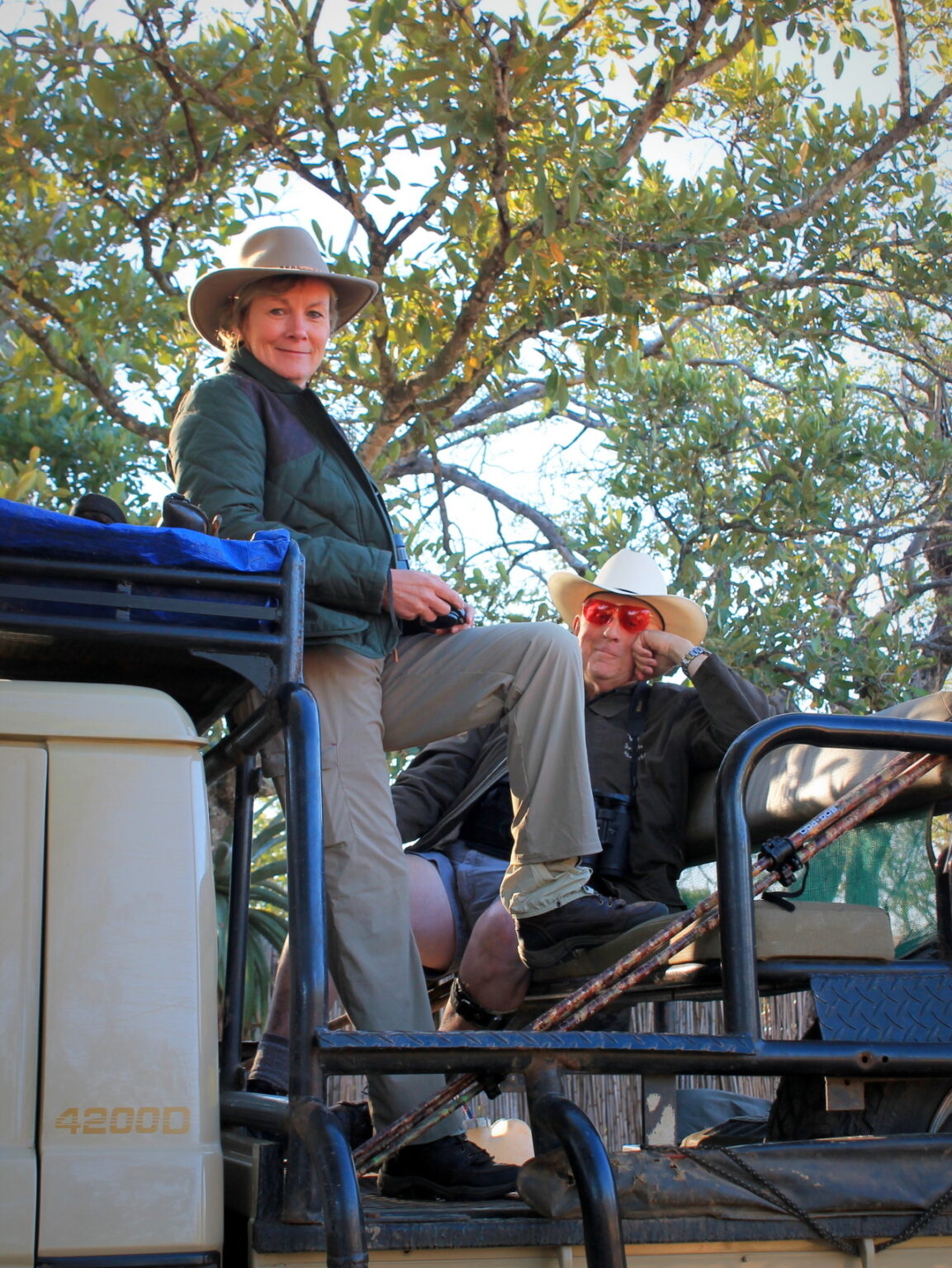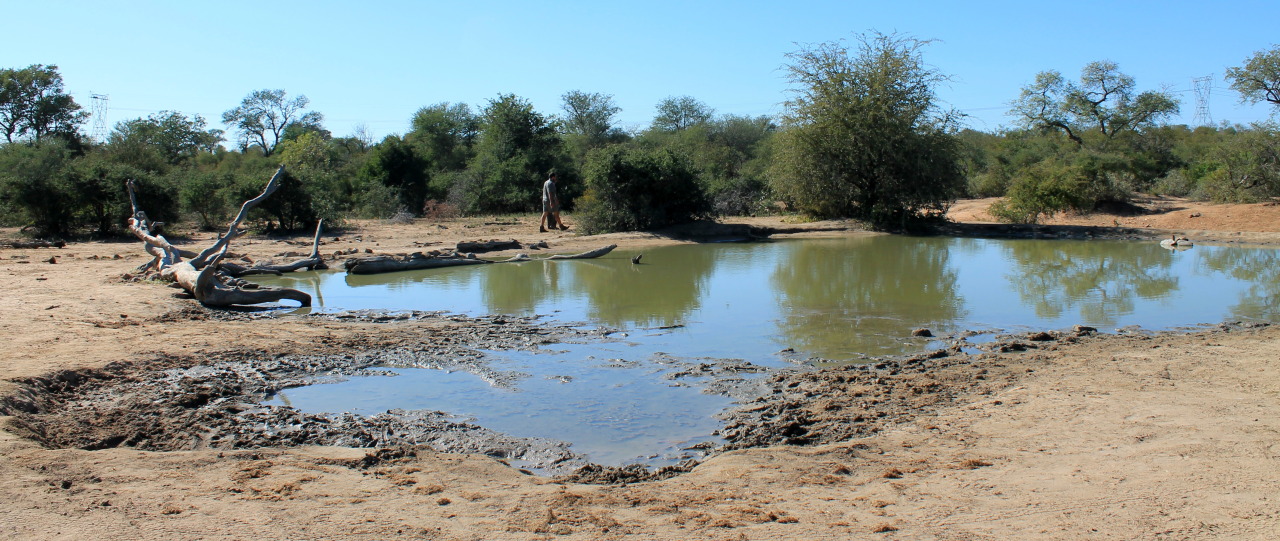 Their ability to drive and find and keep up with the buff tracks never ceased to amaze me. As we follow the tracks, Rad warns me we are about to come upon them at any moment. But before he can finish his sentence, there they are, in the road and blocking us. They immediately begin glassing the herd. Rad and Jacques get out of the vehicle to take an even closer look. The buff move off into very heavy bush, but not before they are able to detect at least three shooters. We leave the herd for now since there is still plenty of time. My hunt has only just begun. And Rad's preference is for me to shoot a lone dagga or from a small group of dagga boys as opposed to isolating one from a herd. He knows of at least two lone daggas in the area.
After lunch, Rad decides to locate the herd again for a closer look. We begin where the buff entered the heavy brush to begin the stalk. Its not long before they find them again. Rad stops the vehicle, exits and grabs his rifle (a .458 Lott) from the back of his bakkie. Jacques joins him. Rad turns to me and tells me to join them as well. So, the three of us proceed to walk out into an open area to face this entire herd of Cape buffalo. In a lowered voice, Jacques warns me to remain calm and stay close to Rad since he has the rifle. I mutter some sound of protest of how big the herd is compared to the three of us, they're all looking at us, and there's nothing between us and them but about 45 yards of wide open expanse. Jacques reassures me that because we are not taking any form of threatening stance, they have no reason to charge. He and Rad glass the herd again and talk quietly amongst themselves. I, meanwhile, nonchalantly glance around for a place to run. Just in case. But, no such luck. Behind us is a pool of water containing a lone hippo with only his beady eyes sticking out above the water. Off to our far, far, far right is thick brush with a lone giraffe eating off the top of some trees. As he chews he watches us, probably thinking to himself, "This ought to be good."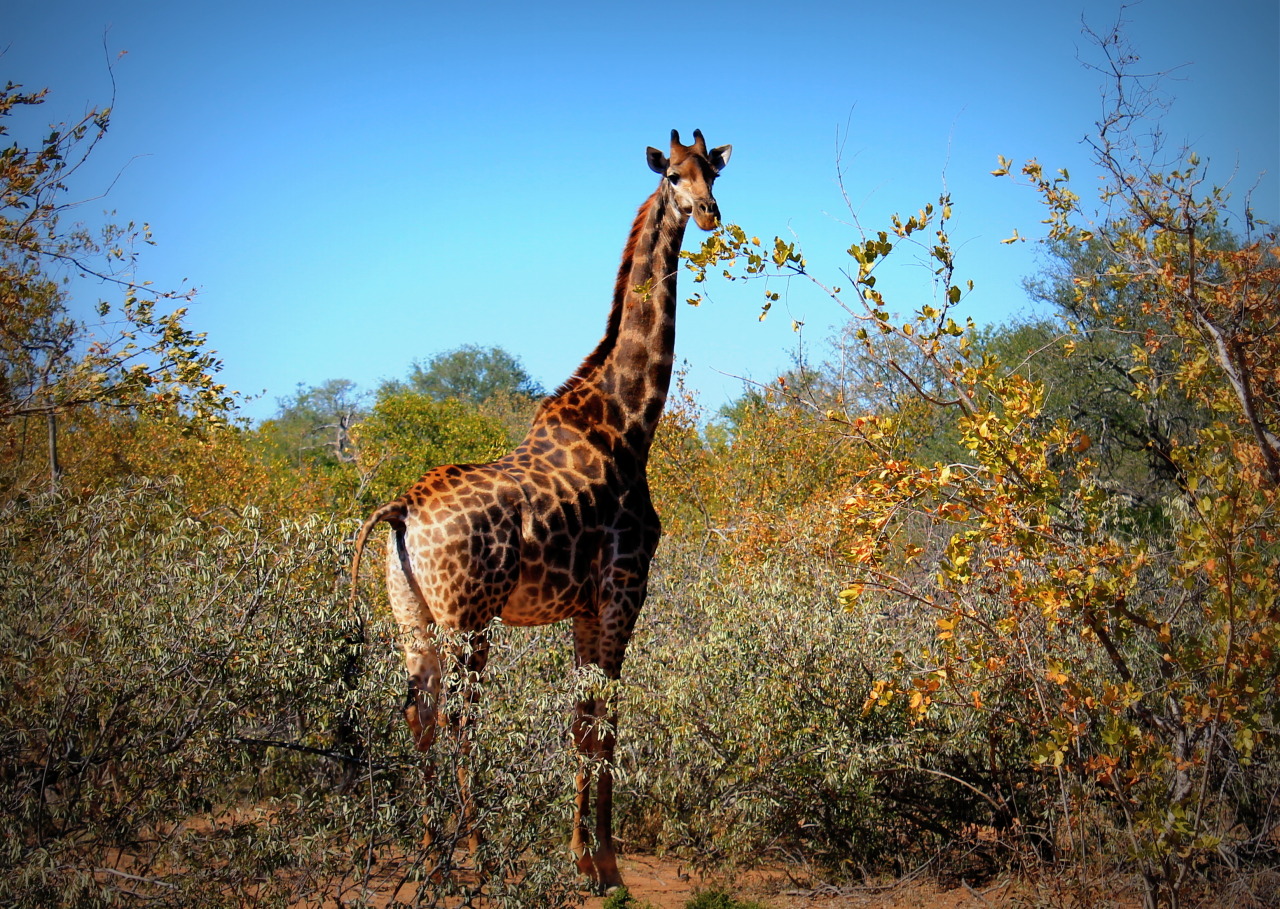 Four old boys are found in the herd, one a really spectacular bull. Rad opts to leave the herd again. We'll come back to find them if the need be. I'm more than happy to head back to the safety of the bakkie. I didn't know it yet, but this would be the first of many more adrenaline rushes to come.
As we head back to drop Jacques off, then on to our camp, Rad spots an elephant of interest. Again, he stops the vehicle, exits, and grabs his rifle. Jacques does the same, grabbing his rifle this time as well. Rad invites Dennis, Diane, and myself to join in the stalk. It's not long before the elephant catches our scent and moves off into another direction. But the momentary experience is something a safari hunter's dreams are made of.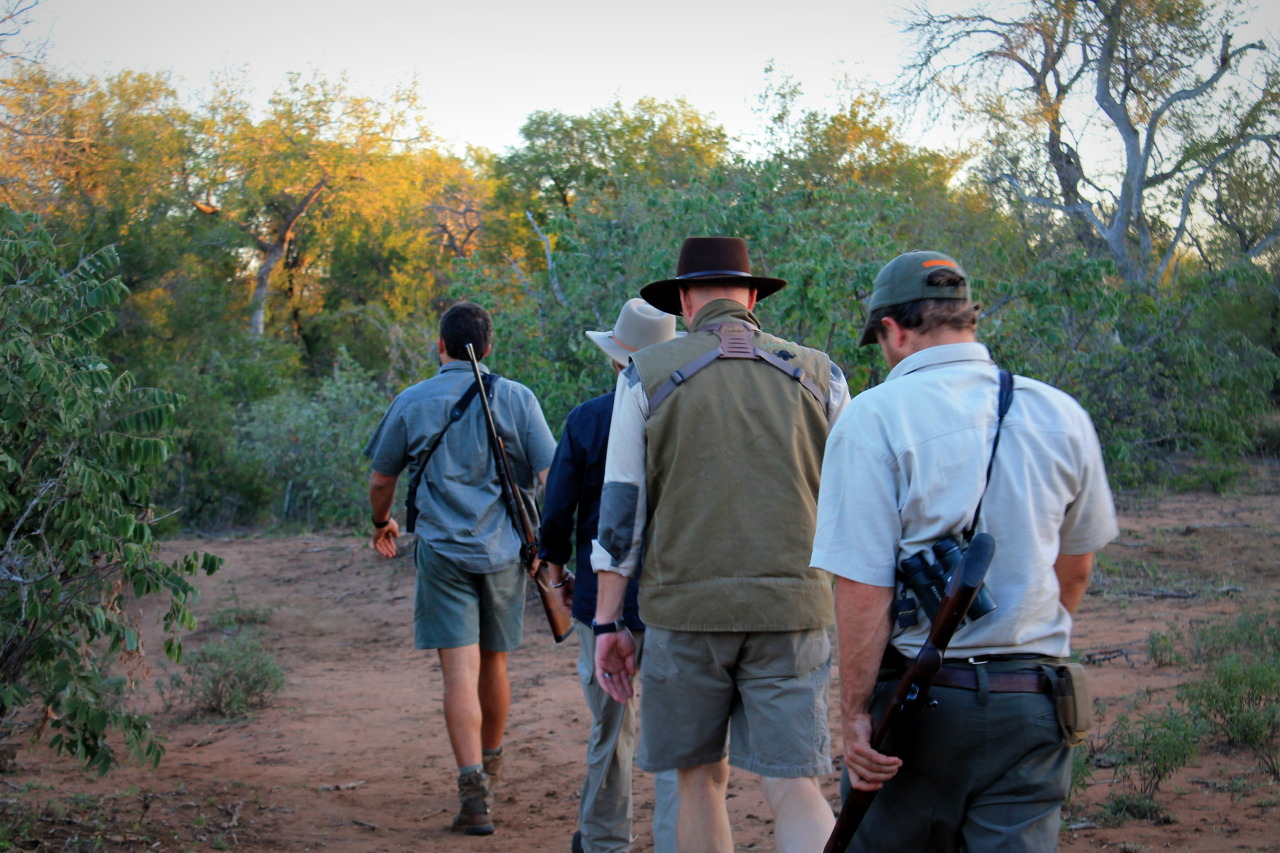 South African Adventure: Buffalo & Sable : Pt.2 Coming soon..