Before the Mason-Dixon Line
King Charles III has just begun his reign, so there's not much in the way of mistakes to talk about yet. Instead, let's discuss one of the blunders of Charles II.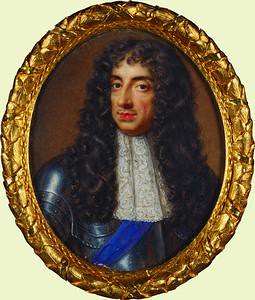 The colony of Maryland was created by Charles I in 1632 when he granted Cecil Calvert, 2nd Baron Baltimore, land north of the entire length of the Potomac River up to the 40th parallel. In 1681 Charles II granted William Penn a charter to create the colony of Pennsylvania. The intention was for Pennsylvania's southern border to be the already created northern border of Maryland, but because they were using an inaccurate map they described the border differently in this charter than how it was described in Maryland's. This error created a 28 mile wide strip of contested land along the border which included the city of Philadelphia. 
Once the mistake was realized, several compromise attempts were made over the years, but none made much progress. Then once Delaware was created from lands Maryland thought their own, there was no desire to compromise at all. And trouble was now beginning to brew.
A Pennsylvania quaker, John Wright, set up an impromptu ferry service on the Susquehanna river using a pair of large dugout canoes in 1726. Settlers from Pennsylvania began to cross the river, build homes and farms and by 1730 traffic had risen to the point for a proper ferry.
Lord Baltimore Charles Calvert, 5th Baron Baltimore, was not going to suffer such an invasion. Thomas Cresap, a Marylander, was given title to 500 acres and started a ferry service just a few miles south of Wright's Ferry, now a settlement in its own right.
Since much of his 500 acres was inhabited by Pennsylvania Dutch, Cresap began acting as a land agent and collecting property tax. 
Eventually this led to an attack on Cresap's life. Charges filed in both Pennsylvania and Maryland went unanswered as jurisdiction was claimed by both sides but enforced by none. People began taking action themselves and as the years went by things got worse: gunfights, arrest attempts by multiple sheriffs, and even the involvement of Pennsylvania and Maryland militia.
Eventually a large Pennsylvania force attempts to capture Cresap. During the nighttime raid, one man cornered Cresap on a dock. Cresap knocked the man in the river and yelled "Cresaps getting away" while pointing to the floundering man. The Pennsylvania posse grabbed nearby oars and began beating their unrecognized comrade while Cresap attempted to escape. The mistake was realized in time to capture Cresap and they slapped him in steel chains. He was transported to Philadelphia where Cresap was reported to have said "Damn it, this is one of the prettiest towns in Maryland!"
Maryland petitioned Charles II to intervene. The king's proclamation required the cessation of all hostilities, the exchange of prisoners, and led to the hiring of Charles Mason and Jeremiah Dixon to survey a permanent boundary. This was the end of what was known as the Conojocular War, also called Cresap's War, and the beginning of the Mason-Dixon line.