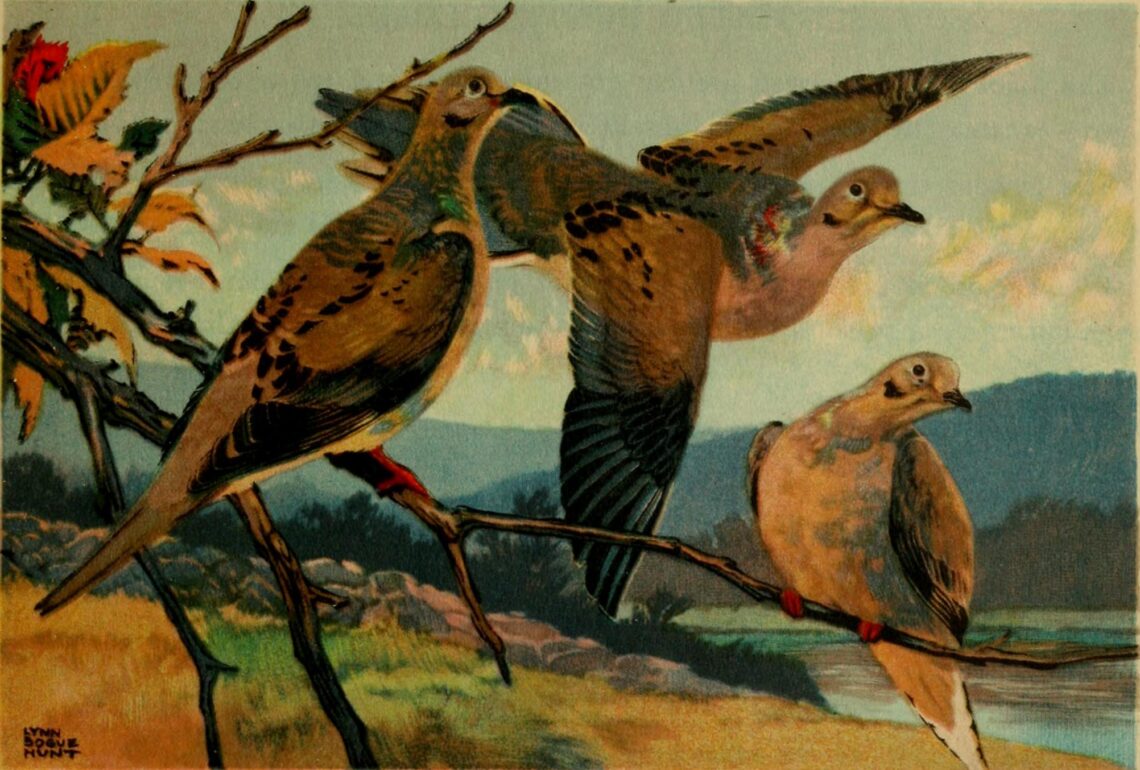 Northampton County Dove Hunt
Northampton County is located in northeastern North Carolina and sits on the Virginia border. The county seat is Jackson, North Carolina. Once upon a time, I worked in this area when I was a Parole Officer in the early 1990s. Little did I know I would be invited back annually as a hunting guest of one of my North Carolina State Bureau of Investigation (NC SBI) colleagues for an annual dove hunt. In another twist of fate and irony, the hunt takes place on a farm outside of Rich Square, North Carolina. I had no idea then that I would be back wingshooting just a few years later. In another oddity, I drove past my colleague's future in-laws' residence in Rich Square a thousand times while traveling between Jackson and Ahoskie, North Carolina. It is a small world.
Every September, a group of current and retired SBI Agents and associates gather at a hunting lodge on the property and spend a weekend in fellowship, food, war stories, and, most importantly, hunting. We trash-talk easy misses that should have been hits, celebrate an over-the-top incredibly difficult shot that results in another gray rocket in the bag.
September is still hot and humid in northeastern North Carolina. Tools of the trade include a Thermacell bug repellent, Mojo Dove decoys, water, snacks, plenty of shotgun shells, and of course, our trusty shotguns. For the last four years, I have carried my Stoeger Over Under .410 shotgun that Grady Stilley gave me as a retirement gift. I have had some luck with it, and it is there for sentimental reasons as much as for hunting. The Thermacell is one of the best inventions of this century. It works as advertised and keeps all the biting insects at bay. I am campaigning for its inventor to win the Nobel Peace Prize.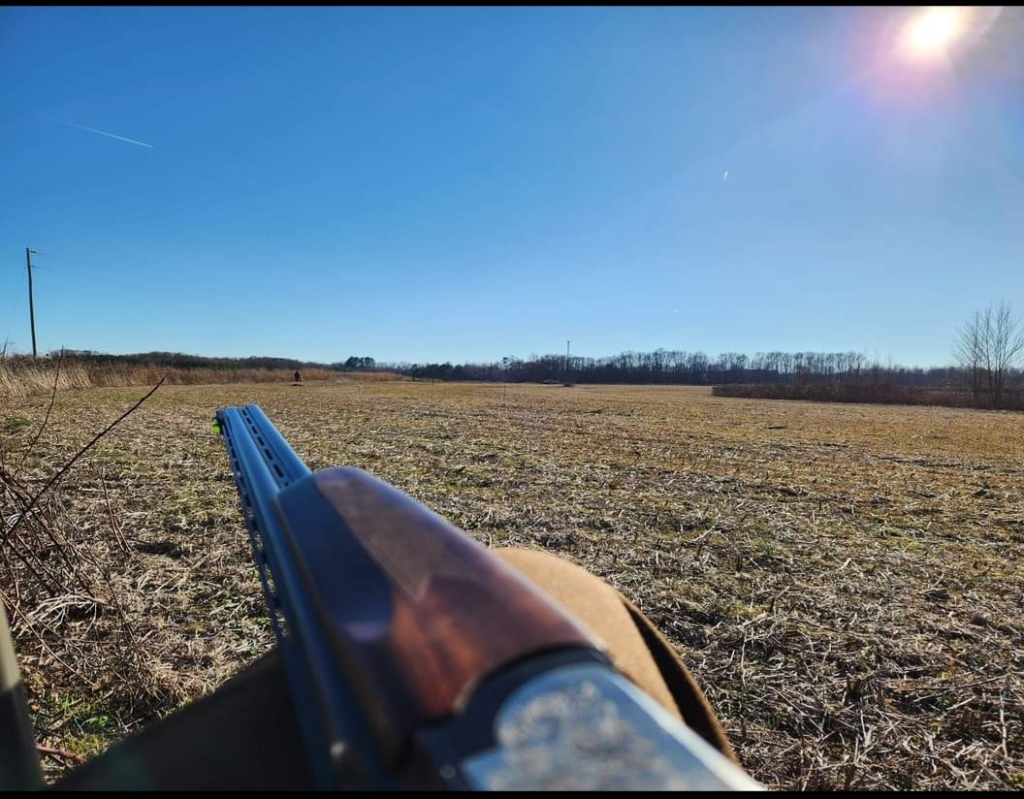 Our speedy quarry is the Mourning Dove. They are small, gray in color, short-beaked, quick as lightning birds that provide great opportunities to reach a bag limit. They are spread out across the continental United States and are migratory birds. The bag limit for hunting these fast targets is 15 in North Carolina. If you are lucky enough to fill a limit, they are mighty fine eating.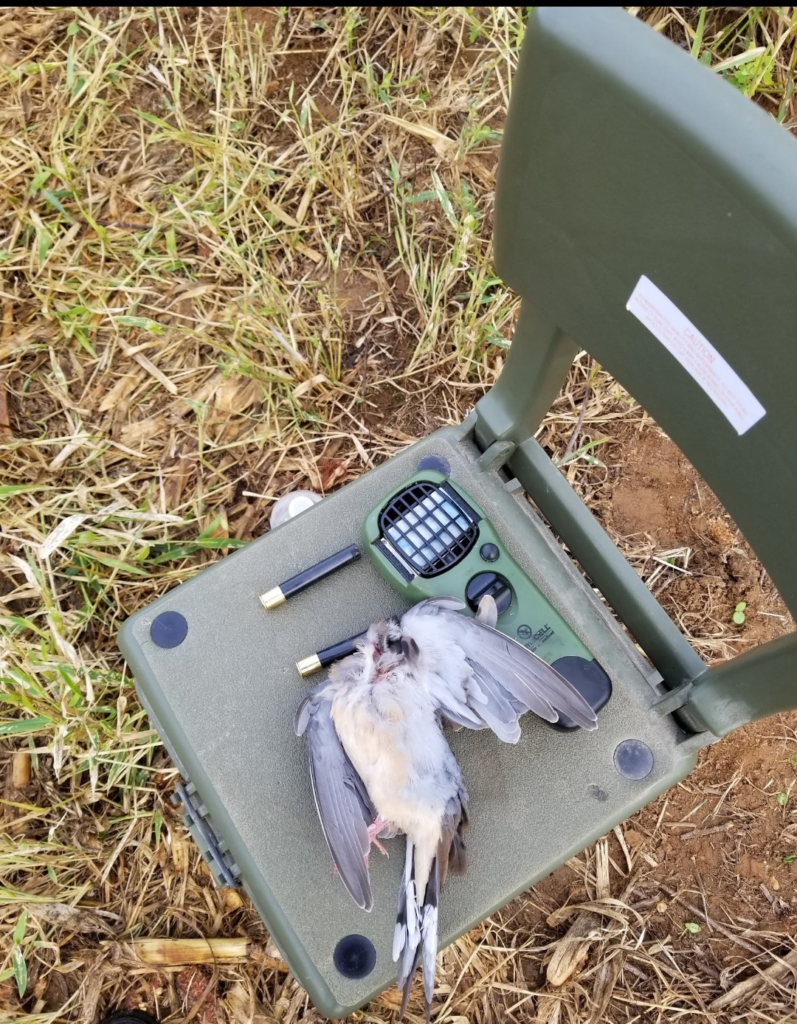 Once we have secured our bag limit or run out of shooting light, we retire to the lodge, open a beer, and begin to cook supper on a Weber grill. Sometimes it is steak, sometimes chicken, and sometimes pork, served with a side of potatoes, a garden salad, and other veggies. A dessert of homemade pecan pie usually awaits the stuffed hunters, and a college football game on television rounds out the evening.
We are up at the crack of dawn the next morning for the second day of shooting. We hunt until 10:00 or 10:30 a.m. By then, the shooting has slowed considerably. We go to a local restaurant in Rich Square named Claudine's for breakfast. The food is as country as a ham biscuit and fantastic. Afterward, we regroup, and some hunt later in the day while others head back home with our birds for a wild game meal fit for royalty.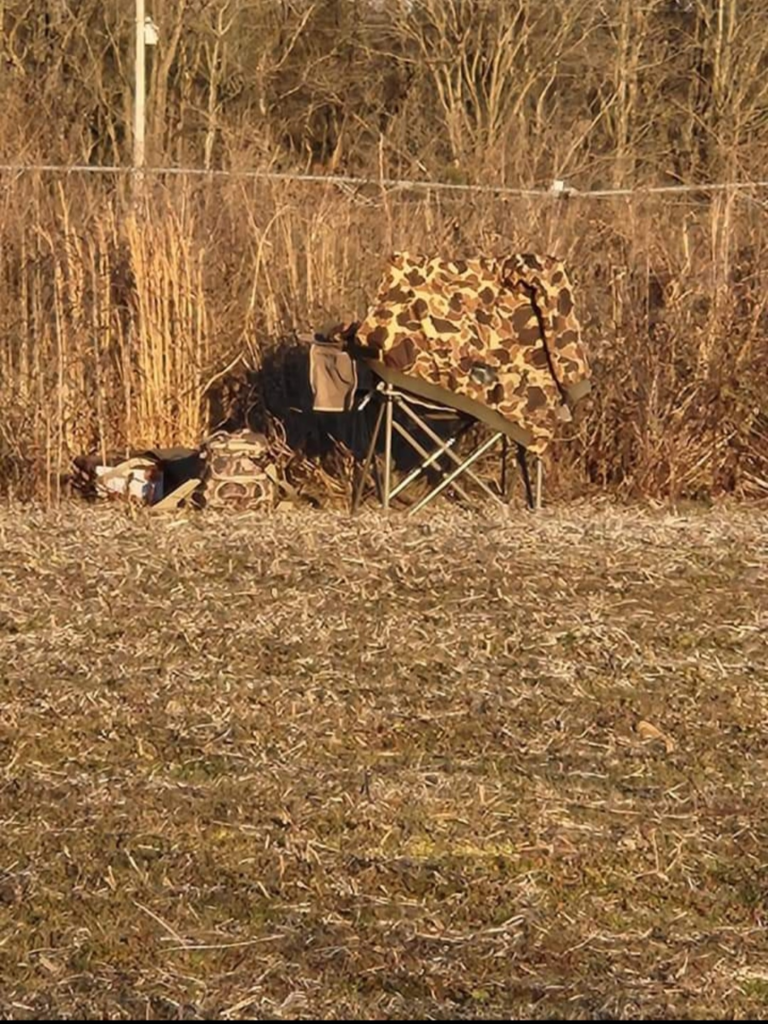 Sometimes we have a late-season hunt in December, and this rounds out our year of hunting. I love the colder weather, picked crops, the earthy smells of winter, and the nearing of the later duck season. I love the time afield with friends who have survived so much in a dangerous career. I wait anxiously for the end of the hunt, knowing that soon I will be cooking these tasty little darts that fly faster than a Saber jet.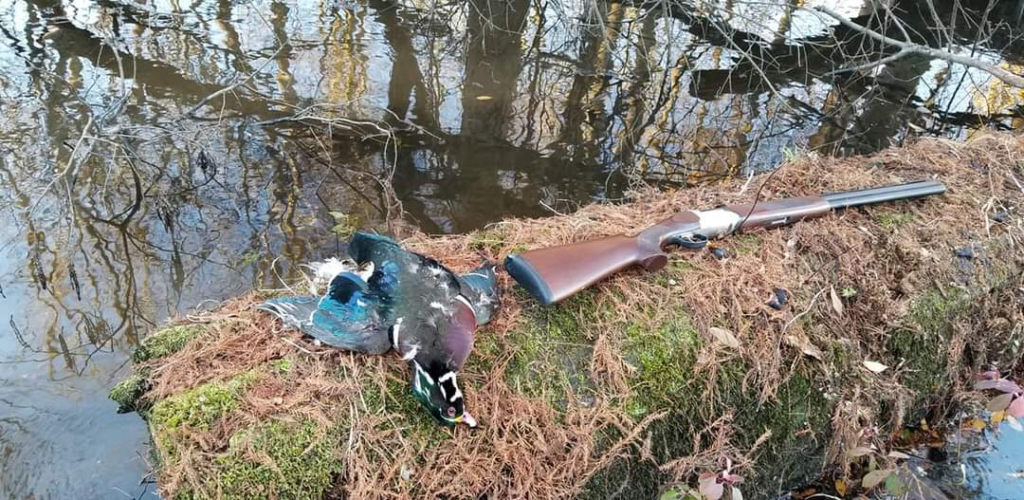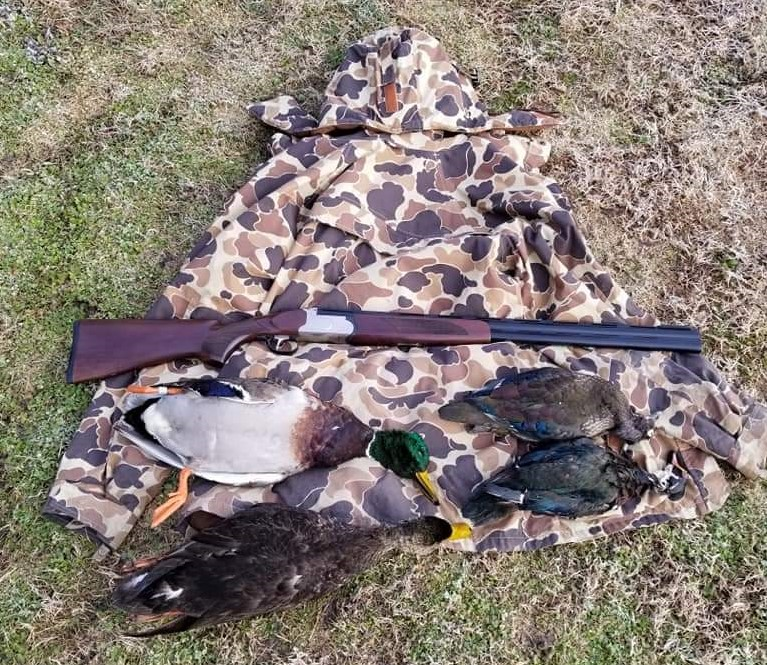 One way I discovered to cook these after our last late-season hunt is Dove Rumaki. The recipe is as follows:
1 dozen dove breast halves 
2 duck breast cut into dove grease-sized pieces 
2 tablespoons of Teriyaki Sauce 
Half a cup of Hoisin Sauce 
A splash of Rice Vinegar 
Red Pepper Flakes to taste
1 teaspoon of garlic 
Cilantro 
Slices of Jalapeño
Slices of Bacon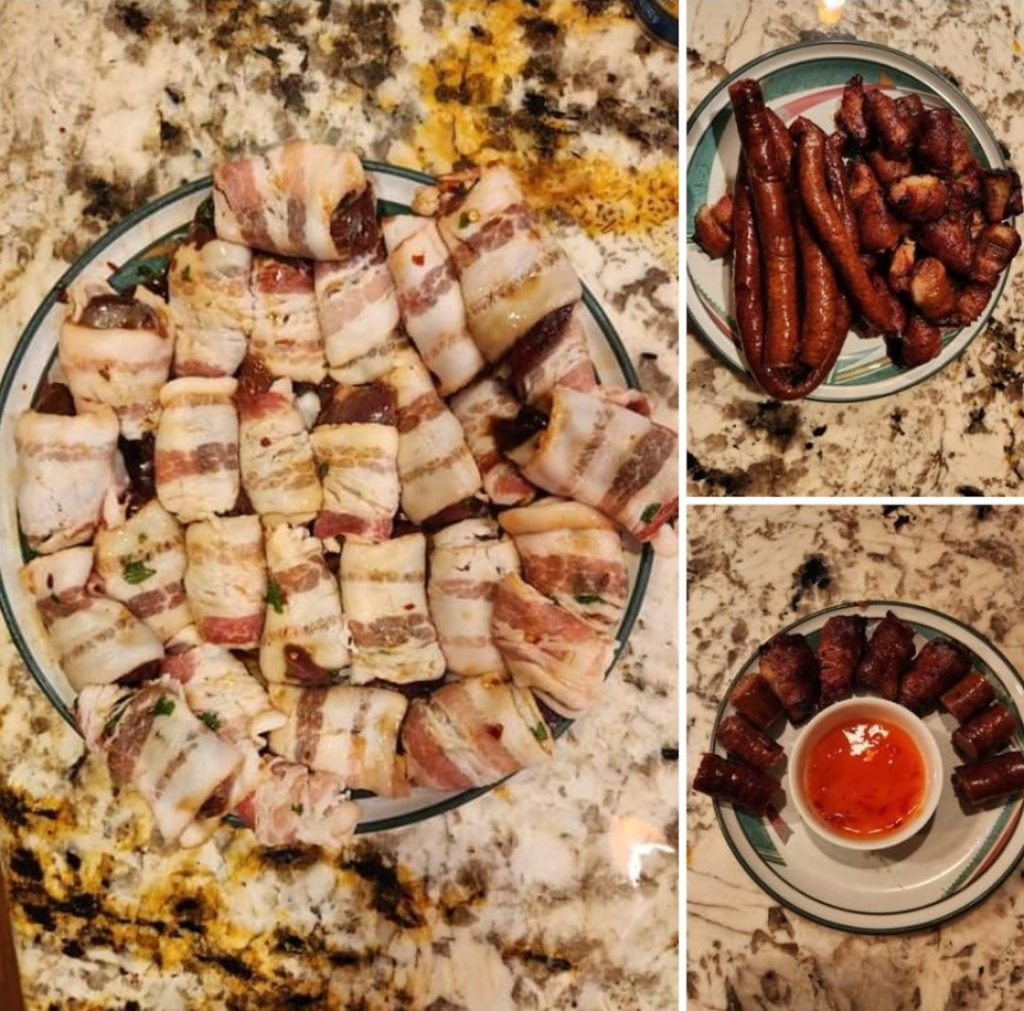 Marinate the duck and dove several hours, preferably overnight. Wrap the breast meat and jalapeno slices in bacon. Grill over medium, indirect heat (I prefer charcoal) for 20 minutes, or until the bacon is crisp. Serve with crispy noodles and Thai Sweet and Spicy Sauce.  I also like to grill air dried sausage which goes well with the main course. And do not forget, watch for shot in the meat, you do not want to break a tooth. A nice Malbec is recommended and pairs nicely with most dark meat wild game. Cheers!