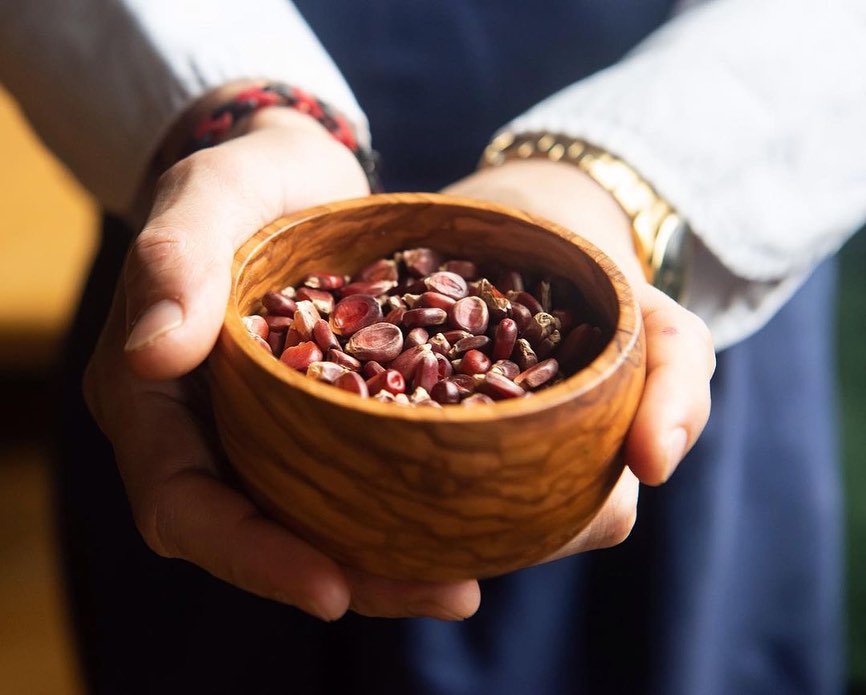 For almost 100 years James Island, located just south of Charleston, South Carolina, was the source of a high quality white corn liquor, also known as moonshine. The source of the product was a strain of corn brought to the area around 1910 by Richard Humphries from Screven, Georgia. He claimed the corn was used by Native Americans in the Appalachian Mountains but never specified which tribe.
On average, this is a 110 day corn and has a pair of 12 inch ears on 10 feet tall plants. It has a rich, oily germ and a high brix content. Brix is the measure of sugar content and sugar is what converts to alcohol. This made the red corn the key to James Island's whiskey production.
The bootleggers of James Island never revealed their prized corn and in 2000 the last bootlegger passed away. The corn almost died out as well. However, two ears of corn were rescued from the property and given to a local farmer to grow as hog feed.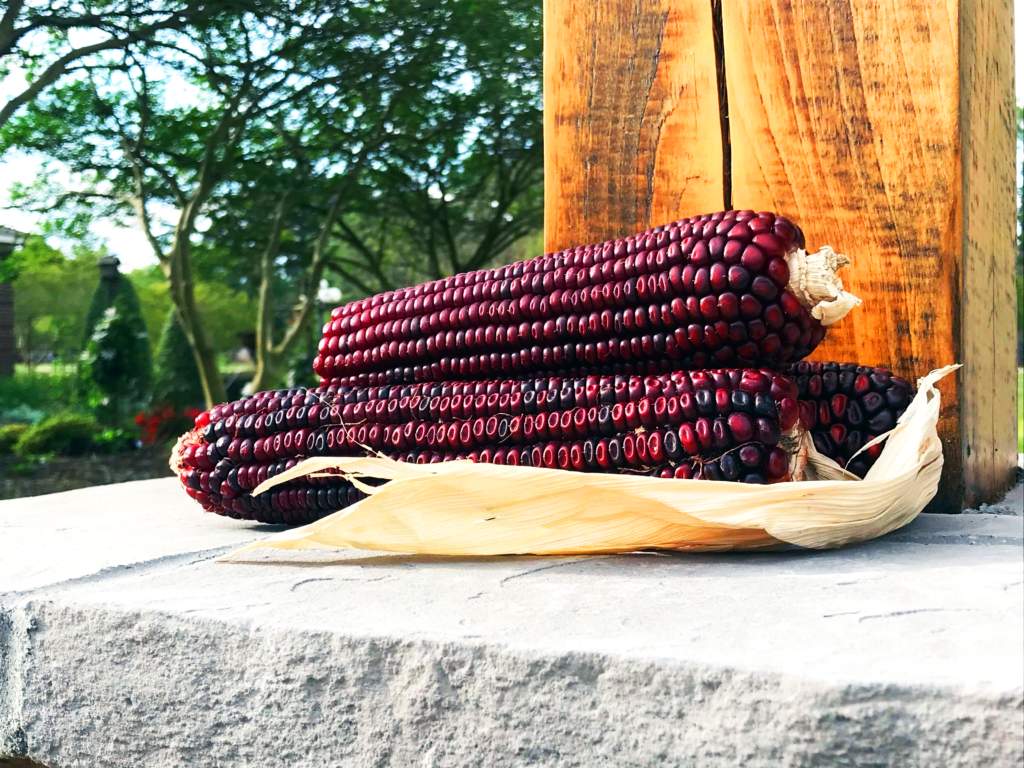 As luck would have it, that local farmer was Ted Chewning, a devout saver of seeds who has rescued varieties of corn, beans, radishes, watermelons and field peas from extinction. In time he was able to produce enough Jimmy Red corn to share it with a few interested people. This is when Jimmy Red really came back to life.
Glenn Roberts of Anson Mills began growing Jimmy Red Corn and even grows in multiple distinct regions to ensure its survival in the face of possible disasters. Greg Johnsman of Geechie Boy Mill began growing and processing corn grits and meal. Chef Sean Brock championed the grits, cornbread and flapjacks at his Charleston restaurants, McCradys and Husk and even has an ear of Jimmy Red Corn tattooed on his arm. Dr. David Shields of the University of South Carolina was able to get Jimmy Red Corn added to the Slow Food Ark of Taste which is a living catalog of delicious and distinctive foods facing extinction. Scott Blackwell, co-founder of Charleston's High Wire Distilling, began distilling Jimmy Red Corn into some amazing products. Jimmy Red was a hit.
Feathers & Whiskey purchased some seed corn and we grew a crop ourselves. We've tried Jimmy Red at both Husk in Charleston, SC and at Seabird in Wilmington, NC. We purchased and enjoyed Jimmy Red Bourbon from High Wire Distilling Co. But there was one thing left on this journey, the mill.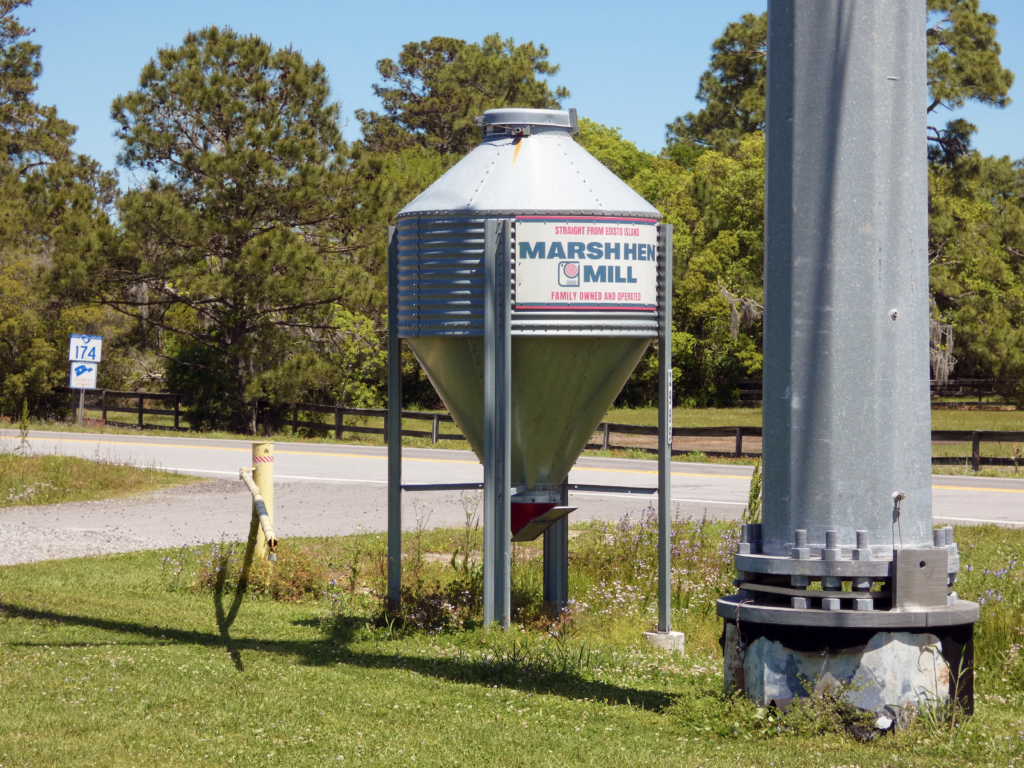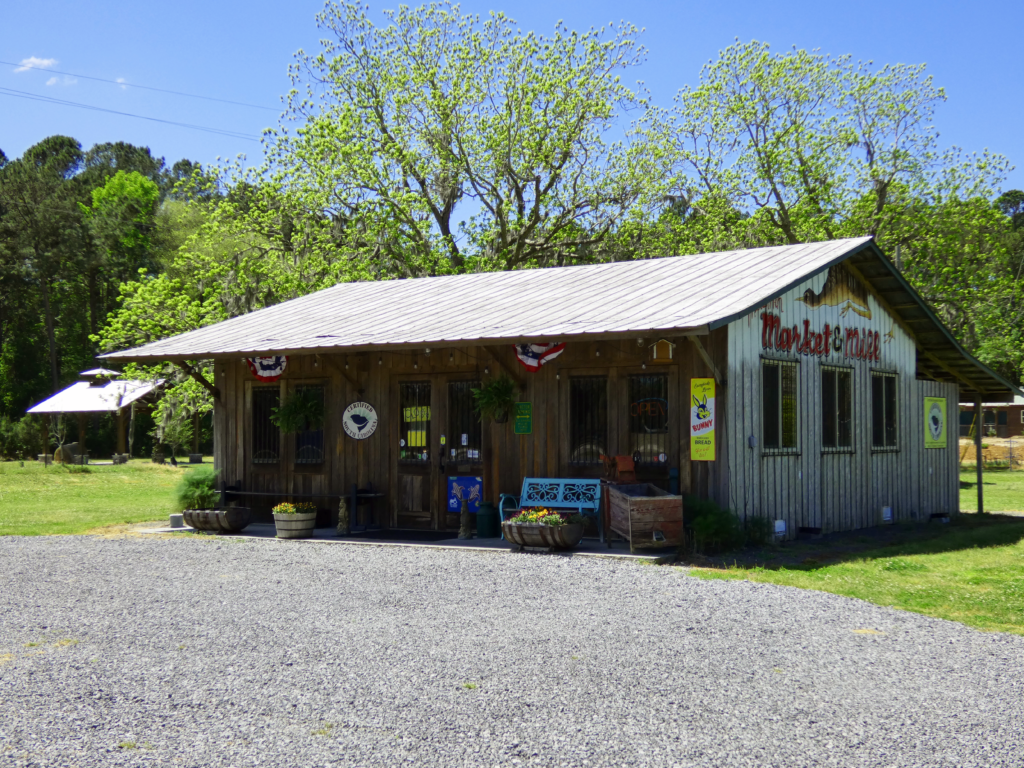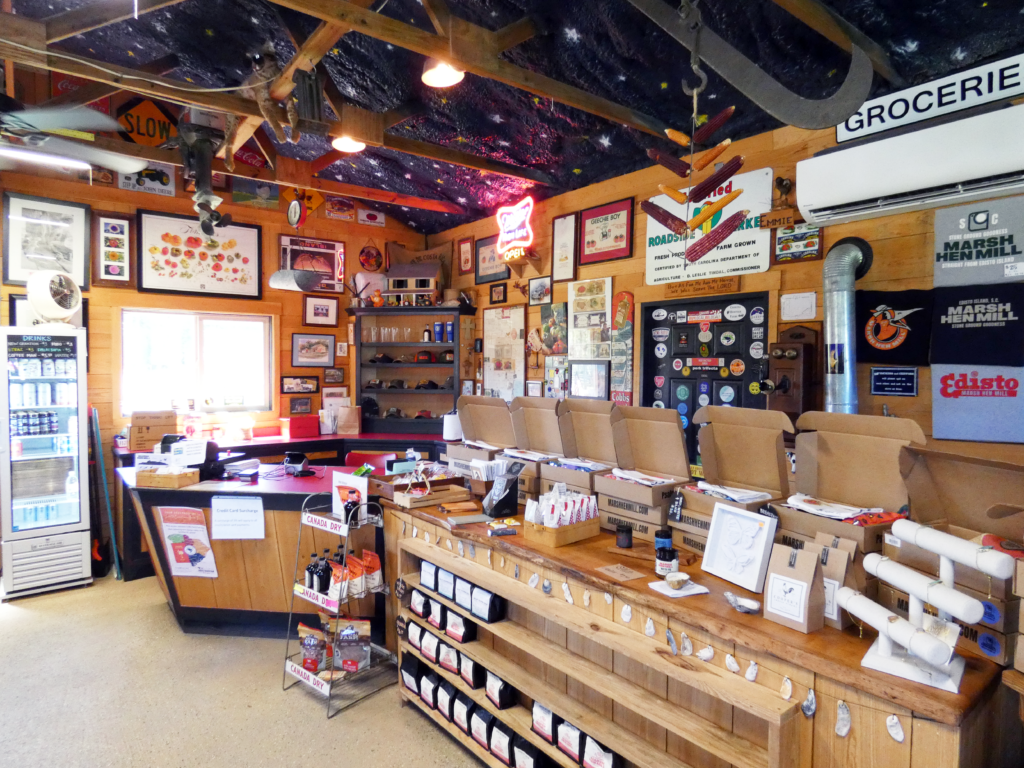 Geechie Boy Mill has had a name change; it's now known as Marsh Hen Mill. Same great people, same great products. We drove down to Edisto island where they have a wonderfully rustic store featuring the products, although they also have an online store which is much more convenient.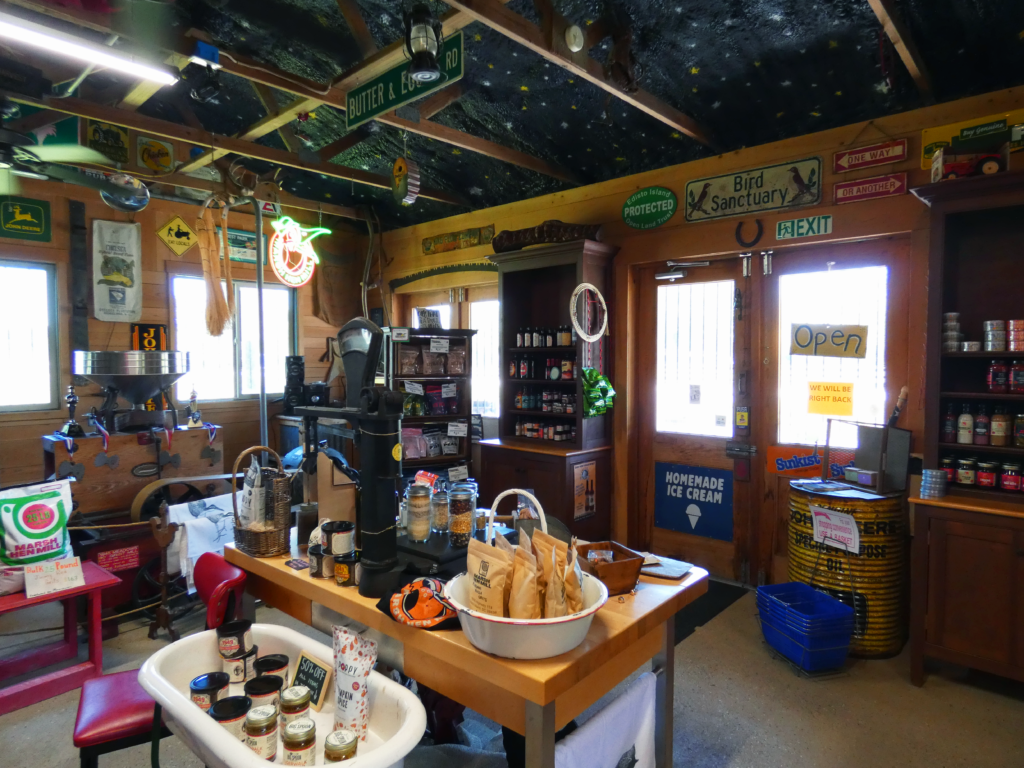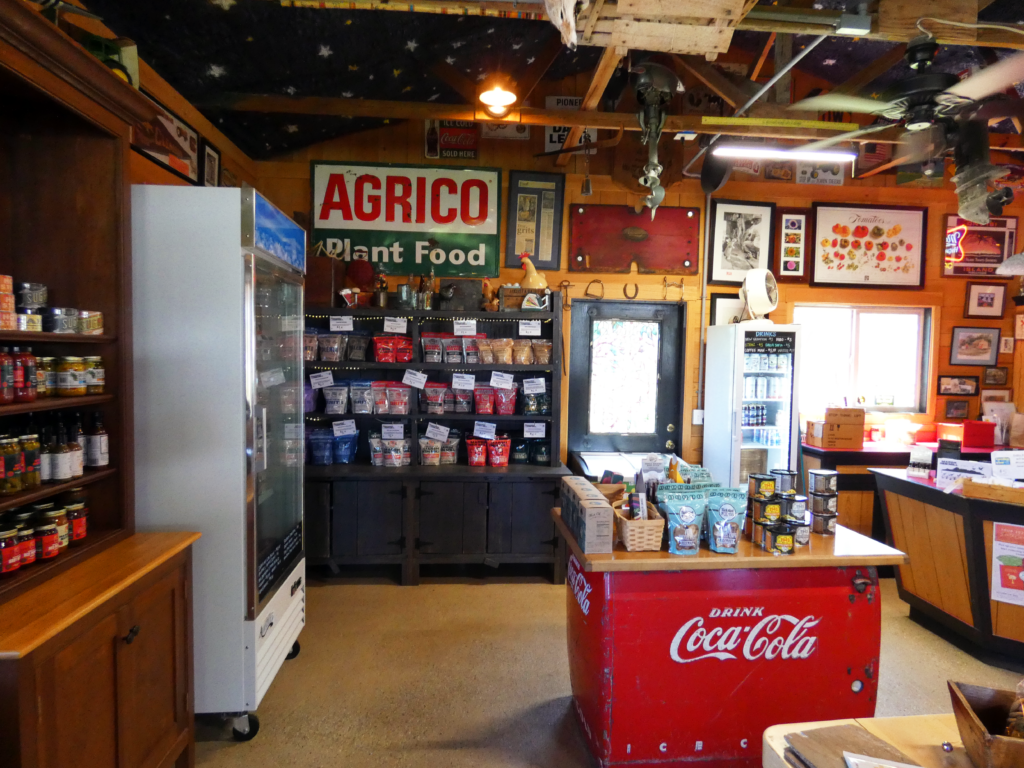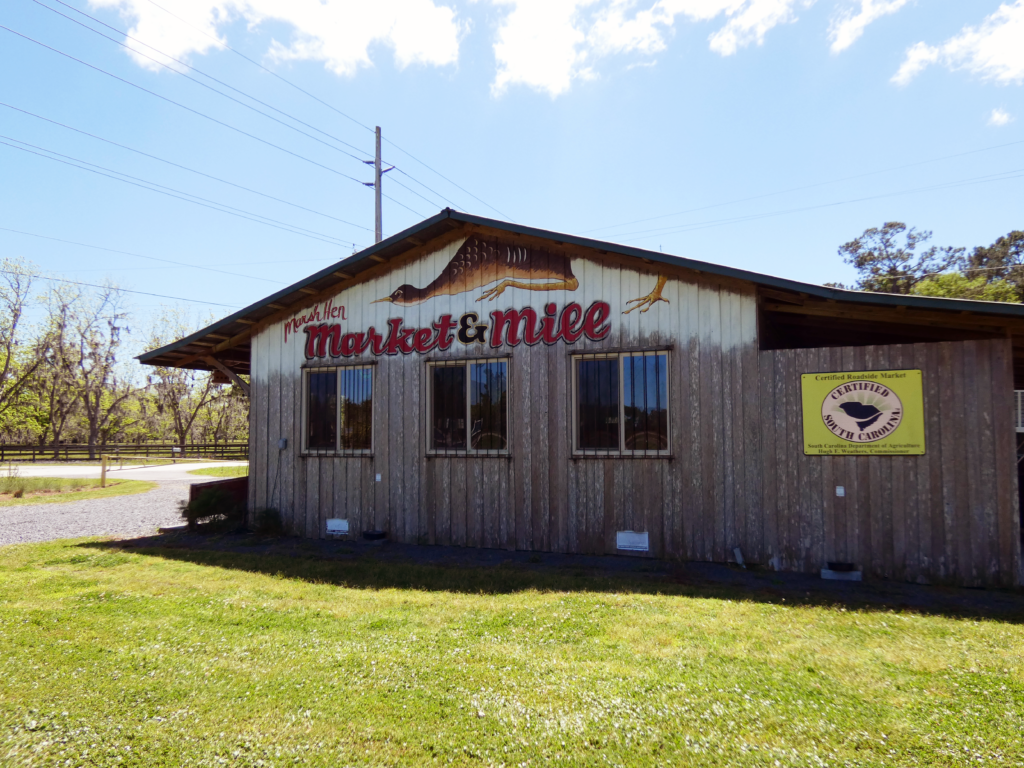 The real magic happens in the other parts of the facility and we were able to arrange a lengthy tour. Allen Bonow, Business Development Manager, was able to time our visit so that we were able to see Jimmy Red Corn being milled. Watching the process was fascinating. The corn gets ground by a set of stones, hence "stone ground", and then is blown into a device where it's separated into grits and meal. This process is overseen by one person who has to control the flow rate to ensure proper milling.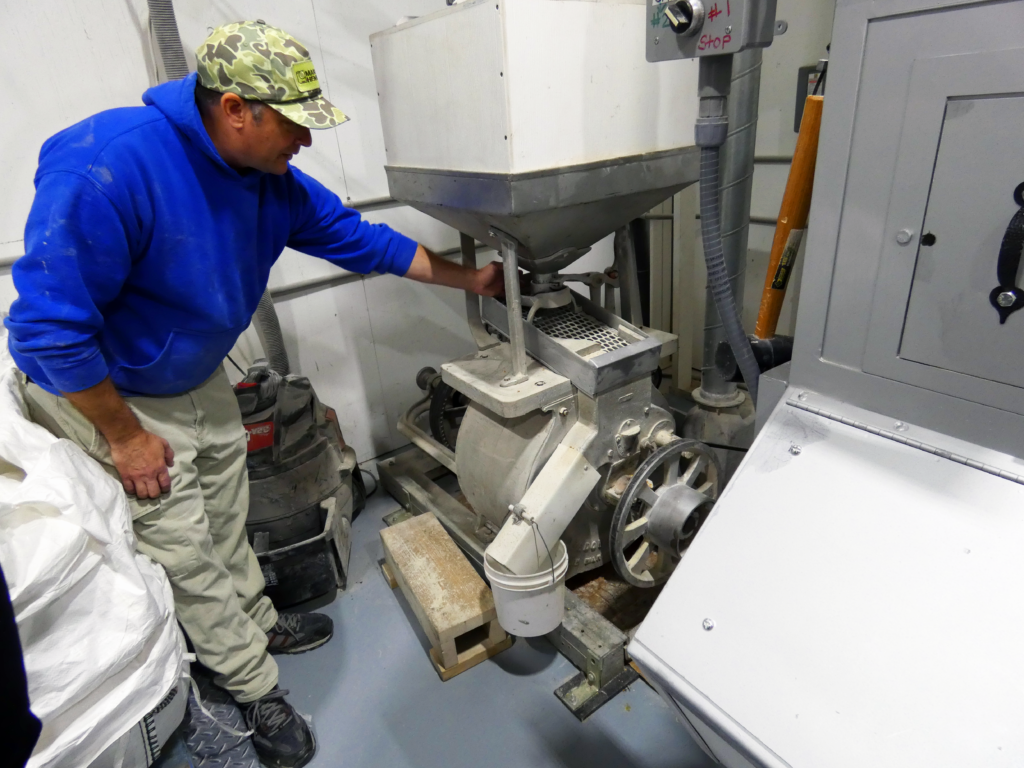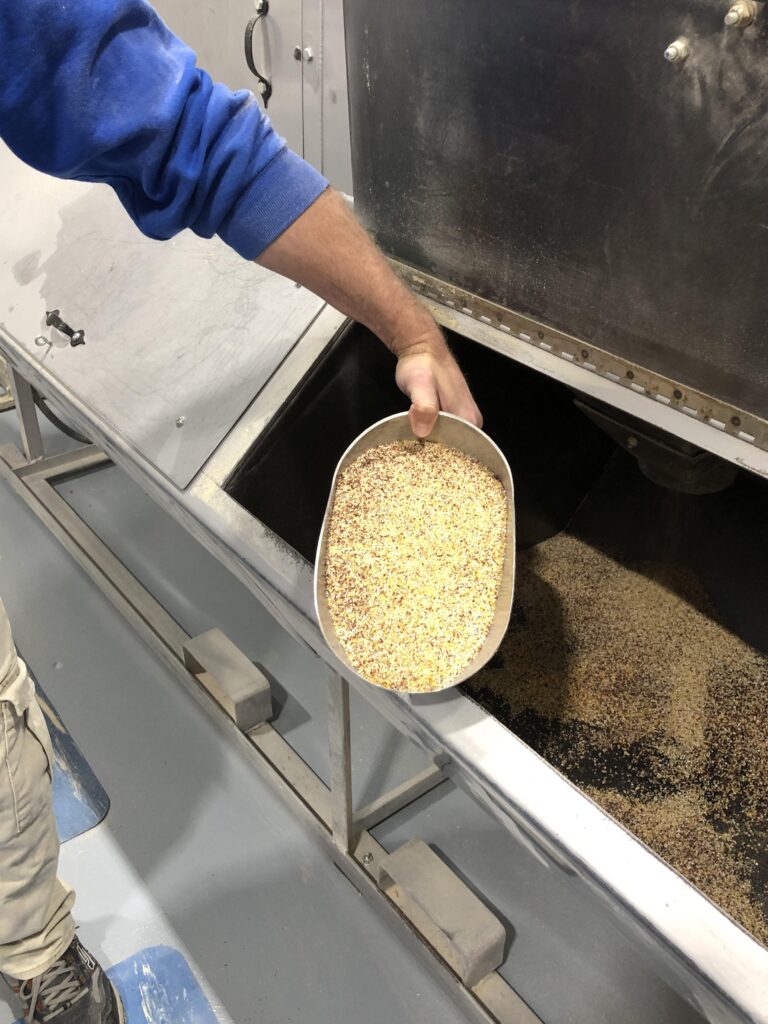 Afterwards, the grits and meal are packaged. Twenty five pound bulk bags are filled right where it was ground while the smaller packages typical of grocery stores shelves are filled just one room over. Each package is bagged by hand by one designated employee to ensure quality control. I really had my eye on one of those 25 lb bags of Jimmy Red grits!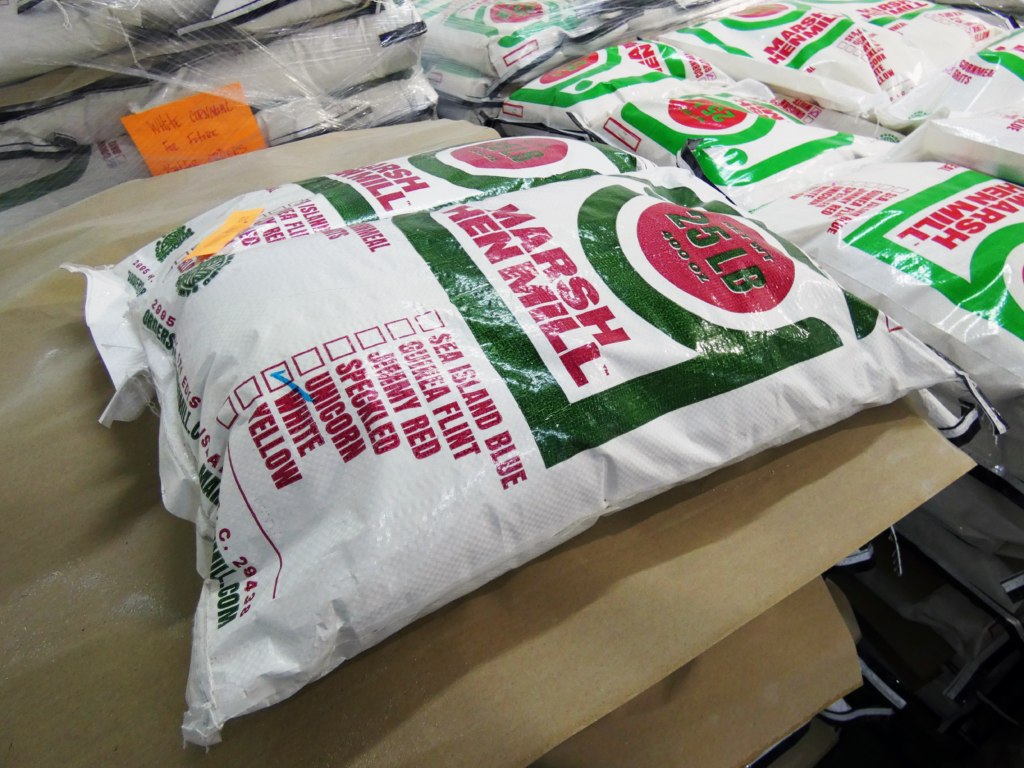 Marsh Hen Mill does much more than just Jimmy Red corn, there are several other heirloom varieties such as Sea Island Blue, Guinea Flint, and a pink Unicorn. Beyond corn, Marsh Hen Mill also processes varieties of peas and rice, including the noted Carolina Gold. Look for a future article covering that! Additional items on their website include cornbread mix, polenta, ancient grains and various jams and sauces.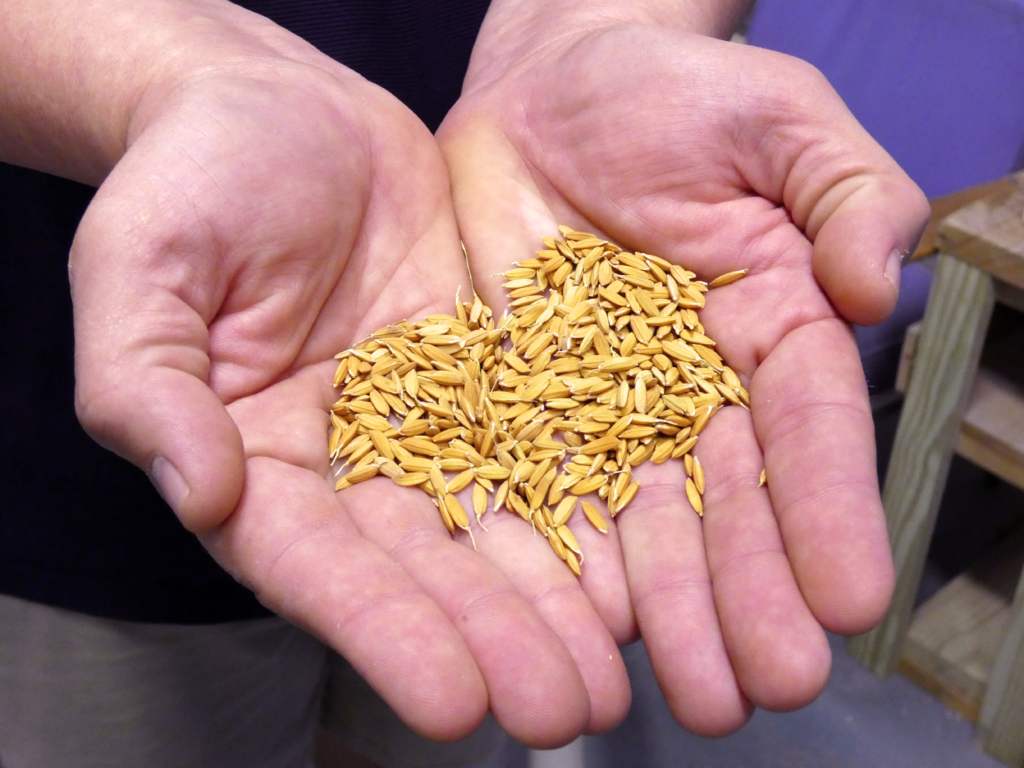 A nice bonus was a stop into Roxbury Mercantile just down the road from the mill. Not only did they cook with ingredients from the mill, they even sold Marsh Hen Mill products as well. I wanted to try everything I could so I ordered shrimp & grits with island peas and Charleston red rice as my sides. The biggest shock was when we noticed that the beer had Marsh Hen Mill's logo on the can as it was brewed with their grains. This was a nice end to a wonderful day.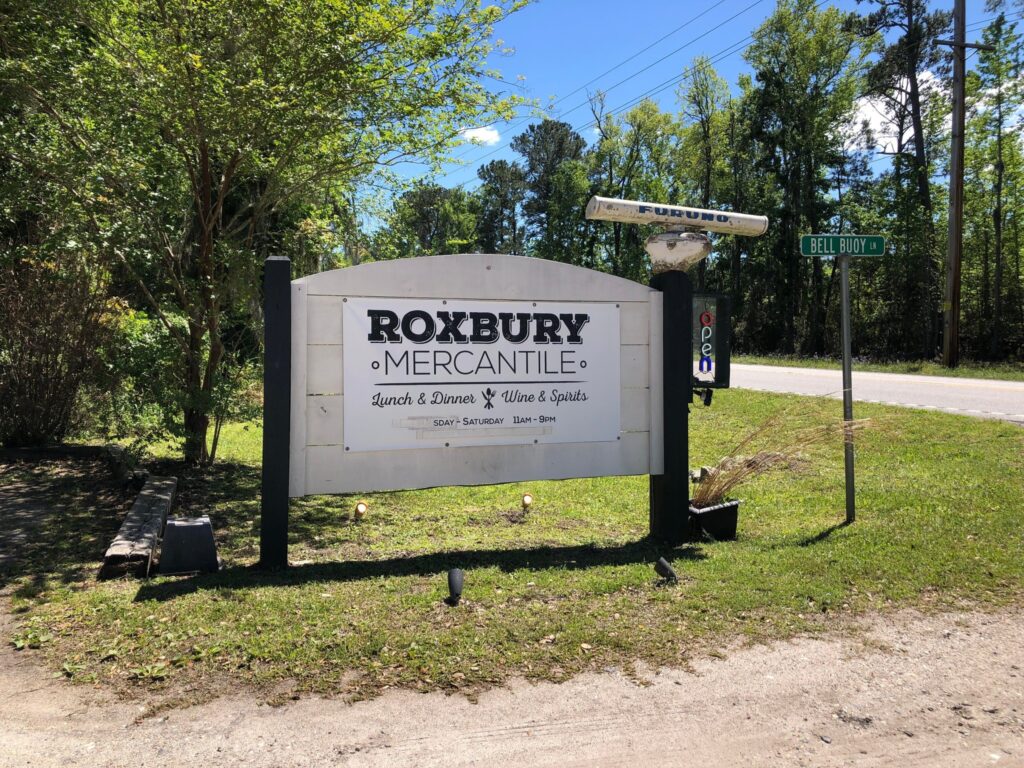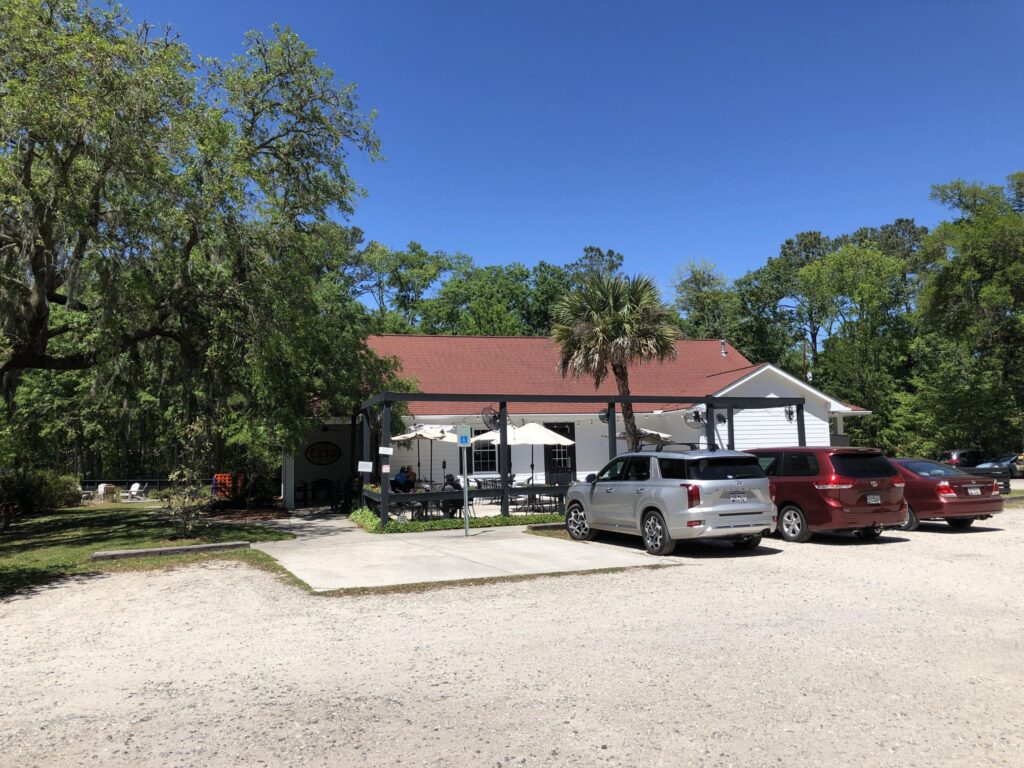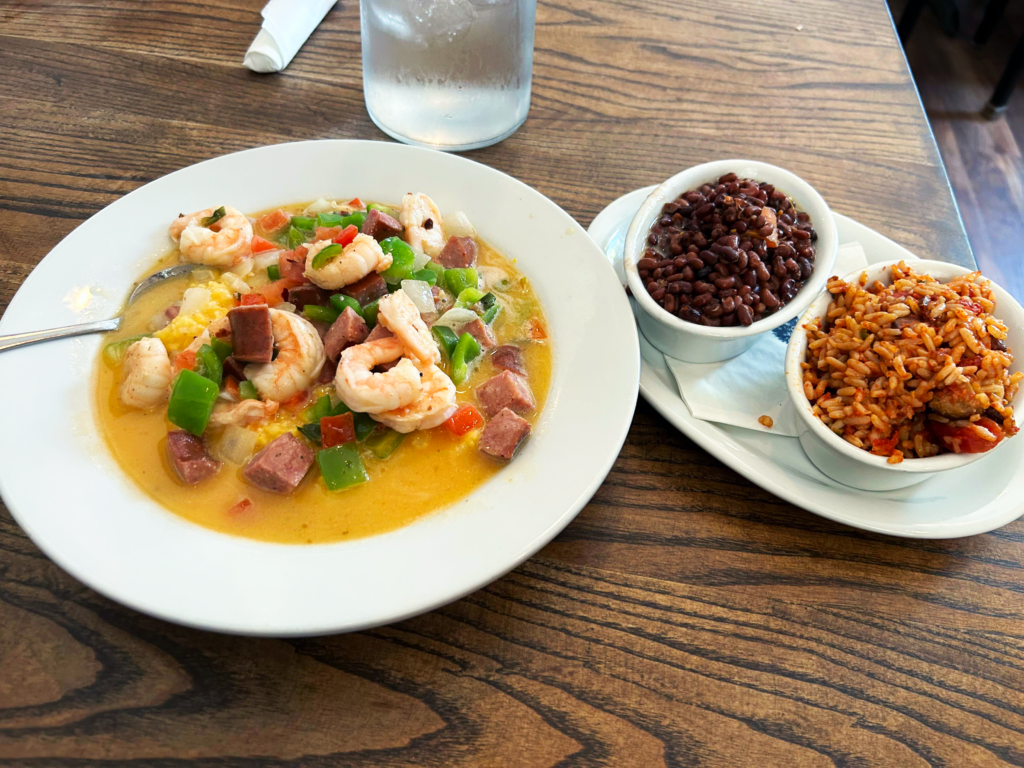 You can try these great products yourself using Marsh Hen Mill's online store, you can try growing some yourself by purchasing some seed, or even just cut right to the chase and grab a bottle of Jimmy Red bourbon. Such great choices, I did all three.