The Whiskey Ledger with Bourbon Apprentice
Entry # 003 Interview with the North Carolina Bourbon Society!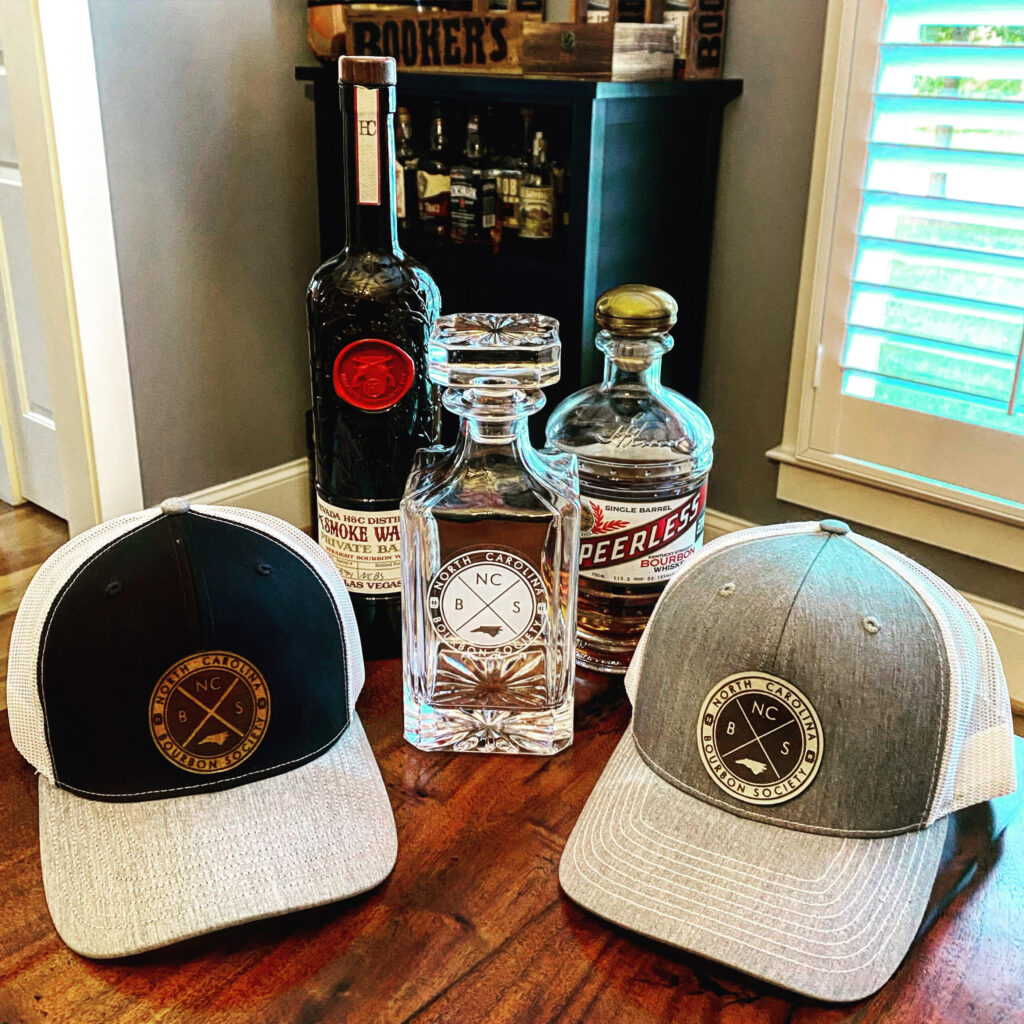 I created the Bourbon Apprentice Instagram page back in August of 2018, which was around the same time I started listening to the previously mentioned Dad's Drinking Bourbon and scanning YouTube (read: WhiskeyTube) for pages like the Bourbon Junkies. After a couple of months, I found a Facebook group called the NCBS, North Carolina Bourbon Society.  This group is where I first understood the phrase which would ultimately become a consistent theme throughout my posts – the bourbon community.  I took part in an online charity raffle the following February and interacted with a few members along the way.  Eventually, I chatted up the gentleman I'm about to introduce, Brent Hamby, and realized how impressed I was with the group he helped to create.  To give some insight into the type of person Brent is, I'll share a quick story.  My wife secretly reached out to Brent – who was a stranger to me at the time – to order a t-shirt for my birthday.  When I opened the package, I was stunned to find two samples packed along with it – Booker's 30th and Weller Special Reserve from the early 90's!  **Spoiler Alert** These are two extremely rare and amazing bourbons!!  I finally met Brent and the rest of the crew who run the NCBS at their charity event this past February, which just solidified why I'm both proud and lucky to be affiliated with the group.
Without further ado…a virtual interview with Brent Hamby of the North Carolina Bourbon Society!
Mike: Hey Brent, thanks for taking the time. Welcome to the Feathers & Whiskey family. Why don't you tell me a little bit about yourself – who you are, where you're from, any interests outside of whiskey?
Brent: Hey Mike, I'm Brent Hamby nice to chat with you. I'm originally from Alabama for about 15 years, then Atlanta for around another 15 years. Moved to the woods of North Carolina about 3 years ago. By day run a couple of software businesses. Outside of bourbon/whiskey, I'm an avid CrossFitter (tough to admit at times), love to eat, and like to be outdoors.
Mike: How'd you get into bourbon? Was there a specific whiskey that flipped the switch?
Brent: Well, growing up my grandparents lived 15 minutes from Jack Daniels. My grandmother worked for them for a good while as well. Every time there was a special release, my grandfather would go get a bottle for him, my dad, and myself. That sort of launched me into bourbon (Yes, Jack Daniels meets all the criteria to be a bourbon).
Mike: I love that you bring up that Jack Daniels "debate." I agree, you can call it a bourbon. Let me ask you, do you drink neat, on the rocks, or with drop of water?
Brent: Neat is my preference. However, I do try most bourbons multiple ways to try and get the full spectrum of what others may get out of the whiskey with some water or ice.
Mike: If you're not drinking whiskey, what is your beverage of choice?
Brent: In the summer, a cold beer or a vodka + some flavored seltzer. Not really sure I have a non-bourbon winter drink.
Mike: I'm with you there, I don't stray too often. Now let's get into the NCBS! What sparked the idea to create the NC Bourbon Society? Was there a person or moment that inspired you to put the group together? When was it created?
Brent: I've been in bourbon picking groups since 2013, some as small as 10 and some as large as over 1000. I've previously helped run some of those and source the barrels. When I moved up here a good friend of mine, Sam Woodring, said I should start a group here in NC as it was a void for bourbon. The ABC system was new to me and it took some time to get my head around the challenges. Sam and I started the group in 2017 on a whim and the rest is history.
Mike: Well, I'm glad you guys put it together. What is the NCBS' mission statement?
Brent: Well our main goal is to bring good bourbon to the state of NC. As I said before, our ABC system has challenges that prevent some distilleries from even entering our market. Our secondary mission is to help local charities and groups as much as we can through a variety of charity events.
Mike: Do you and Sam run the group by yourselves or is there a team that works together?
Brent: Definitely a team. Folks don't realize how much work it is. I couldn't do this alone in a group this size. Currently, we have a total team of 6 (managing the NCBS).
Mike: You mention the size, how many members do you have, and how often you do open up your enrollment?
Brent: Membership normally hovers around 650-700 folks. Current contributing members are allowed to refer someone to NCBS at any time by vouching for those members. Open membership has been closed once we hit around 500 members. Since then, we've opened up membership once (about a month ago) to bring in ~50 new members who follow us on our public Facebook and Instagram outlets. We plan to continue to do that, but we're unsure on the frequency. Balancing the number of members in the group is tough. We want to ensure members have a legitimate shot at getting in on barrels we pick and feel like growing too much more would make that difficult.
Mike: I think it's great that you care about the members enough to ensure the growth doesn't hamper the experience. On the other hand, the NCBS has an amazing charitable aspect. Tell me a bit about that. How do you go about deciding which charities to support and can you name a few?
Brent: Our charitable mission is to support local NC based organizations who don't get large funding elsewhere. Being an NC based group, we feel like it's our duty to give back to local outfits rather than major more national ones. One way we choose is to allow the ABC Boards which partner with us to select a charity we support. Members can also recommend charities to the admin team for review and consideration. To date the charities we've supported are The Dragonfly House, Metavivor, and the Unit Scholarship Fund.
Mike: You have held some amazing charity events, do you have a favorite event that you're most proud of?
Brent: I think our most recent event held in Raleigh has to be the favorite so far. It felt like a family environment because we were a little packed into the place, but the atmosphere was great. We ended up raising over $20,000 for The Dragonfly House at that event, through some amazing generosity of our membership base.
Mike: That was the first event I was able to attend and I left the event feeling fulfilled, like the event really made a difference! Do you know how much money the NCBS has raised for various charities over the years?
Brent: We've only been doing charity fundraisers for about 18 months now and have been able to raise over $40,000 for charities through the love of Bourbon.
Mike: That's unreal. You all should be proud! The NCBS has been involved in many private barrel selections. Can you give us an insight into that program? How many members take part and is there a particular thing you look for as a group in the whiskey?
Brent: In general, we like to involve as many members as possible. However, some distilleries limit the attendance pretty heavily for picks or only send samples in small sizes making it more difficult to engage a larger set of members. We work barrel picks constantly. Frankly, it's a part-time job to continue to build relationships with distilleries and source quality barrels for the group. Our team works on this much more than anyone sees.
I will say one thing we enjoy doing is working with smaller distilleries to help build their brand and bring products to NC. The challenges of our market usually deter smaller outfits from being to build a brand, we love to help break down those barriers as much as we can.
Mike: How many picks has the NCBS done and could you rank your top three?
Brent: We've made 24 selections so far in a less than 2 years. A few of those are on the way and not quite released though. My favorites are probably our original New Riff "Comfortably Numb" (probably partially due to it being our first pick), our Magnus "Stawberry Kisses", and The Bourbon Bear.
Mike: I was lucky enough to sample The Bourbon Bear recently and it was one of the best bourbons to hit my lips all year! Where could readers of Feathers and Whiskey learn more about the NCBS?
Brent: Our website, public Facebook page and our Instagram are the best ways to follow us and learn about what our group is doing. We'd love for folks to follow us on Instagram @ncbourbonsociety. We try to keep everyone updated there as much as possible on things happening in the bourbon world, not just in NCBS.
Mike: Last question – You have 4 ounces of whatever whiskey you want. What is that whiskey and who are you sharing it with, dead or alive?
Brent: That's a tough one so I'll probably give you two options here. One would be an Old Crow Chessmen and the other would be 1940s Old Overholt BiB Rye. Both two of my top whiskies ever. As far as who I'd want to share it with, I think there are some great historical options, but I'd want to go more current and share a bourbon with Eddie Russell. I'm a big turkey fan and I'd just pick his brain for a while.
Mike: Brent, this has been awesome. I'm psyched to share this interview with the Feathers & Whiskey readers because the NCBS played such an integral part in my bourbon journey, as it likely has for many others as well. There are some groups out there that are looking to buy, sell, and trade and other groups that just plain don't feel like a community, but the NCBS is well run by knowledgeable people who care about bourbon and the people they bring together. You guys do it right and I thank you for that!