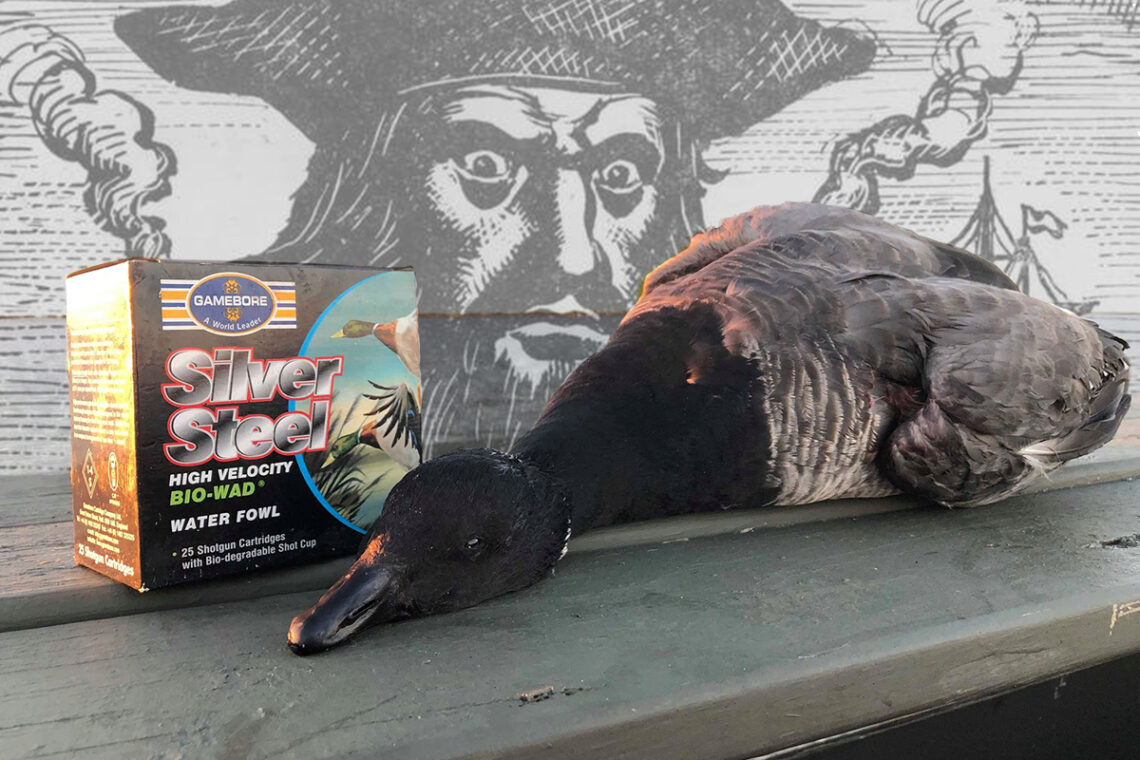 Atlantic Brant & The Death of Blackbeard
It's the morning of November 22nd, 1718, and the North Carolina Island of Ocracoke will be witness to a battle that will result in the death and beheading of the most famous pirate in history, Edward Teach, better known as Blackbeard. The golden age of piracy ended almost 300 years ago, but our fascination with pirates is as strong today as it was during the Golden Age.  Blackbeard is, without a doubt, the most well-known pirate, but many myths and legends surround him. Even the name "Teach" might not be his real name. Colin Woodard, in an article for Smithsonian Magazine entitled The Last Days of Blackbeard writes 
He went by Edward Thatch-not "Teach" as many historians have said , apparently repeating an error made by the Boston News-Letter. "He may have been from the English port of Bristol (as the General History says), where the name Thatch appears in early 18th-century census rolls that I scrutinized in that city while researching Republic of Pirates."   
Little is known about the early life of Blackbeard; he was born around 1680 and was possibly a sailor on a privateer ship during Queen Anne's War. Once the war was over he settled on the Bahamian Island of New Providence and became an apprentice under Captain Benjamin Hornigold where his life of piracy began. Blackbeard's biggest haul was not gold or jewels, but the French slave ship La Concorder.  After capturing the slaver, he outfitted her with forty guns and a crew of over 300 men and renamed her Queen Anne's Revenge.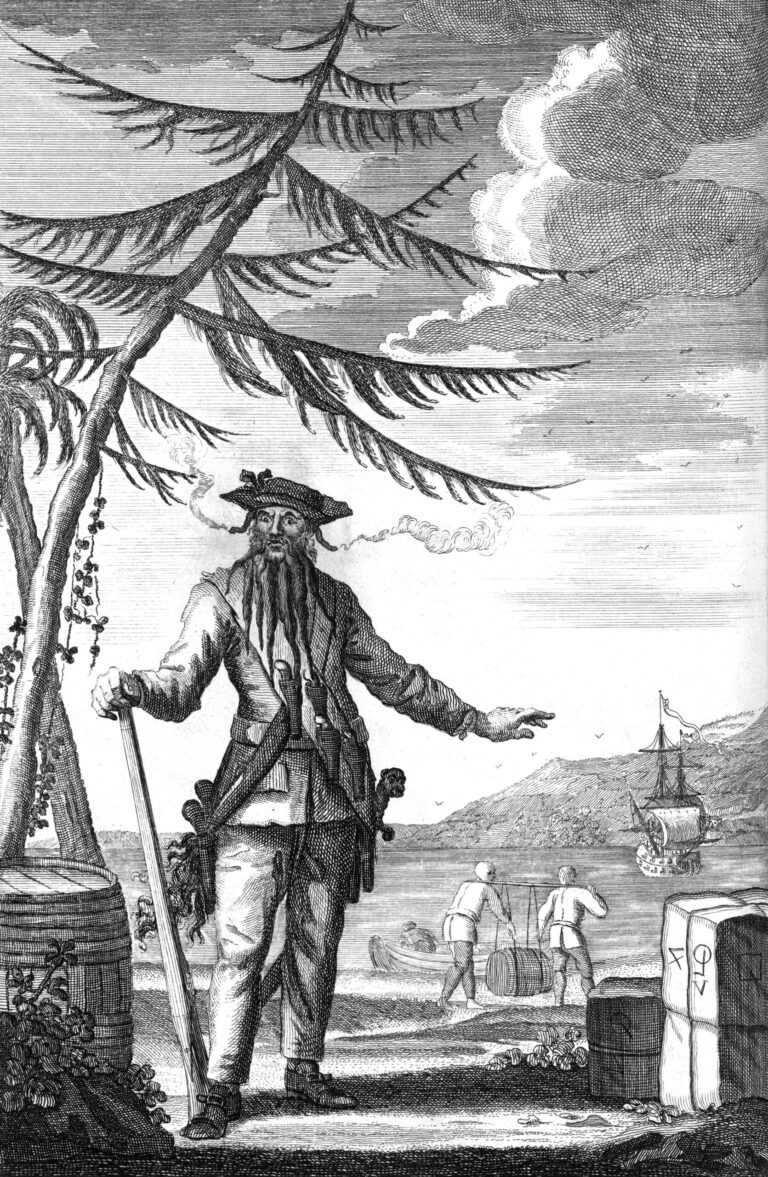 Hunting Ocracoke for Atlantic Brant & Pintail
It was January of 2019, 300 years after the death of Blackbeard that I found myself on the way to Ocracoke Island for a waterfowl hunt. I had discussed doing a curtain blind hunt with my good friend Jonathan Inman for some time and our schedules finally worked out. We were joined on the trip by Fred Phillips. Fred has a passion for waterfowling, and I knew after introductions and handshakes he was going to be a lively addition to the trip. If you are unfamiliar with this style of hunting, allow me to explain. A curtain blind is a wooden box sunk into a sandbar with an adjustable curtain on at least two sides of the box ( wooden frame), which can be raised or lowered according to the tide. The curtain helps to keep water from going into the box, decoys are attached to it and help attract waterfowl, but also aid in breaking up the hunter's outline. Curtain blinds are very similar to the old sink box rigs used in the days of market hunting, but sink boxes floated while curtain blinds are permanent and are required to have a permit to be used. Not all counties allow them. As a student of waterfowling history, this was as close to experiencing hunting during the market hunting days as I could get. As a North Carolinian with a lifelong interest in Pirates, it was great to be hunting the same waters that our famous former resident did, but my hunt would be different than Blackbeard's; for it was not gold, jewels, or other loot that I would be after, but a goose that so far had evaded me: an Atlantic Brant.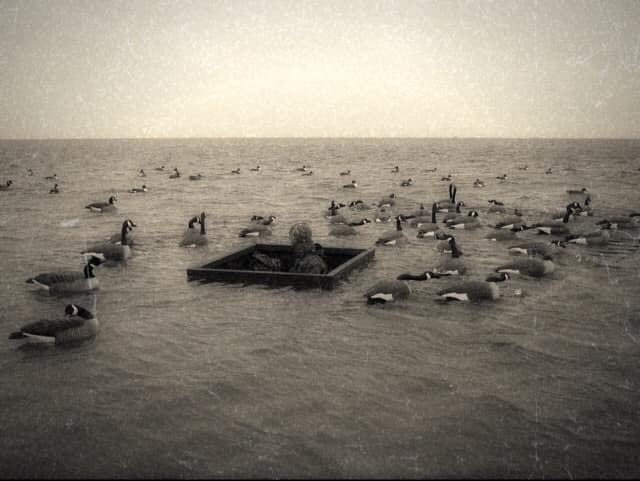 Unfortunately, a few days before we left, our guide called and informed us that due to damage from a recent hurricane we would not be able to hunt the curtain blind, but we could still hunt the pole blinds -a pole blind is an elevated wooden box on poles or stilts that allows several hunters to sit above the water. The news was disappointing, but we were still going to be hunting at Ocracoke, so we continued on with our trip. It was nearly midnight when we arrived on the island, and fortunately for us, Gaffer's Restaurant was still open. We grabbed a quick bite to eat and made our way to our rooms at the Pony Island Motel. 
It felt as though my eyes closed only for a moment when my alarm buzzed telling me it was time to meet the group. We booked our hunt with
Ronnie O'Neil of Ocracoke Sport Fishing and Hunting
and after introductions in the motel parking lot, we took the
short ride to the dock, piled into his boat, and set off in the direction of the blind. The pole blind was on a prominent sand ridge, so we got as close as we could, then it was over the sides to start the 200-yard walk. In the pre-dawn January blackness of morning, I paused briefly to take in my surroundings and listen to the stillness. I looked up to see a blanket of stars, and for a moment, I let my mind wander back to a time of pirates.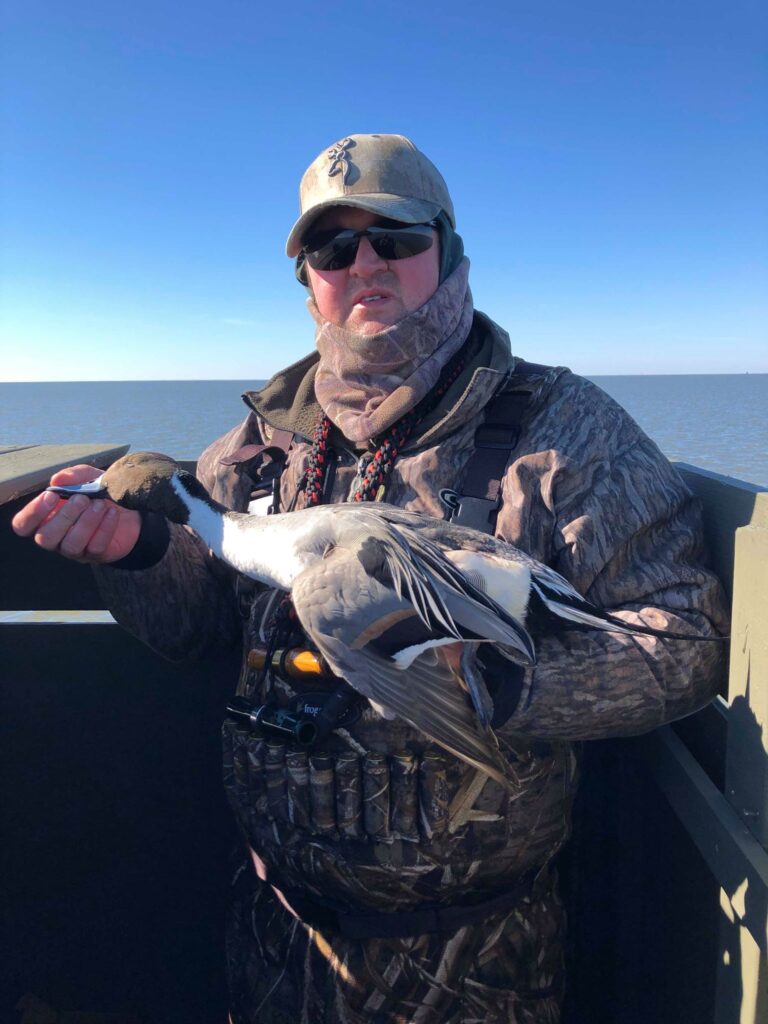 The sounds of the group soon brought me back to reality, and I noticed that I still had a good distance to go to reach the blind. I arrived soon after everyone else and we got seated in the blind, loaded our guns, and settled in to wait for legal light. We had not been waiting long when a group of Brant flew past the blind. That got us even more excited for the day's hunt! 
The morning  was a  typical pole blind hunt with moments of shooting mixed with waiting and in the early afternoon, we called it a day with a bag of two wigeon, a couple of bufflehead, and a pintail drake for Johnathan. It was great to be there when my friend finally got his pintail. He had wanted one for so long and it was the topic of conversation for the rest of the day. The boat pulled up about two hundred yards behind the blind, and we gathered our gear and started the walk back. It was my 37th birthday, and I was lucky enough to be spending it hunting with good friends and doing something I loved. I was hopeful that my Birthday Brant would be a day late. On our way to the boat, another hunter joined us carrying a good brace of waterfowl, including a Brant wearing a nice silver band. He lived in Florida, but helped our guide each season and told us that it was the seventh banded Brant that had been taken this season.  We changed out of our hunting clothes and returned to Gaffer's for lunch. We ate at Gaffer's three times during the hunt and had excellent food and service each time.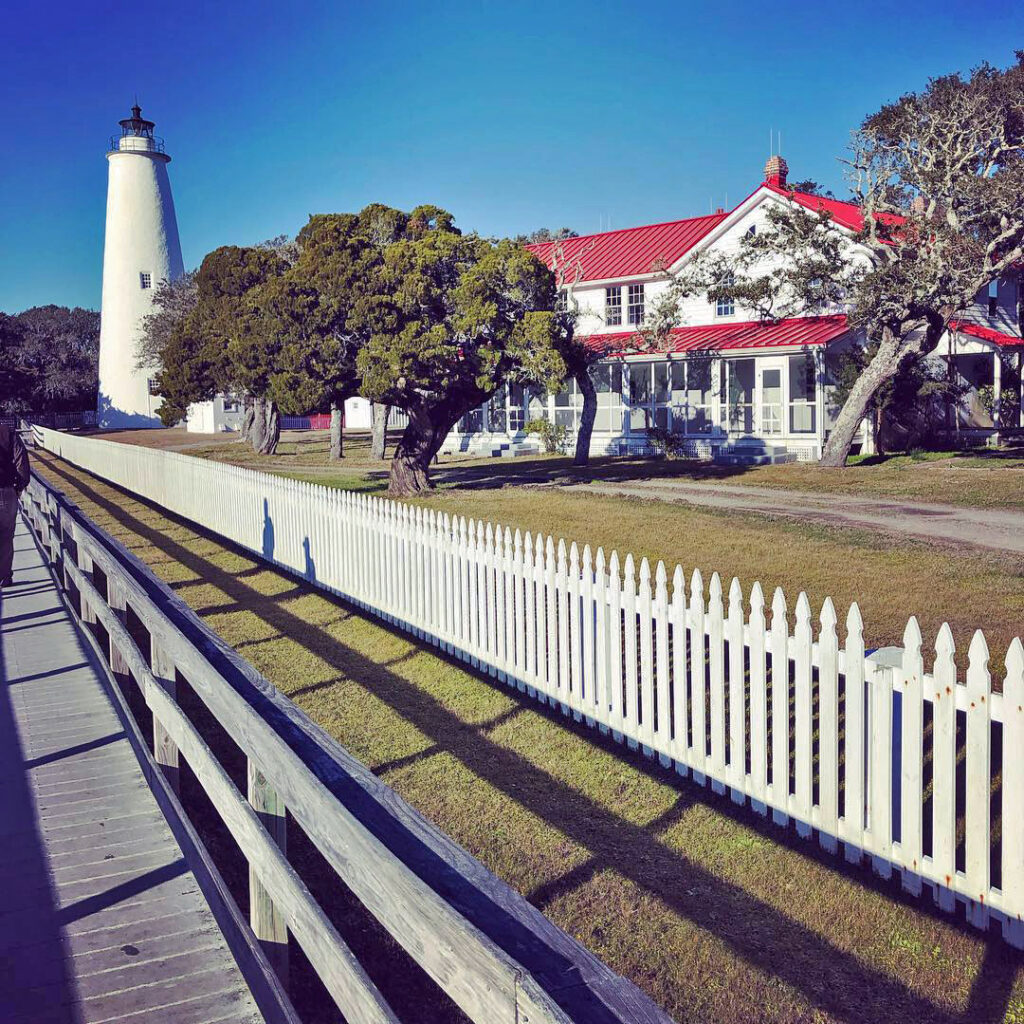 After lunch, we toured around the island. Ocracoke Island is 16 miles long and goes from 3 miles to less than a half-mile in width. The Ocracoke lighthouse is nearly two centuries old and is North Carolina's oldest lighthouse in operation and the second oldest in the US. It was constructed in 1823, and standing on the grounds, you can't help but wonder about the events that it has silently witnessed. We headed back to the motel for a few hours of sleep before dinner. We selected the Ocracoke Oyster Company and enjoyed a  fantastic seafood dinner and stayed for a while telling stories and having a few drinks to toast the hunt. It was a great way to end my birthday.
Bath, North Carolina and a King's Pardon
In the summer of 1718, Blackbeard and his crew settled into their final home, Bath. Bath was the capital of North Carolina then, but it was only a small collection of buildings with a few hundred residents. Blackbeard appealed to Governor Charles Eden for a King's Pardon for him and his men and swore they would give up their life of piracy for good. Once the pardons were granted, for a time, it seemed like Blackbeard and his men changed their ways. They built homes and legend says that Blackbeard even married a local girl. Blackbeard had no plans of giving up his life as a pirate for good, it was in his blood and who he was. If living in Bath allowed them to keep up appearances, then it was Ocracoke Island that allowed him a staging area to attack ships and a place to sort their ill-gotten gains. Teach made sure to give gifts to the governor and assured him he found the vessels abandoned. It was a good life, but it was one that would not last long.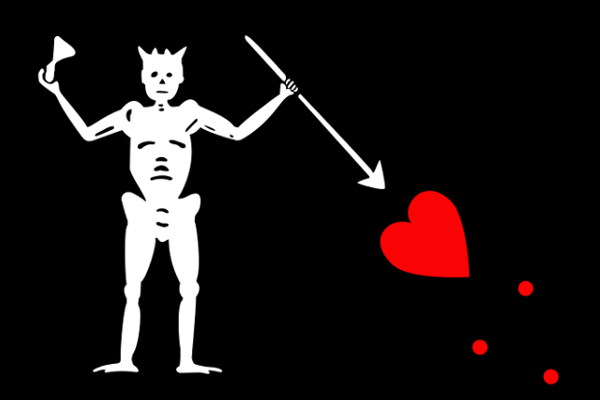 Blackbeard's Flag
The devil skeleton stabbing a heart while holding an hourglass is the accepted flag for Blackbeard, but there is debate. The flag design first appeared in a book in 1912 called the The Mariner's Mirror but was not mentioned as being Blackbeard's Flag. It was not until the 1970s that it became associated with the pirate. Still with his reputation, I think it's perfectly fitting even if might not be completely accurate!
The Sound of Cannons Across the Water
The next morning found us again in the parking lot of the Pony Island Motel, but this time we were joined by another hunter. A mutual friend of Johnathan's and Fred's came down to hunt with us. Johnathan had spoken of Forrest many times and It was nice to finally meet him, and after handshakes, we again followed Ronnie to the dock. Johnathan and I would be hunting together, while Fred and Forrest would be hunting a few hundred yards away from us. We made it to our blind, wished them luck, and settled in. In the darkness, we sat discussing the hunt and how much we enjoyed being out there. It wasn't long after legal shooting light that a group of Brant came in to the decoys and gave us an opportunity, and with the sound of our guns echoing across the water like cannons from long ago, we had each our Atlantic Brant.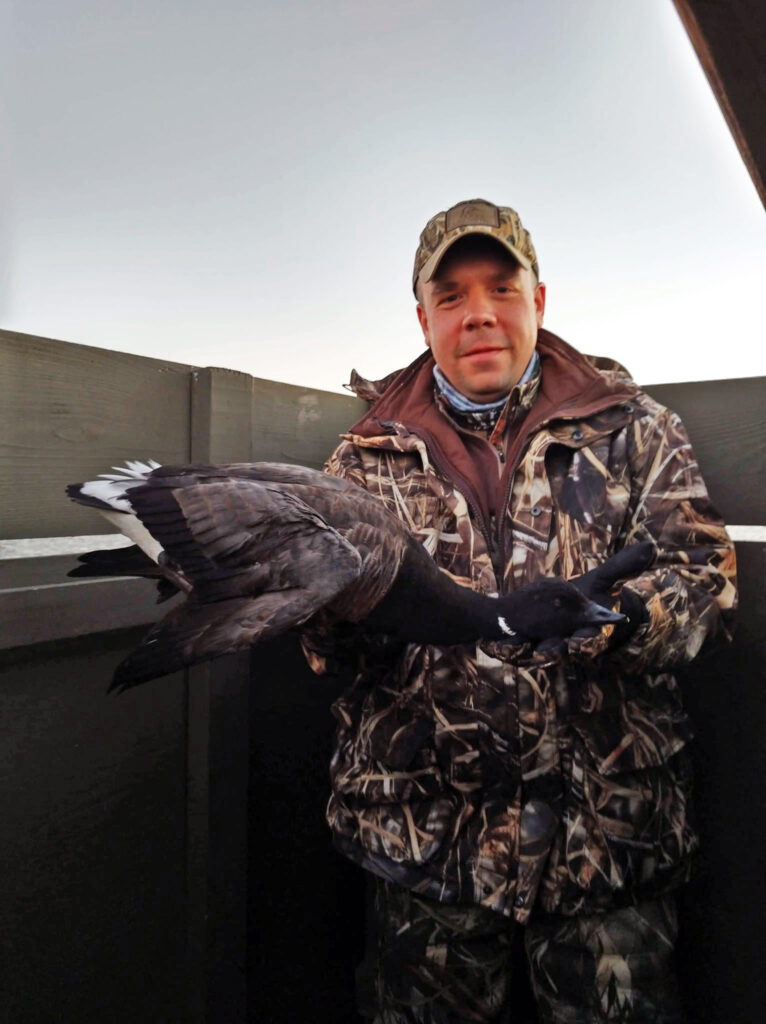 Johnathan returned to the blind and handed the geese to me. Brant are a coastal waterfowl icon with unmistakable markings of charcoal, umber, and ivory; which goes well against their shoreline habitats of blues, greys, and greens. Branta bernicla is a small goose that has three subspecies: dark-bellied (Asia and Europe), pale-bellied (Atlantic), and black brant (Pacific). "Branta" is from an old Norse word meaning "burnt/black goose" and "bernicla" comes from Latin "barnacle." Eel grass, seaweed, and sea lettuce make up the majority of their diet. Brant geese breed in the Arctic estuaries and winter as far south as Mexico. No other species of geese nest as far north as the Brant. They fly high and migrate far over endless expanses of open ocean, which makes them a pretty tough little goose! It is a goal of mine to accomplish the waterfowl slam and this moved me closer to that goal, but more importantly, I was able to take a species that I have been fascinated with for many years and I did it in my home state in a legendary location for waterfowling, and I also shared the moment with a friend.  The hunting day ended with Johnathan getting another pintail and it was the best-looking drake I have ever seen.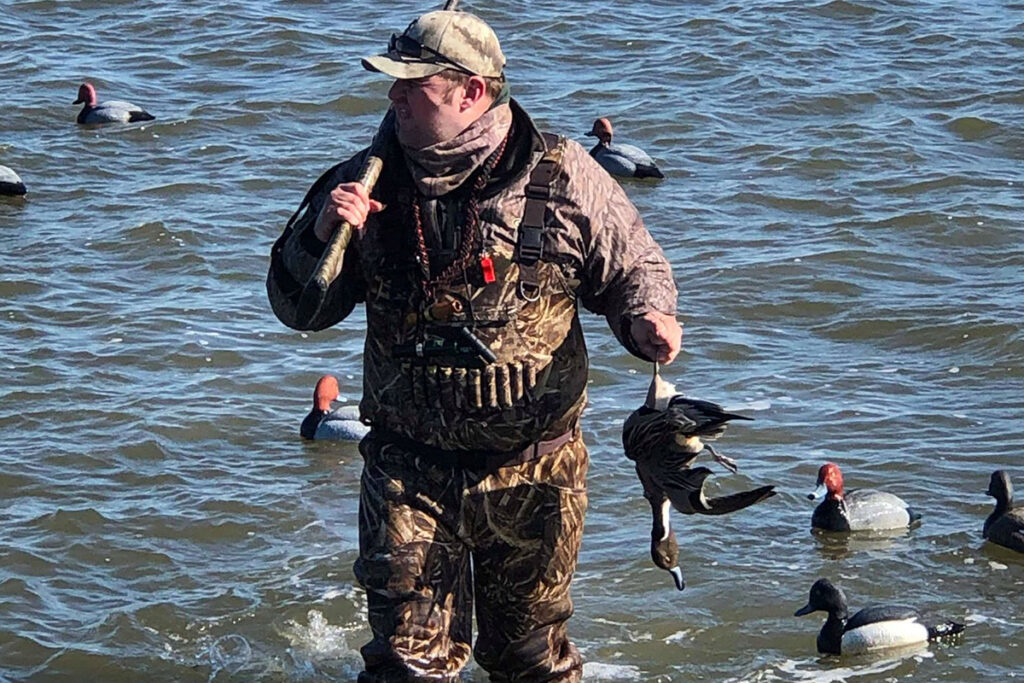 Lt. Robert Maynard and The Death of Blackbeard
Alexander Spotswood was the lieutenant governor of Virginia in 1718, and had been keeping tabs on Blackbeard and his men and after getting reports of pirate activity he decided to do something. He had no legal authority to arrest someone in North Carolina, so he got Lieutenant Robert Maynard and another commander in the British Navy to go down to North Carolina and capture Blackbeard and his crew. Maynard found the pirates anchored on the inner side of Ocracoke Island on the evening of November 21st, 1718. The next morning the two sloops ambushed the pirates. Blackbeard broadsided one of Maynard's ships and attempted to flee, but due to damage was unable to make it to the open ocean and was soon caught by the sloop Maynard was aboard. Maynard kept nearly all of his men hidden below deck, and as Blackbeard got alongside, the pirates lobbed hand grenades- glass orbs filled with shot, slugs, and pieces of lead or iron, at the sloop. Blackbeard, only seeing a few men, felt he had the advantage and yelled to his men that "
they were all knock'd on the head, except three or four; and therefore, let's jump on board, and cut them to pieces."
The
s
moke from the grenades still hung in the air as 
the pirates made their way onboard and fired at the small group made up of the lieutenant and his men. The rest of the men who had been hiding below deck burst up like a cannon blast, and a battle ensued that Hollywood could not have scripted any better. Blackbeard and Maynard fired at each other with pistols and Blackbeard was hit.  They threw down their pistols and engaged in swords till Maynard's sword was broken at the hilt. He stepped back to cock another pistol as Blackbeard advanced on him with his cutlass and in that instant, one of Maynard's men struck the pirate giving him a bad gash to his neck and throat. Blackbeard kept fighting and was shot with the pistol that Maynard had just cocked, but still, he kept coming. It would take more shots and cuts before Blackbeard was finished. When his body was examined, he had been shot five times and cut around twenty. Maynard gave the order to sever Blackbeard's head from his body and it was hung from the bow of the sloop as a bloody trophy. His body was then thrown overboard. North Carolina legend says that the body swam around the ship three times before it sank into the water. To this day, many people have reported ghostly activity at a spot called
Teache's Hole,
where Blackbeard's ship was anchored before the battle with Maynard.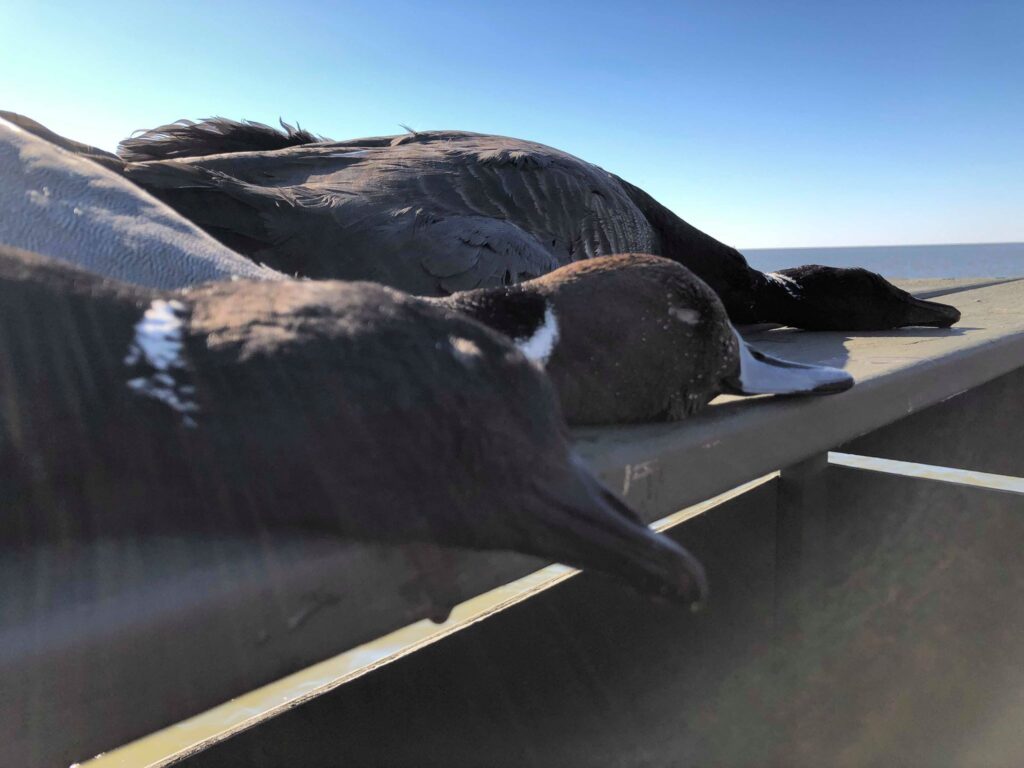 The evening again found us at Gaffers having a bite to eat before we left the Island. It was great to catch up and discuss the day's hunts over a fried Mahi Mahi Sandwich. We finished our meal and caught the Ferry. During the crossing, my thoughts returned to Blackbeard. His time on the high seas did not last as long as other pirates, but he still fascinates us over 300 years after his death. Edward Teach has been portrayed in books and movies as the bloodthirsty pirate with lite canon fuses sticking out of his beard and, but there is no record that he killed anyone or even attempted to unless it was self-defense. He was a product of his time, an outlaw and a rebel doing what he did to survive. When it comes to the fantasy and reality of Blackbeard I find myself somewhere in between loving the pirate of myth and learning what I can about the man, but above all, I am glad my home state is associated with the most famous pirate in history. I look forward to returning to hunt Ocracoke and spending time with the ghost of Blackbeard.
 Special thanks to Mr. Jerry Talton and Mr. Chester Lynn whose help made this article possible