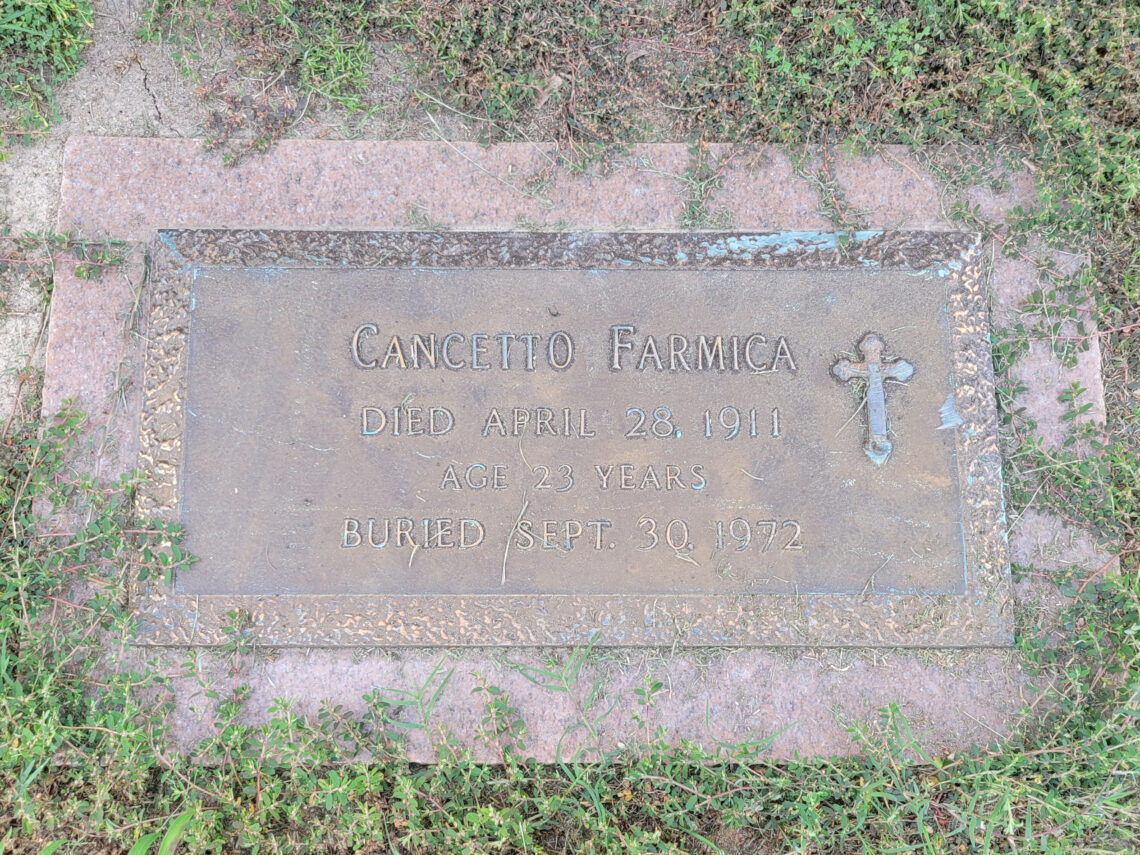 Spaghetti: The Scotland County Mummy
When People think of Mummies they think of Egypt or even Peru, but they certainly don't think of a small town in Eastern North Carolina, but for sixty one years there was a mummy in the town of Laurinburg. In those sixty one years man took flight , the world went to war not once, but twice, the first boot prints were left on moon, the Korean conflict and the United States involvement in Vietnam both began and ended along with a lot of other historical events and during all that time a small unknown Italian man stood silently in the corner of a funeral home watching it all, the Scotland County mummy observing, but never speaking a silent witness to the history happening all around him. This is the story of Cancetto Farmica.
In April of 1911, a traveling carnival stopped in McColl, South Carolina, a small-town just a few miles across the North Carolina/South Carolina state line from Laurinburg, North Carolina. I am sure it was all routine for the workers and performers in the carnival, another town, another show(s), and then on to the next city. But it would be anything but typical for one performer. The curtain would fall for a trumpet player named Cancetto Farmica . It is unclear what sparked the events that would lead to the death of Cancetto, but what is known is that an argument broke out between Cancetto and another worker. Cancetto was bashed in the head with a heavy tent stake and suffered a crushed skull. Barely alive, some of his fellow workers loaded the 23-year-old into a wagon and took the trumpet player to James Sanatorium in Laurinburg, North Carolina. On April 28th, 1911, Farmica would die due to his injuries. 
  M.A. McDougald ran an undertaking and furniture business in Laurinburg. After Cancetto died, he would go and get the young man's body and bring him to his funeral home. The carnival's owner instructed McDougald to embalm the body and he would contact his father.  Later, Cancetto's father arrived and paid some money down on his son's funeral services and said he would return with the final payment in a few days. Days turned into weeks, weeks into months, months into years and neither the father nor anyone from the Farmica family came to pay or retrieve the body. Over the years the embalmed body of Farmica dried out and became a mummy. A rope was placed around his chest, and he was hung up in the corner of a third-story embalming room. In the following years, the body was placed in a wooden box. The M.A McDougald Undertaking and Furniture business would eventually become just the McDougald Funeral Home. Farmica would stay on display in the funeral home for the next sixty years. Over the many years the locals gave him  the nickname, "Spaghetti". And this was how he was referred to in conversations.
I don't remember when I became aware of the story of Spaghetti.  Memory is a fragile thing, but I think I became aware of Spaghetti when I was reading my copy of "Weird Carolinas" and came across the story. I asked my Daddy if he had heard of "Spaghetti".  Not only had he heard of him, but he also had seen him many times while he was at the funeral home. You see, my father worked part-time with another funeral home in a town about twenty miles away. Due to a very serious illness, the embalmer (where my daddy worked) was not able to work for several months. The owner of the funeral home was close friends with Mr. McDougal. Mr. McDougald agreed to help with any embalming needs until the gentleman was able to return to his duties. It just happened that every time my daddy went to take a body to be embalmed or went to bring a body back, he would have to go through the garage. And there would be Cancetto in his box, just to the left of the entrance door. Daddy stated that very, very few times was there anyone there to see Cancetto. To be precise, it was not as if Framica was on display as some roadside attraction. He was there and if people wanted to see him they could.
 Eventually word spread about the Italian that was kept in the garage at a small funeral home in North Carolina. This did not sit well with members of the Italian community up the road and pressure was put on the funeral home to finally do something with the body. So in 1972, the grandson of M. A. McDougald (Beachum McDougald) secured a burial plot and a funeral was held for Farmica. 
Since Laurinburg is near some property I own, I am there almost weekly. I had wanted to write this article for a long time, but I felt that before starting it, I should at least go visit the gravesite. The gravesite is located in Hillside Cemetery, off US 401, on Hillside Avenue. Just as you enter the cemetery, his grave is on the left.I often wonder if any of his family ever thought of him or did he just cease to exist in their minds. 
It's amazing how my view of the Scotland County mummy changed as I began work on this article. It went from a ghoulish curiosity to wondering what kind of person Farmica might have been. I doubt he gets many visitors outside of those that know his story so I plan to stop in periodically and just visit. If you are in the area I would encourage you to do the same and spend some time with the Scotland County Mummy.