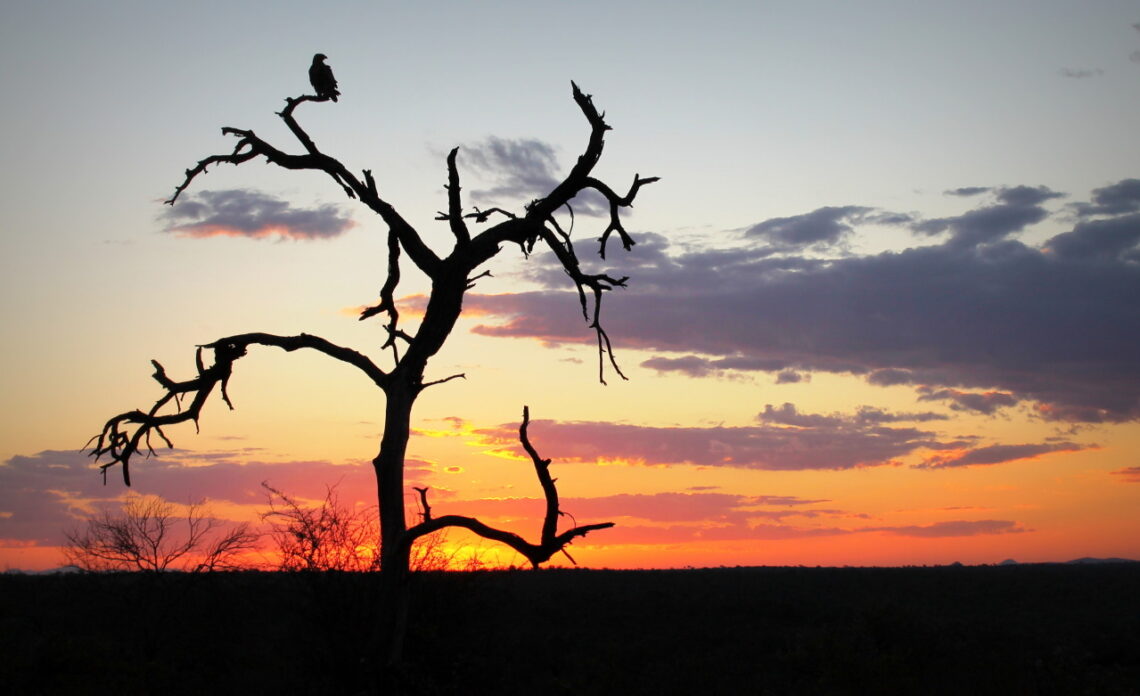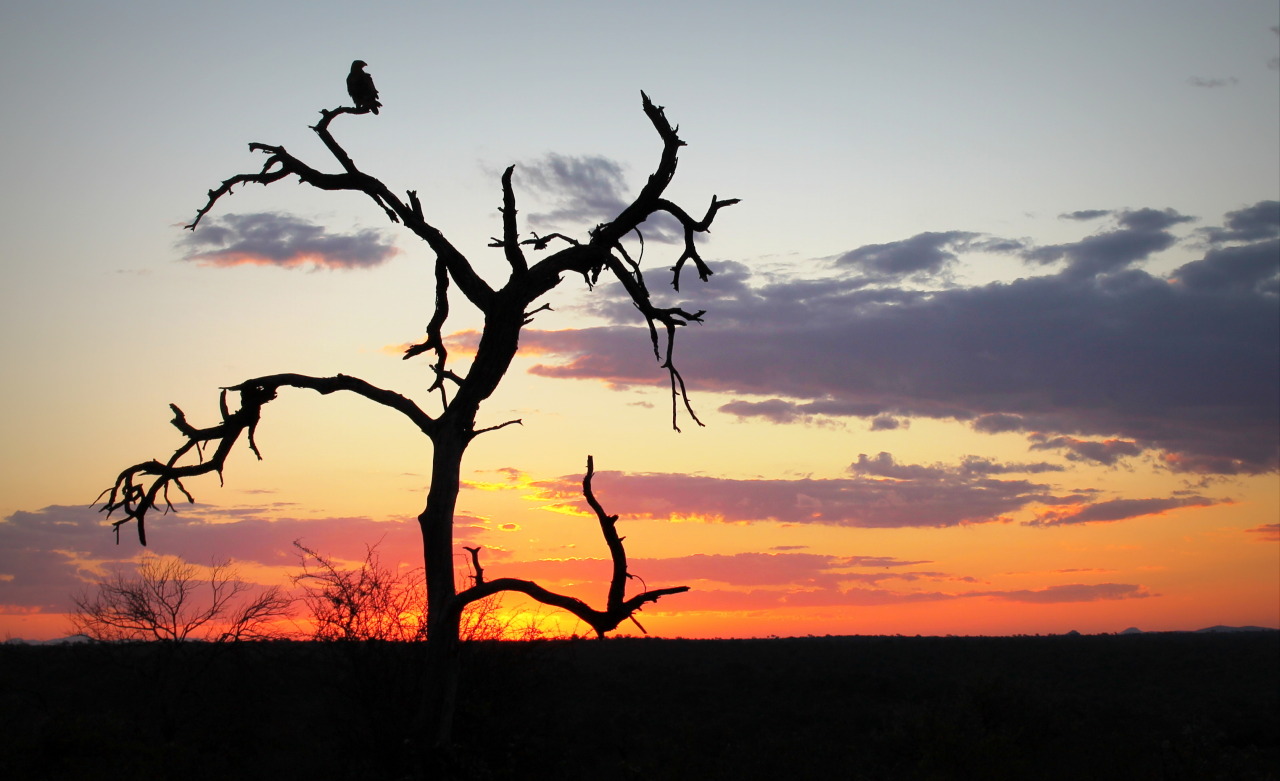 South African Adventure: Pt.2
It's now Tuesday morning, May 24th. I learn at breakfast that Diane, Henry and Dennis are going to spend the day visiting Kruger Park. It's time for my buff hunt to get serious. We drop them off at a car they have rented which was left a distance from the camp. As they leave, we learn from anti-poaching rangers that the herd we saw the day before, moved on in the night to an area we could not hunt in. While it was disappointing news to hear since there was one lovely old bull I would have loved to have gone after, Rad reassures me that "everything happens for a reason". I pause for a moment at his comment, because it's one of several sayings I often repeat to myself in life. Time would show us how true the statement would be for my hunts.
After picking up Jacques, we begin the search for one of the lone daggas. We start by looking for tracks in the area where he was last sited. With Jacques sitting on the hood of Rad's bakkie (a position he would take for most of our hunts), the search begins. As we continue the pursuit, Rad catches a glance of a huge bull to our right in the thick bush. He glasses him and is able to determine he is an old buff. But oddly, he's accompanied by a single cow. Rad explains that while it is unusual for a cow to be found among old bulls, it does occur and the cow is referred to as a sort of "Tomboy".
Rad pulls the bakkie further up the road and stops. We all unload. My rifle is loaded, with one in the chamber. (Note: the rifle is loaded with 350gr Barnes X and 350gr solids for the buff hunt.) Its determined that Rad, Jacques, Tools and myself will pursue the buff. Seeya remains back with the vehicle and Rad's six month old Jack Russell, Gus. We begin the stalk on foot. As we close in on the buff, who is very aware of our presence, he moves off with the cow into thicker brush. It's not long before we see why these two are together. They move not only into thicker brush, but also into the safety of their herd. Rad calls the stalk off, and we head back to the vehicle.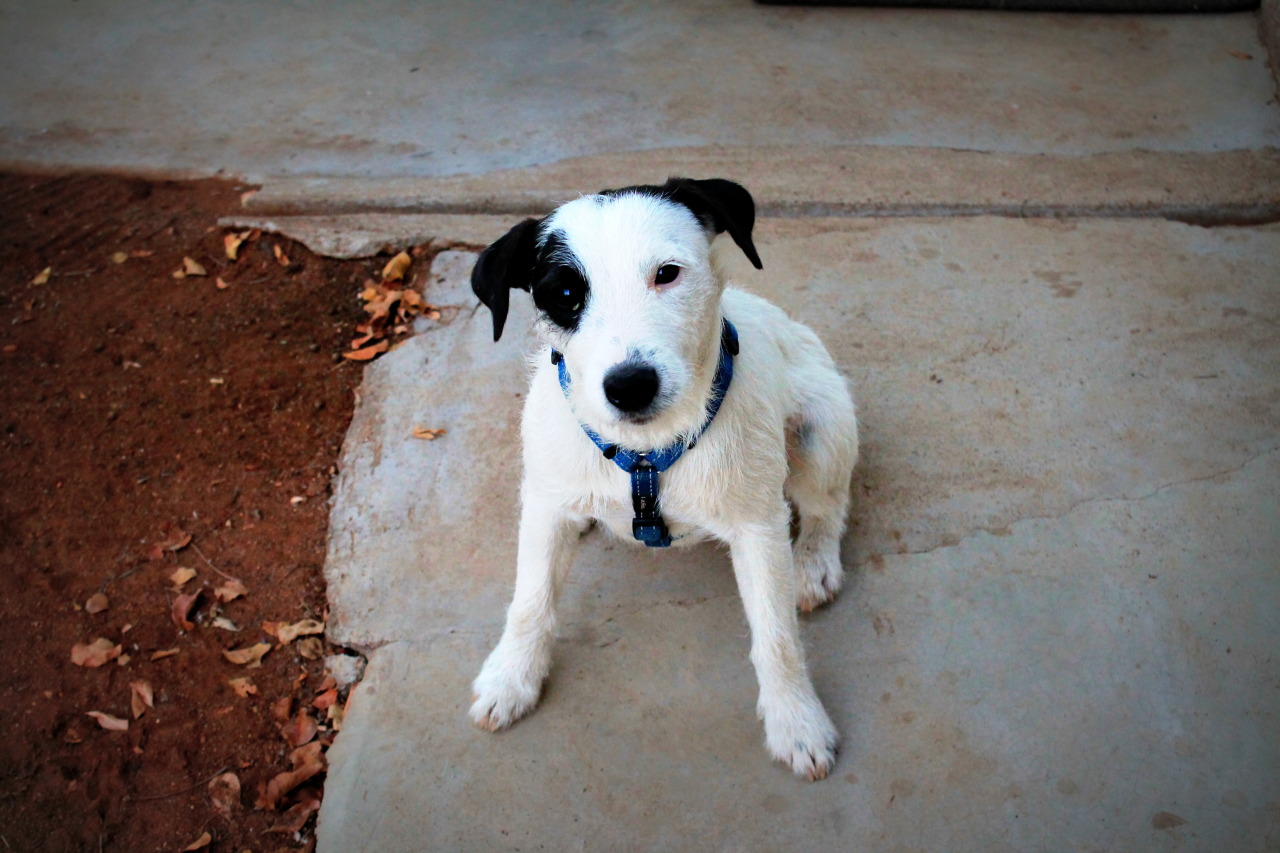 We spend the rest of the morning and afternoon checking tracks and water holes looking for signs of the two lone daggas. Our hunt is cut off early as it has been arranged for us to eat out that night with the others. While the day may have proven unfruitful in terms of the hunt, we do enjoy another lovely meal at a place called "The Hat and Creek". Fine food, great South African wine, and wonderful company. Oh, and raw oysters.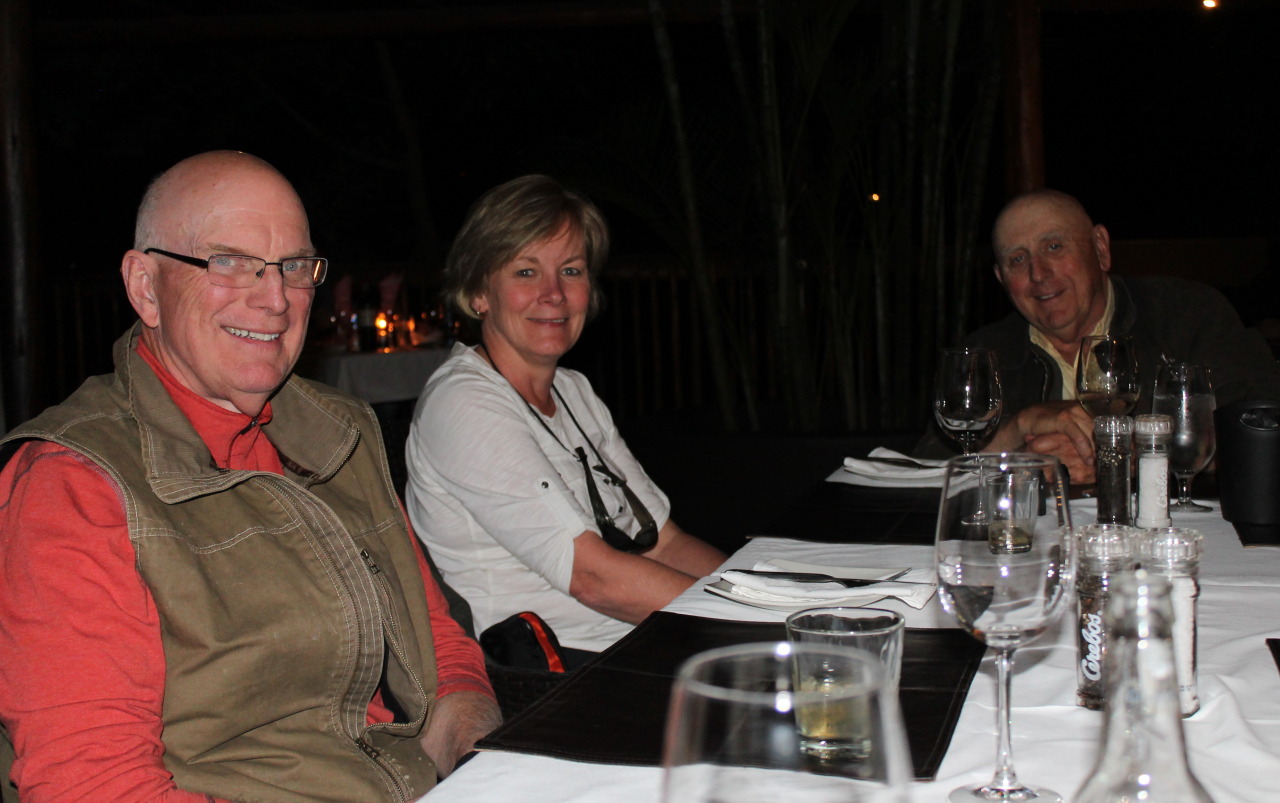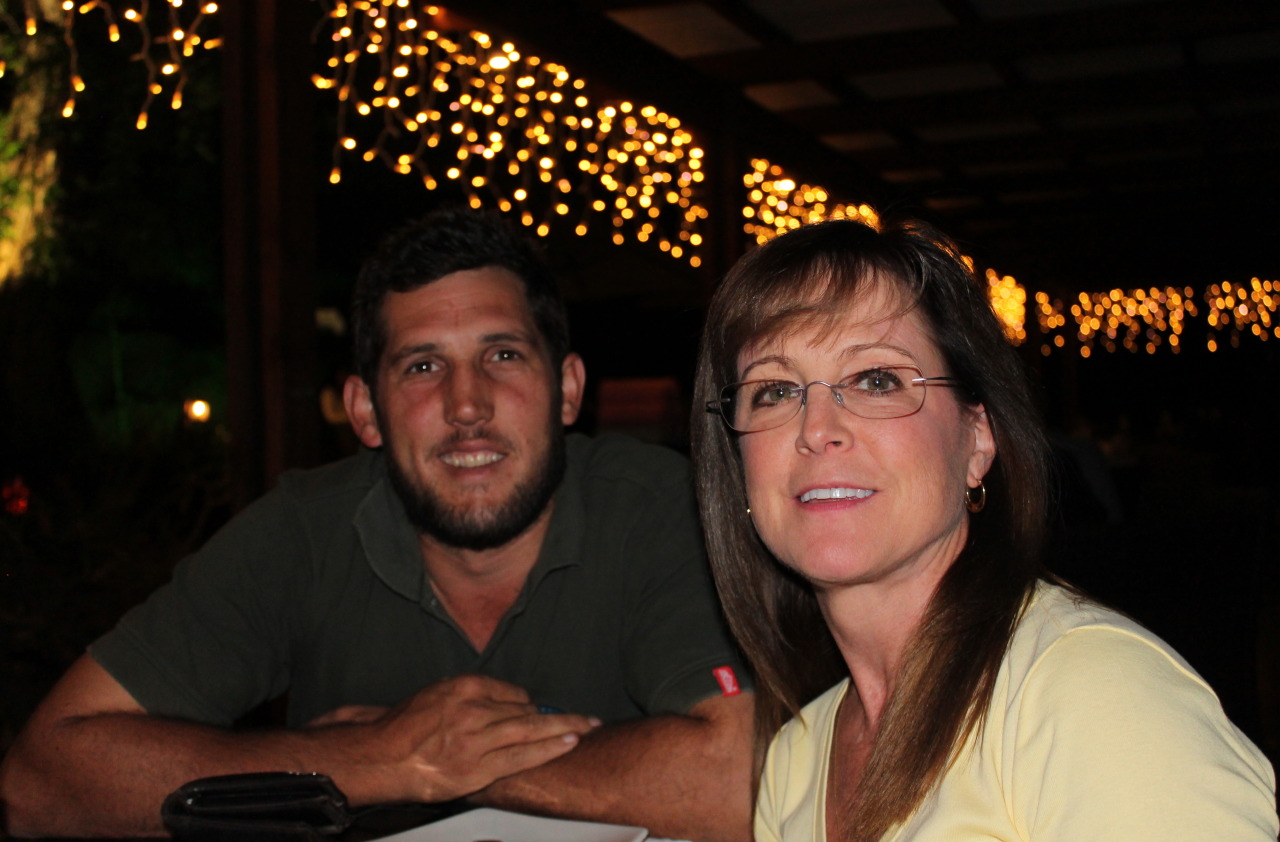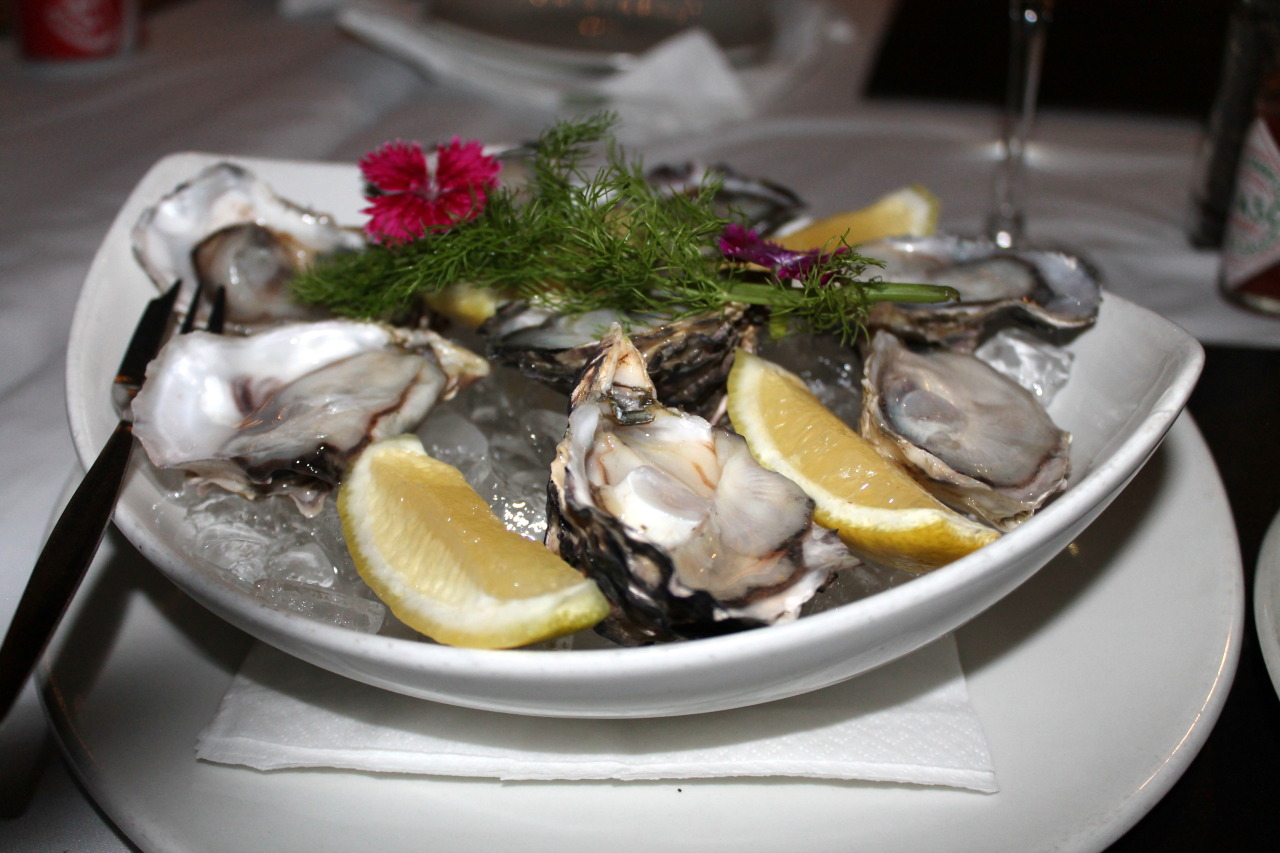 Wednesday, May 25th. While their intentions were to visit Kruger Park the day before, Diane, Dennis and Henry got lost. After receiving not just a "little" ribbing from Rad, they decide to make another attempt this morning. Once they head out on their day's adventures, we pick up where we left off from the afternoon before, on the tracks of a lone old buff.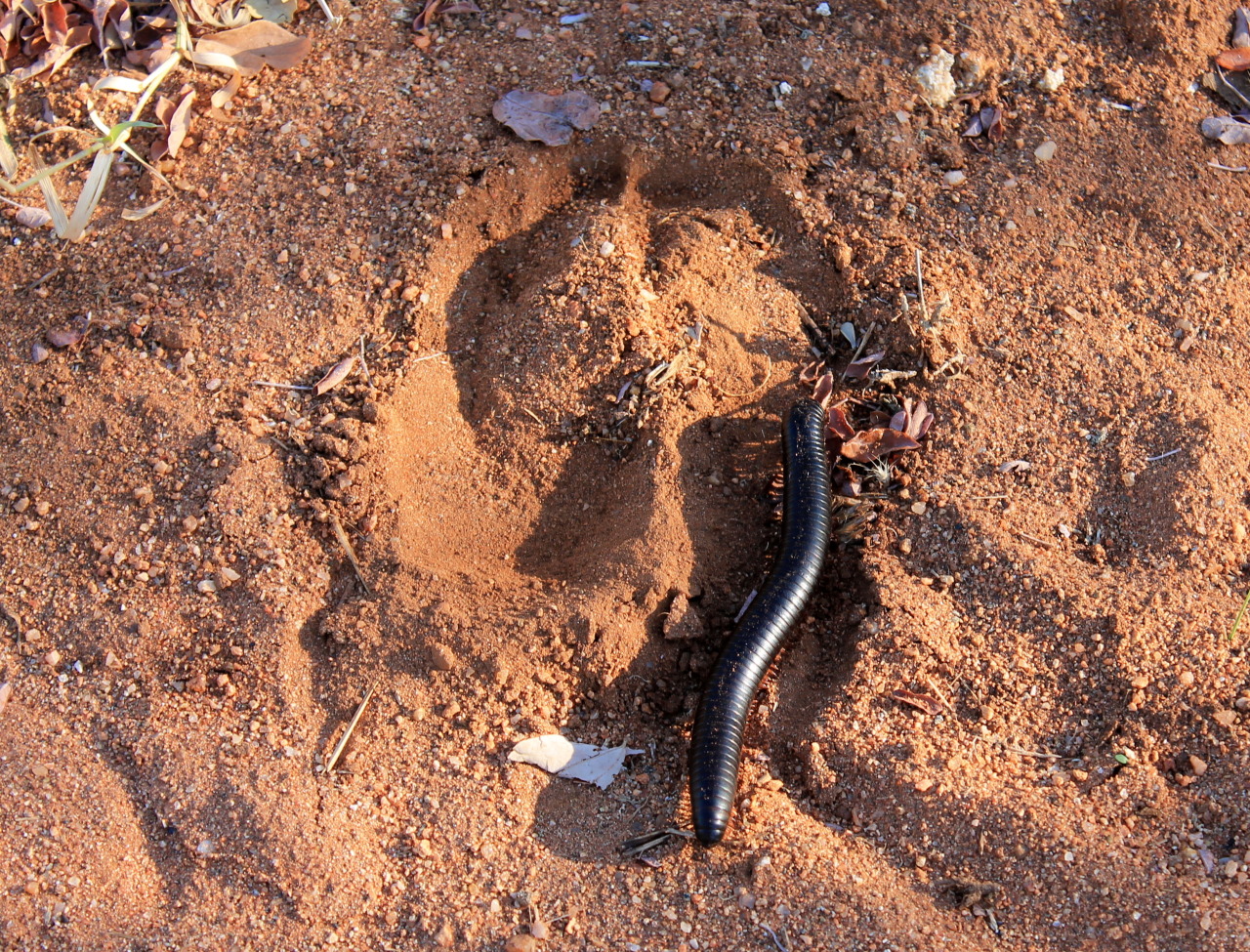 This time we meet Jacques at the site the buff was last spotted and where his tracks were found. My rifle and sticks are unloaded from the vehicle, and we head uphill after him. Jacques leads, followed by Rad, me and then Tools. The temperature quickly rises as we spend the morning trailing this bull. Through thick brush, open fields, the terrain changes. I try to ride Rad's heels, following in his exact footsteps. As we close in, our stride slows and our steps are more intentional. Droppings show us this buff is just ahead of us. The bush opens up to an open field with no visual of the buff. We move more quickly and I soon learn why. The buff was leading us to an area we could not hunt in. And, sadly, he crossed the road over before we could reach him. A little deflated, we wait for Tools to head back and get the bakkie. I decide to give Rad a ribbing and call him "Thunderfoot".  I then refer to myself as an "impala". That is one plus to my size. It's easier to move through the bush than it is for the bigger guys. I would not hear the end of this conversation.
When the bakkie arrives, we ride further up the road expecting to see the buff we were stalking on the side we could not hunt. Instead, they see signs of large Cape buff herds moving into the area we are hunting. This brings a new fire.
After a lunch break, we spend the rest of the afternoon again checking out watering holes and tracks along the road ways. Evidence is found of a small herd of dagga boys. Signs also show that the buff we had been pursuing that morning, had moved back into the area. Encouraged, we call it a day.
As we head back to drop Jacques off, a rather large bull elephant that we had seen off in the distance earlier that morning, was now feeding near the roadside. Rad stops the vehicle and begins to examine him more closely. He has a client hunting elephant in July and this bull becomes a possibility. Suddenly, the bull begins to take an interest in us and walks directly toward me. My window is rolled down. While the experience was exhilarating, I was not just a little concerned. I had just seen videos of elephants flipping vehicles. The elephant stops not five yards in front of me. His trunk rises as he checks us out, then he moves off to the right of the bakkie. He grazes, then again moves in closer to the vehicle. Poor Seeya, while remaining quiet, was flipping out in the back. Tools would not let him forget it. This was a new experience for him as well. Finally, the bull moves off and we move on. We breathe and laugh. It was a God moment for me. The sunset this evening proves equally magical.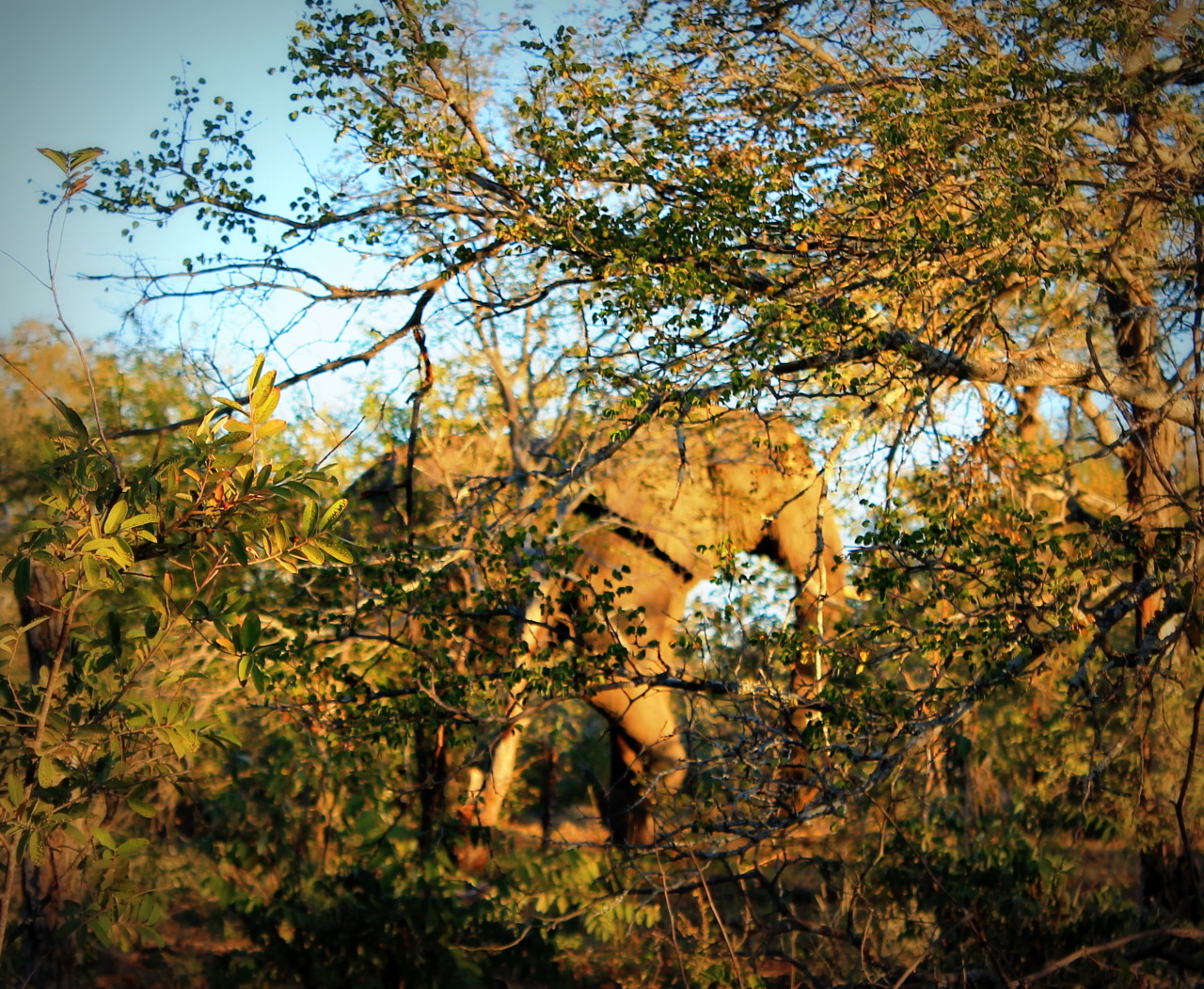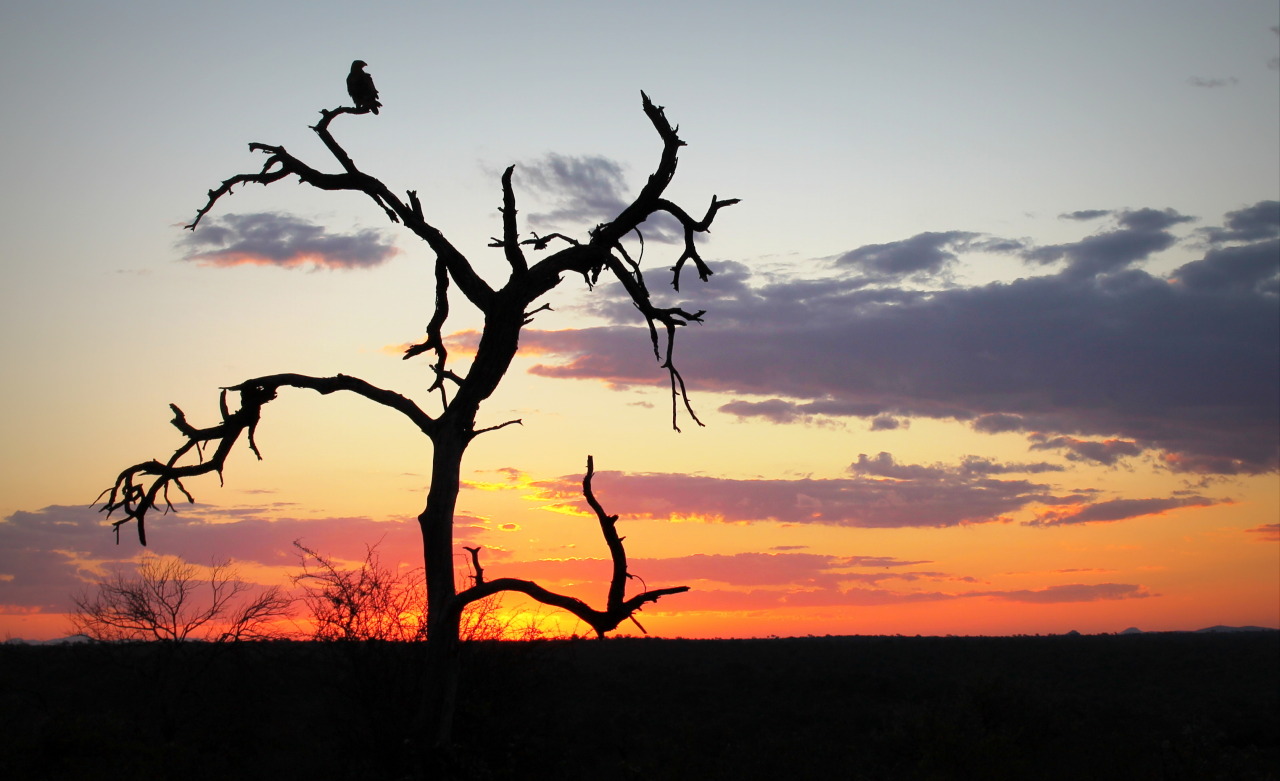 Thursday morning I learn that Dennis, Diane and Henry will be leaving me to check out an area for bird hunting. Henry generally makes a point to check out potentially new areas for clients to hunt in the future. Since I'm spending every moment hunting buffalo, I see very little of them anyway. But they will be missed around the campfire.
I also learn that Jacques had called Rad late last night after we had all gone to sleep. Apparently his truck had a flat tire and he needed Rad's help to change it. Rad left the compound leaving the power off to the electric fence. Upon hearing Rad's bakkie as he was returning, Oscar (the gentleman that maintained the camp) went out to open the gate. There by the entrance was a lion. I always said that I would hate to be the person that had to turn the generator on in the early hours of the morning. There was plenty of evidence of critters finding their way into the camp during the night hours.
Because the others were gone, we were able to begin hunting earlier in the mornings. And we began this morning returning to the same place we had started hunting yesterday, pursuing the same lone buff. I had gotten into a fun habit of photographing animals tracks whenever the moment allowed. This morning, there were plenty of fresh lion tracks. It was never lost on me that I was the smallest in the hunting party and probably would be the first picked off.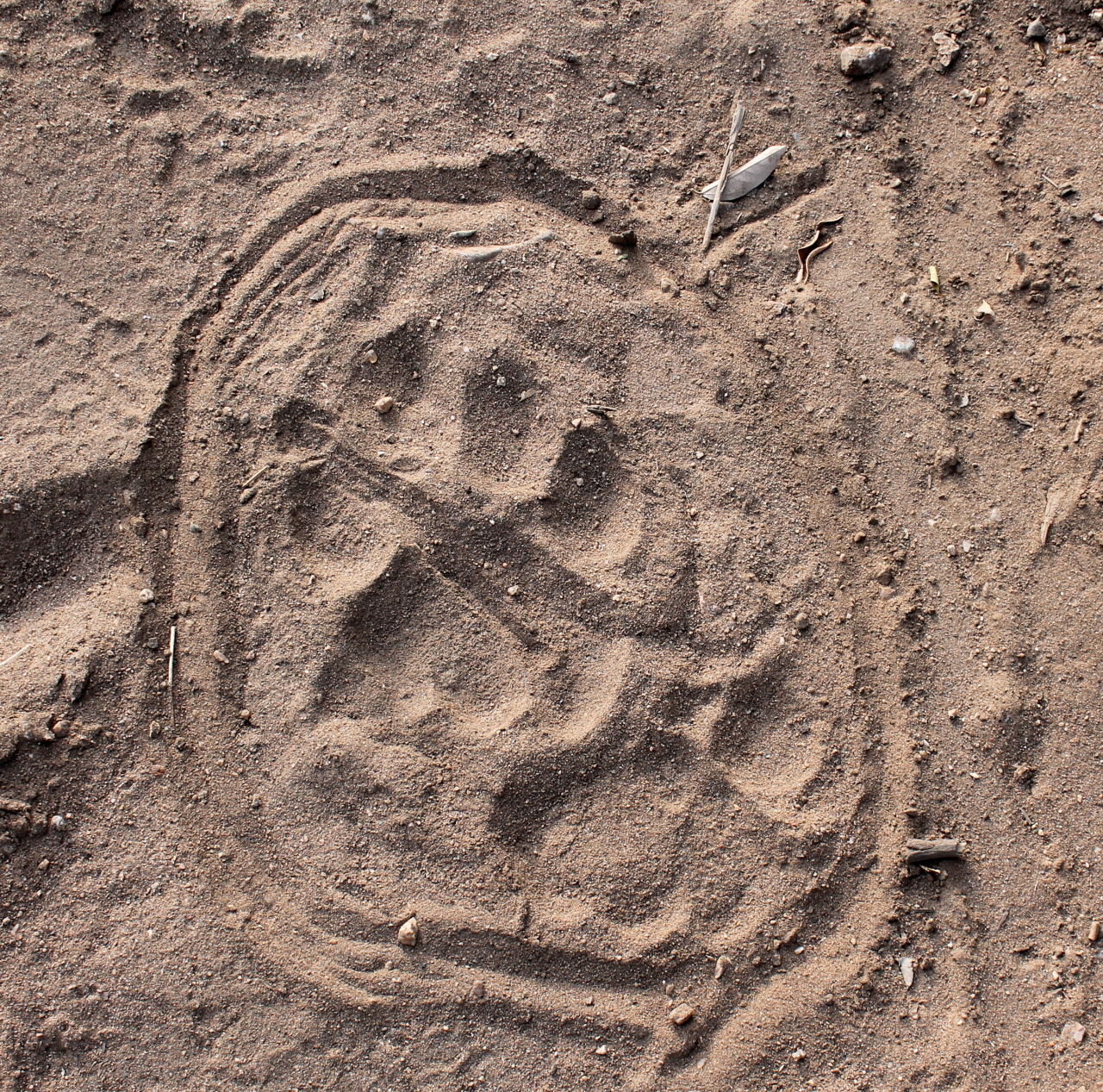 The temperature quickly rose this day, but clouds would come in as the day progressed. The lone buff started moving off, at first, in a steady stride. Then he would meander as he fed in a particular area. We moved in and out of the heavier bush, walking at times it seemed in circles as we followed his every movement. This seemed to go on for hours. If we lost his track, we would retrace our steps until the tracks were picked up again. Finally, the buff tracks and droppings showed him on the move. Off we went.
I cannot tell you just how far we walked tracking this lone bull. But eventually we lost his trail as he pulled a "Houdini". It was decided we would retrace our steps all the way back to the last fresh droppings. Then the much needed rain began. Rad turned to me and said, "Game over." The rain would wipe every track away. We began the long trek back to the bakkie. Though the rain was by no means heavy, we were soaked by time we arrived back to the vehicle. But, boy, it sure felt nice.
Our hope was that after a late lunch break, the rain would stop and we would go back out again. But luck was on Limpopo's side, because they sure needed the rain no matter how little it amounted to. I was now becoming discouraged. We were four days into our buff hunt and not one opportunity presented itself for even a chance to lay cross hairs on a buff. It was decided we would take a break from buff hunting and turn our attentions to sable instead for a day.
A Scripture verse came to mind during this time, and I would repeat it to myself on this hunt: "…for every animal of the forest is mine, and the cattle on a thousand hills. I know every bird in the mountains, and the creatures of the field are mine. If I were hungry I would not tell you, for the world is mine, and all that is in it." (Psalm 50:10-12) I would not take lightly pulling a trigger on anything that belongs to my God.
On our way back to camp, we pass a herd of elephant that remained nearby. One cow was on the "cheeky" side and would even chase Rad and Andrew whenever they left the compound.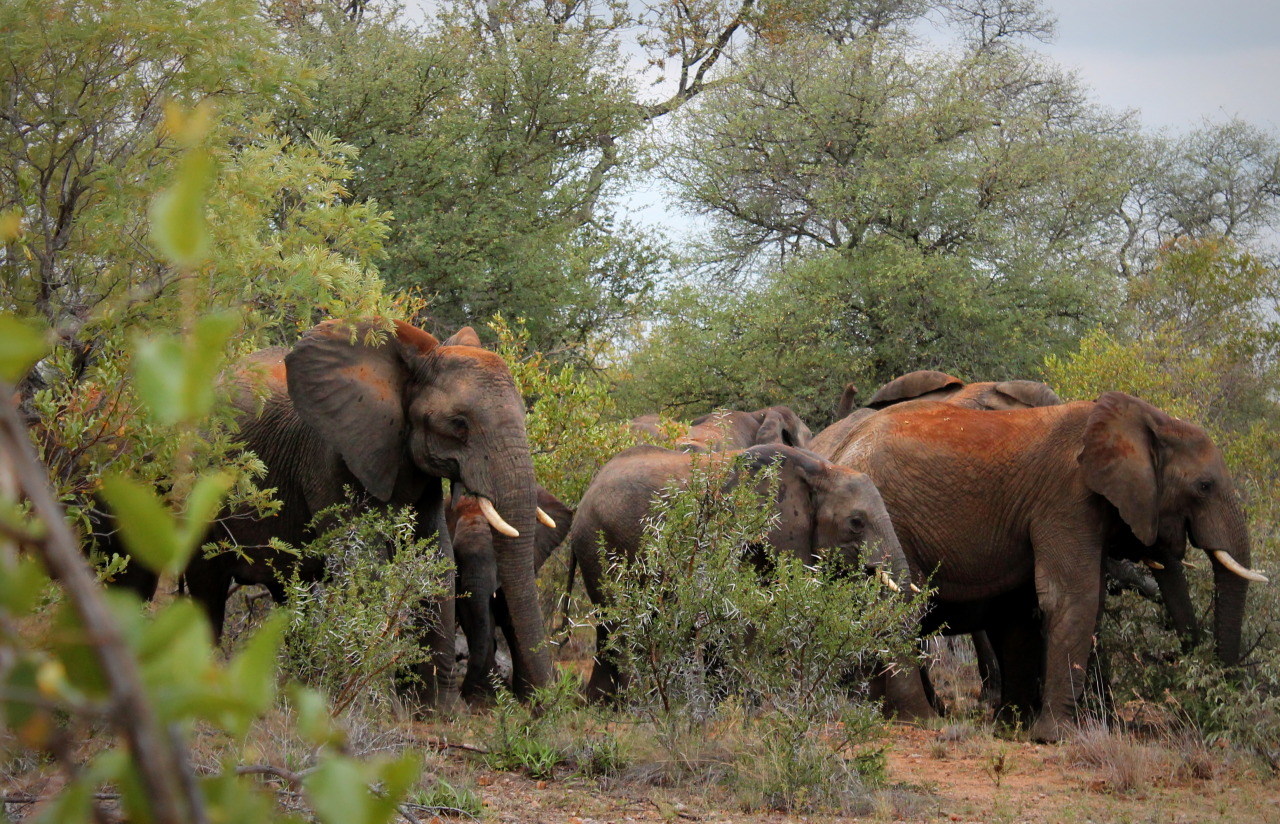 We're up early on Friday. After a quick breakfast, we head to a new hunting area for the common sable. Once we arrive, we sight-in my Remington .30-06 and then we are good to go. Jacques knows this area well and knows of an old lone sable bull, as well as a group of bulls, that would be great to pursue. Rad chooses to go after the lone sable. My Outfitter knew up-front that my concern for any animal I hunted was less on the size of the horns, than it was his age. Its here that Rad turns to Jacques and says, "Tina likes old men." To which I respond, "Yes. To shoot them and put them out of their misery."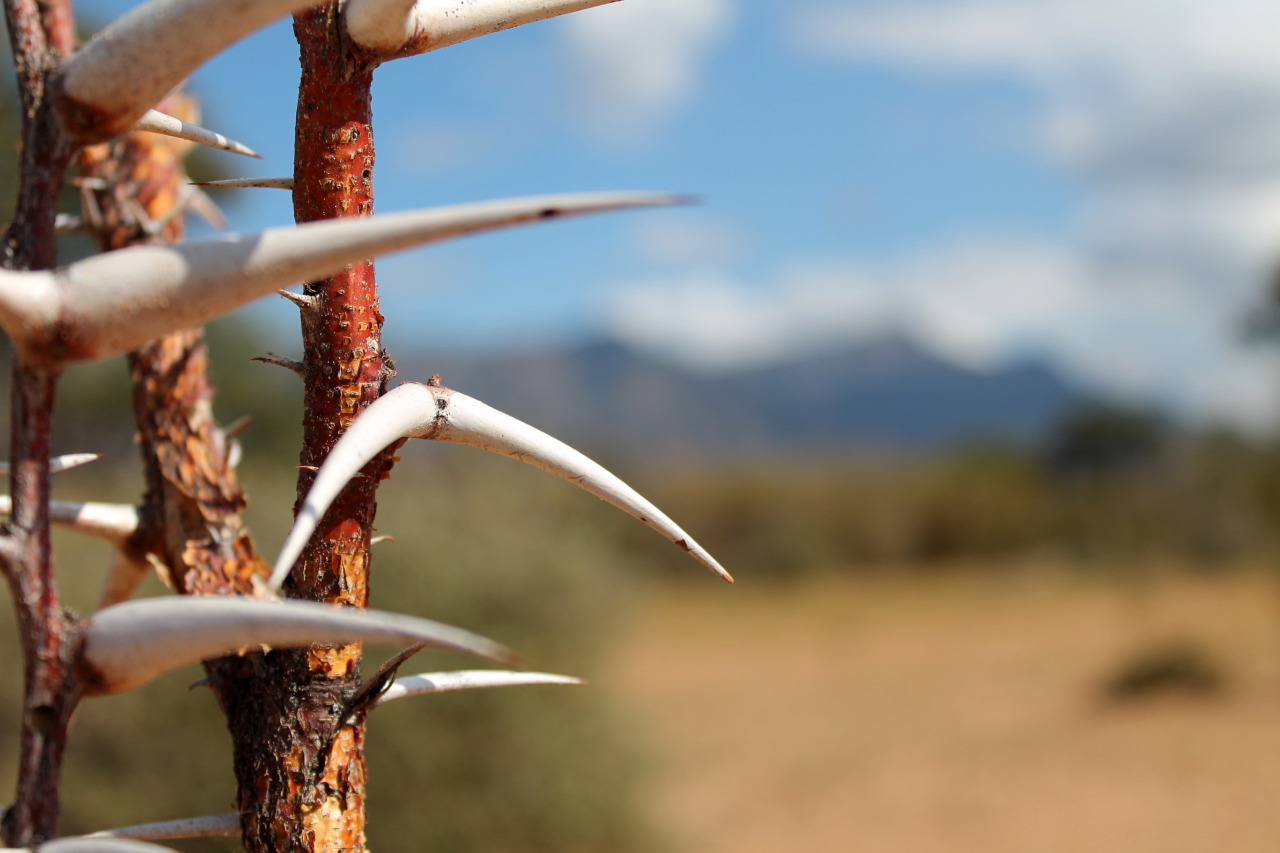 We head first to a relatively dry pool where this lone sable was last seen. It takes nearly an hour to come close to his whereabouts. But this sable bull is a clever fellow and always several steps ahead of us. He remains in the heavier bush and never seems to stop, not even too graze. As we finally catch a visual of him, he bolts and it's clear he has no intent of slowing down. So we break to allow him to calm down.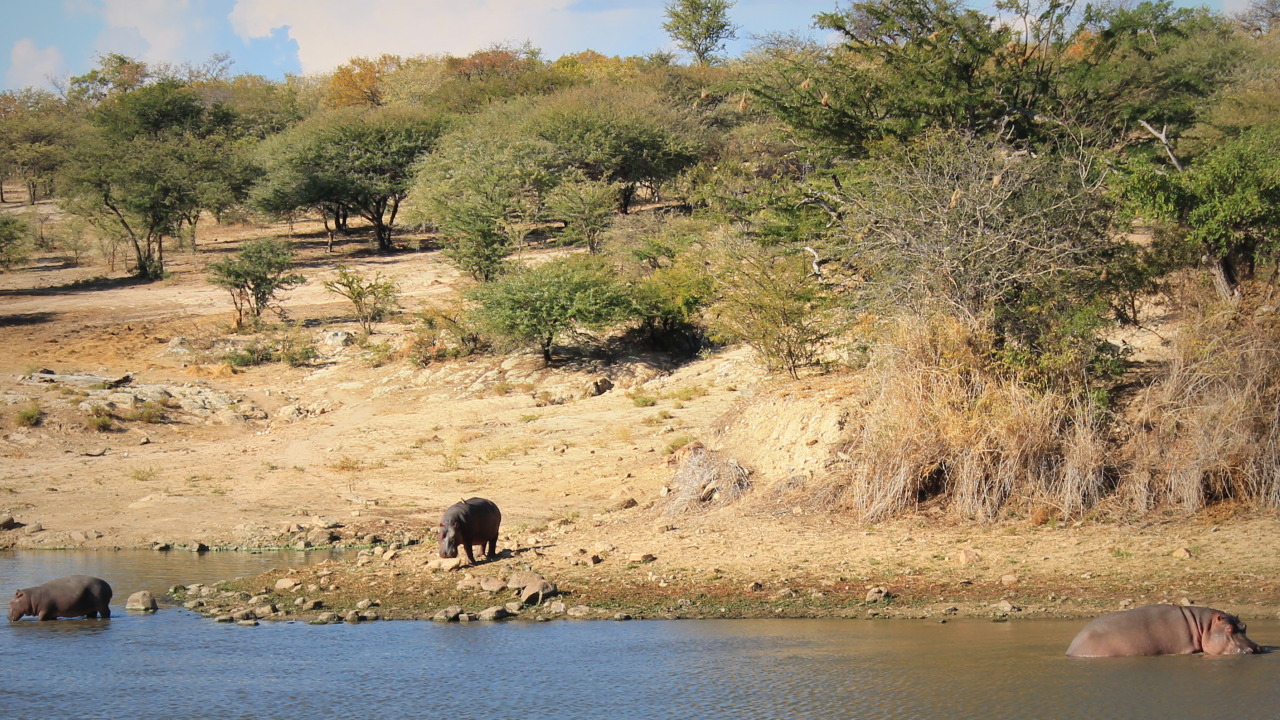 After lunch, we head back to where we left off following the sable. We discover that not 30 meters from where we stopped pursuing him, he too had decided to take a break himself. It was almost as if he knew our every move. We continue the pursuit into the late afternoon, the sable not slowing down or breaking once. Finally as we draw close to him, every sign showing he is just ahead of us, two impala catch our scent and run. Our sable, of course, takes off with them.
Its now late in the day and its clear this old sable is just too uneasy. But then he was old for a reason. As we wait for the bakkie to find us, the decision is made to have a look for the four sable bulls that seemed to have formed a bachelor group.
We find three of them grazing and sparring in a field near an old dam. We drop low and move around to the right of them. Its just Rad, myself and Jacques this time. We move in closer, stop then freeze, stop and freeze as Rad continues to glass the bulls to our right and through the brush to determine which one is the older. While waiting for Rad's decision and our next move, to our left the fourth sable comes walking in moving straight toward us. We freeze. Jacques whispers in my ear, "Don't move. Don't move. Don't move." This gorgeous old sable bull is looking right at us. He pauses. He cannot be more than 65 yards to the left of us. Surely he will see us and run like hell at any moment. But the sun is directly behind us and is blinding him. The sable then moves off to his left to join his friends in the field. With as little motion as possible, Rad quickly lowers the sticks into position and my rifle onto the sticks. Boom. Clean broadside shot through his right shoulder. The sable rears up, runs in the direction he came from, and drops. Its over. I can breathe.
The sun is dropping fast, so a clearing is quickly made, and photos finally taken. Once finished, Jacques' truck is called in and a number of men begin to load the sable. While they are loading the bull, I return to Rad's vehicle down the hill from Jacques' to start loading my gear for the ride back to our camp. It's dark now, but as I turn to my left, I can make out four bulbous creatures walking straight toward me. Their pace not slowing down. I know there are plenty of hippo in the area, so I call out to Rad to identify the animals moving in my direction. He walks to the driver side of the bakkie and directs his flashlight onto the animals. They are four white rhino and they halt not 20 yards from me at the glare of the light. And then they just stand there.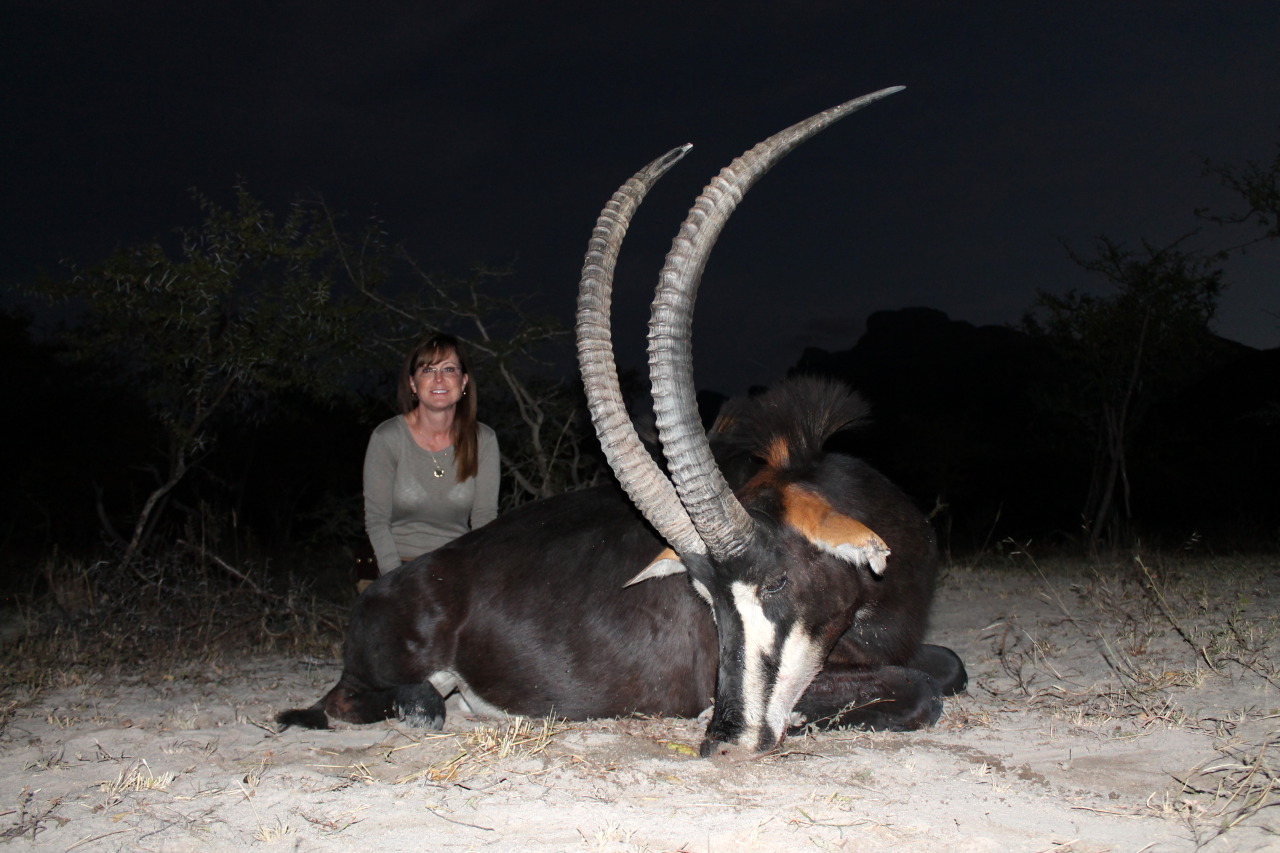 Everything happens for a reason. Had I successfully harvested the first sable bull from that morning, I would have missed out on taking an even older magnificent bull and this amazing opportunity to see these precious white rhino up so close. The rhino remained there until all were loaded and ready to head back to camp. Another God moment, and I was so grateful.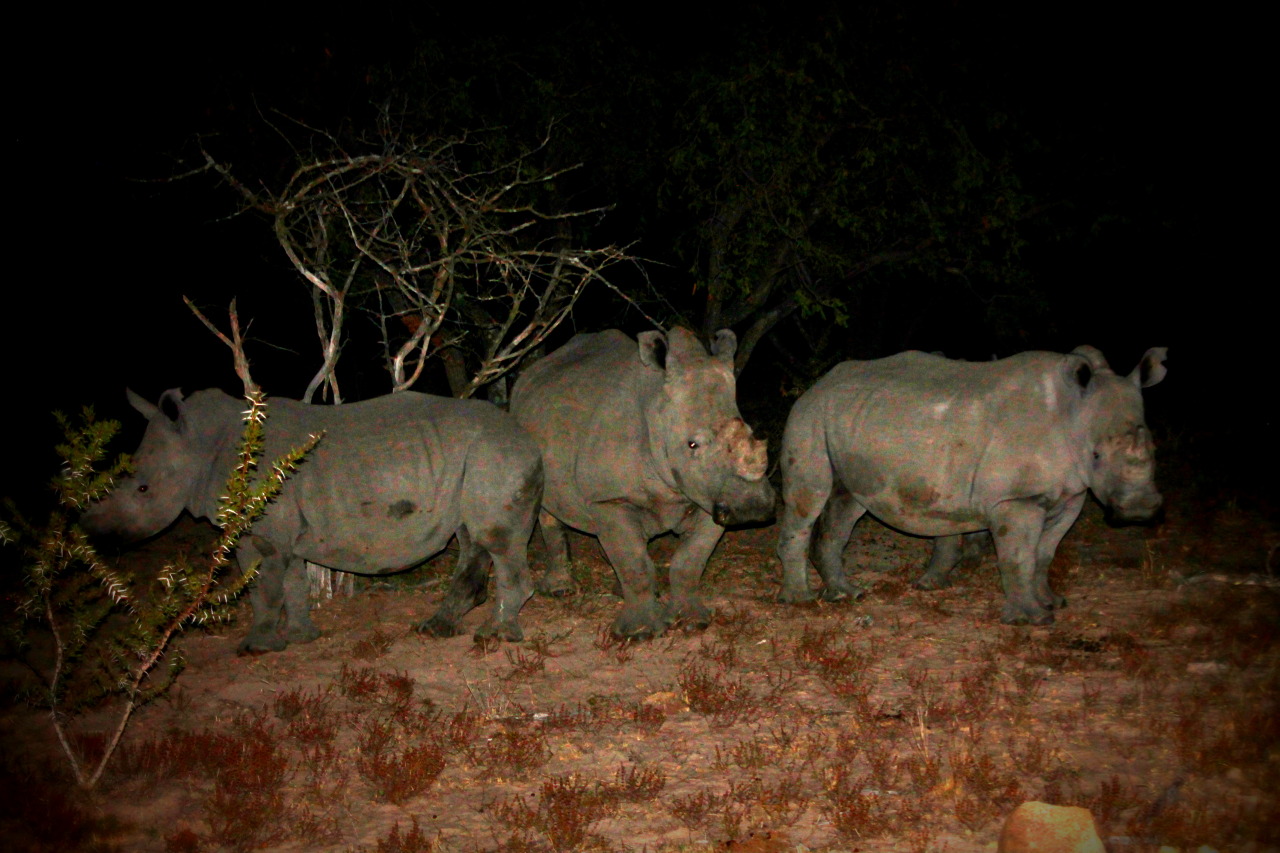 South African Adventure: Buffalo & Sable Pt.3 Coming soon..